Plastic Surgery in Mexico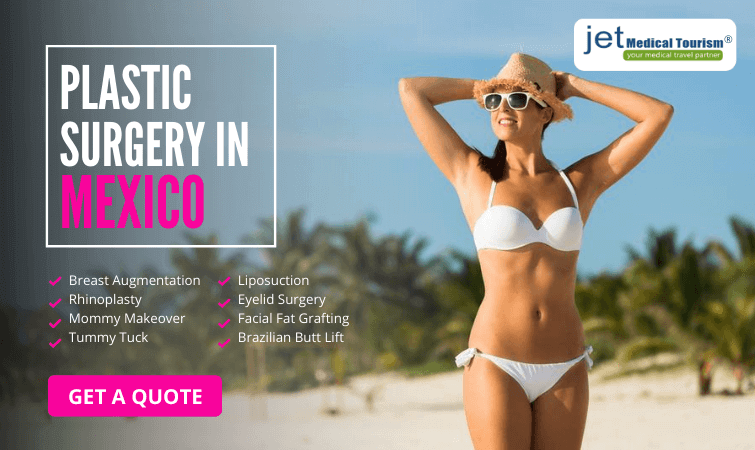 Plastic Surgery in Mexico is on the rise and a growing number of people in the US and Canada now view Mexico as a premier medical tourism destination for plastic surgery procedures. In 2016, more than 923,000 Mexico plastic surgeries were performed.
The annual growth rate in the number of procedures is now nine percent, which means as today more than 1.2 million plastic surgeries are being performed annually in Mexico. They must be doing something right!
If you are considering cosmetic or plastic surgery, you'll be excited to learn that Jet Medical Tourism® offers plastic surgery in Mexico. Our network of board-certified plastic surgeons provide a full range of surgical and nonsurgical procedures. Get started today and contact our Tijuana practice.
Cosmetic vs. Plastic Surgery in Mexico
Although the terms cosmetic surgery and plastic surgery in Mexico are often used interchangeably, they are in fact different specialties. Both the specialties are focused on making positive changes to a patient's physical appearance. But, plastic surgery is a wider term and encompasses cosmetic as well as reconstructive surgery procedures.
Several sub-disciplines of plastic surgery in Mexico include: breast reconstruction after a mastectomy, burn repair surgery, hand repair surgery, palate or cleft lip repair, scar revision surgery and trauma surgery.
Mexico cosmetic surgery, on the other hand, is confined only to aesthetic procedures designed to improve a person's appearance. These types of procedures are also called "voluntary or elective" surgeries.
The most common type of cosmetic surgery in Mexico include procedures to the breast, face, and body.
Breast Surgery in Mexico

Contouring & Body Lifts in Mexico

Tummy Tuck in Mexico, clinically known as abdominoplasty, is a safe and proven plastic surgery procedure to help you achieve a firmer and flatter abdomen. If you are unhappy with sagging skin and weakened muscles in your mid-section, a full or partial abdominoplasty in Mexico will create a more toned and sculpted mid-section along with smooth contours around the waist.
Mommy Makeover in Mexico is one of the most customizable plastic surgery procedures for women who want to restore their pre-pregnancy figure or achieve dramatic body transformation results. Your Mexico mommy makeover surgeon will perform multiple procedures such as tummy tuck, breast lift, liposuction, and lower body lift at one time using common incisions to achieve comprehensive results.
Related: Mommy makeover before and after
Arm Lift in Mexico, clinically known as brachioplasty in Mexico, is a cosmetic surgery procedure aimed at reducing the loose skin and unsightly fat pockets from the upper arms to create more attractive and slender upper body appearance. While the procedure only focuses on the upper arms, the final results will dramatic enough to create the effect of an overall younger-looking figure.
Brazilian Butt Lift in Mexico ("BBL") has emerged as one of the more sought-after body lift cosmetic surgeries in Mexico today. It is less invasive compared to a traditional buttock lift surgery, and will create a smoother and rounder rear. BBL in Mexico will usually only involve fat transfer to your buttocks, and not excision of loose skin.
Related: How long does a BBL last?
Related: Tummy tuck after gastric sleeve
Face & Neck Surgery in Mexico

Fat Reduction & Body Contouring in Mexico

Liposuction in Mexico is one of the most versatile and customizable cosmetic surgery procedures to reduce stubborn fat pockets in targeted areas and create enhanced contours. If you are struggling to get rid of unwanted fat deposits in the abdomen, flanks, thighs, hips, upper arms, neck, or other areas, you can choose lipoplasty in Mexico to achieve slimmer and youthful looking contours.
Skin Removal Surgery in Mexico is ideally suited for people who have lost a large amount of weight after a bariatric surgery. Massive weight loss can leave a substantial amount of loose, hanging skin, and even make you prone to skin infections. Mexico skin removal surgery is an excellent option to restore tighter and smoother skin in the affected areas.
Related: Excess skin removal: cost, recovery & before and after
Male Plastic Surgery in Mexico

Vaginal Rejuvenation in Mexico

A growing number of American and Canadian women now choose vaginoplasty, labiaplasty, labia minora reduction, vaginal canal tightening, hymenoplasty, and vaginal reconstructive surgery to enhance their sexual aesthetics through plastic surgery procedures in Mexico.
Nonsurgical Vaginal Rejuvenation in Mexico involves the use of advanced technologies such as lasers, radio frequency, ultrasound therapy, and/or dermal filler injections to help you achieve vaginal tightening and an enhanced appearance in the intimate areas without traditional surgery. If you have laxity in the vaginal canal muscles, sagging labial tissue, or a dry and loose vulvar region, you can substantially improve your sexual aesthetics with non-surgical vaginal rejuvenation in Mexico.
Surgical Vaginal Rejuvenation in Mexico can help you enhance your aesthetic appearance in the intimate parts and sometimes even improve your sexual urge and satisfaction. Vaginoplasty in Mexico can tighten your vaginal muscles that may have become lax after childbirth or due to aging. Your Mexico cosmetic surgeon may also recommend labiplasty to remodel your inner and outer labia, depending on your anatomical needs.
Top destinations in Mexico for plastic surgery
Plastic surgery in Mexico's border towns has boomed because of the country's geographical proximity to the US. Jet Medical Tourism®, a plastic surgery provider offers quality services and travel ease to patients. We connect American and Canadian patients with cosmetic centers in Mexico. We can help coordinate your travel arrangement, hospital locations, as well as cosmetic surgery plans.
Tijuana, Mexico has emerged as a leading city for medical tourism in Mexico. Each year, Tijuana attracts thousands of patients from the US and Canada seeking cosmetic and plastic surgery.
Tijuana, Mexico is located just 17 miles from San Diego, California and is fairly Americanized by virtue of being a border town of the US. The city has decent infrastructure, including its own airport (the nearest airport is in San Diego and is just 20 minutes away).
Cancun, Mexico has become a major point of attraction for medical tourists from the US and Canada seeking cosmetic and plastic surgery.
Juarez, Mexico has rapidly come up as an important medical tourism center in Mexico for a wide range of medical and surgical procedures including plastic surgery.
Nuevo Laredo, Mexico has been growing and offers several advantages, which have made it an important plastic surgery tourism destination in Mexico.
Cost of plastic surgery in Mexico
Plastic surgery in Mexico costs a small fraction of what it would cost in the U.S. or Canada for the same quality and service, and same results for surgery patients.
Health insurance companies in the U.S. or Canada rarely offer any coverage for plastic surgery procedures. This makes it unaffordable for a large part of the population to enjoy the benefits of plastic surgery. In contrast, plastic surgery in Mexico costs only about one-third or even less for these procedures.
The simple reason is that the plastic surgeons in Mexico charge a much lower fee than in the U.S. or Canada. The hospitals and plastic surgery centers in Mexico have much lower operating costs compared to their counterparts to U.S. or Canada.
How much does plastic surgery cost in Mexico?
To understand how much plastic surgery cost in Mexico, here are the average prices for different procedures in Mexico. Estimated costs of similar plastic surgery procedures in the U.S. or Canada would be about three times (3X) the average cost figures listed below.
| | |
| --- | --- |
| Avg. Cost of Plastic Surgery in Mexico  | US Dollars ($US) |
| Tummy Tuck Cost in Mexico | $5,500 |
| Breast Augmentation Mexico Cost | $5,700 |
| Facelift Mexico Cost | $5,500 |
| Rhinoplasty Cost in Mexico | $4,500 |
| Ethnic Nose Surgery Cost in Mexico | $4,500 |
| Reconstructive Nose Job in Mexico | $5,000 |
| Ultra-Cohesive Breast Implants Cost in Mexico | $4,500 |
| Buttock Augmentation Cost in Mexico | $5,400 |
| Mommy Makeover Cost Mexico | $11,500 |
Related: How much does plastic surgery cost?
Why travel to Mexico for plastic surgery?
Here are some of the key reasons why women and men in the US and Canada are choosing plastic surgery in Mexico.
Much Lower Cost. The US continues to have many uninsured individuals (more than 20 million in 2019) despite a strong economy and low taxes. But even among those who have adequate medical insurance, most do not have coverage for cosmetic and plastic surgery procedures. Insurance companies in the US consider these procedures as "elective" (medically non-essential), and do not provide coverage. In Mexico, American patients can expect substantial cost savings for these services. For example, breast augmentation or breast lift plastic surgery in Mexico is about 70 percent cheaper than in the US. Tummy tuck cost in Mexico is about 60 percent cheaper. At Jet Medical Tourism

®

, patients can receive the cost estimates upfront from our network of plastic surgeons in Mexico. There are no hidden costs.
Quality of Care. Patients who travel to Mexico for plastic surgery often report that the quality of surgical care is best in class. They compare it to the medical facilities and skills available in their home country. When it comes to personalized care and attention from the doctor, Mexico is usually better. Doctors in Mexico invest more time with the patient and have more empathy and involvement with their condition. They also perform extensive and thorough check-ups.
Satisfying Experience. Surgery patients will not feel as rushed as they often do in the US. Patient feedback shows that for many people, Mexico cosmetic surgery turns out to be a highly satisfying experience. According to a professor at the UCLA Fielding School of Public Health, healthcare is equally competent in Mexico. Americans who choose plastic surgery in Mexico will have access to the best private hospitals and clinics. These facilities have maintained the high standards of care.
Other Reasons for Choosing Mexico for Plastic Surgery
Plastic surgeons in Mexico are willing to devote more time to every patient, while in the US or Canada, the same patient would feel they are being rushed through a procedure.
Personalized care and attention in Mexico hospitals makes a key difference to the final outcomes that a patient achieves with their plastic surgery procedure.
Waiting times for any plastic surgery, particularly in Canada, and even in the US for certain procedures, can be quite long. Mexico, on the other hand, offers prompt and dedicated medical services and care to these visiting patients on a priority basis.
Mexico plastic surgeons and hospitals will go the extra mile to offer follow-up guidance and support to patients online even after they have returned to their home country.
Benefits of Visiting Mexico for Plastic Surgery 
Privacy and peace of mind is a vital consideration for most patients seeking a physical transformation through plastic surgery. During this phase, they often prefer to keep away from prying eyes and familiar faces.
When patients choose Mexico for plastic surgery, they have a reassurance of complete privacy, confidentiality and exclusivity.
Following the plastic surgery procedures, patients have an opportunity to spend a few days at the exotic locales and serene beaches of Mexico while they recover.
Patients can return to their home country with a completely rejuvenated body and mind, and a renewed level of personal confidence and self-image.
Jet Medical Tourism® is a leading medical tourism facilitator for patients from the US and Canada who are looking to undergo plastic surgery in Mexico at affordable rates. Contact us today to learn more about us and set up a consultation with one of the top plastic surgeons in Mexico.

Top cosmetic and plastic surgeons
The most important decision for US and Canadian patients should be to choose the best plastic surgeons in Mexico. The surgical outcome in any aesthetic procedure depends to a significant extent on the skill and experience of a board-certified plastic surgeon.
Board Certified Plastic Surgeons in Mexico
A dedicated medical tourism facilitator will usually partner with board-certified plastic surgeons in Mexico.
A board certification serves as an assurance that the surgeon completed a rigorous training process and would typically rank among the top plastic surgeons in Mexico.
Board certified Mexico plastic surgeons typically invest in best medical practices, adopt cutting-edge surgical techniques and technology. They pursue ongoing education and follow the latest safety protocols.
Patients from the US and Canada are in safe hands when they choose certified plastic surgeons in Mexico. Meet our plastic surgeons who will ensure that you achieve outstanding results from your cosmetic plastic surgery procedure.
Best Plastic Surgeons in Mexico – Members of MSPRS
Some of the top plastic surgeons in Mexico are privileged members of the Mexican Association of Plastic, Aesthetic and Reconstructive Surgery (MSPRS).
This prestigious organization only selects a limited number of surgeons as its members every year. The member surgeons are required to periodically renew their membership by demonstrating their commitment to stay current with the new plastic surgery techniques.
Patients can easily evaluate a plastic surgeon's professional status if they know about the surgeon's affiliations, certifications, and memberships.
Cosmetic Surgeon vs. Plastic Surgeon in Mexico
Following their general surgery training, a qualified Mexico plastic surgeon would have obtained at least three years of residency training in plastic and reconstructive surgery procedures.
But a cosmetic surgeon in Mexico is only required to complete one-year post-graduate fellowship training in cosmetic surgery.
In fact, many plastic surgeons in Mexico also obtain the fellowship training in cosmetic surgery to further expand their scope of expertise.
More extensive training for a plastic surgeon in Mexico allows them to perform repair procedures following a traumatic injury, or a reconstructive procedure to address birth defects or post-cancer surgery damage.
A cosmetic surgeon is not equipped to perform these procedures, and they may only work on elective surgeries for the breast, body, and face.
Related: Finding plastic surgery near me
Cosmetic vs. Plastic Surgery in Mexico: Questions to Ask 
Patients should feel free to ask the surgeon relevant questions during the initial consultation. It's critical to satisfy yourself about their qualifications and determine whether they specialize in plastic surgery or cosmetic surgery in Mexico.
Some of the questions you may want to ask your surgeon:
Are you a plastic surgeon or a cosmetic surgeon in Mexico?
How many years of training have you received specifically in the field of plastic surgery in Mexico?
Have you obtained a fellowship in cosmetic surgery in Mexico?
Do you have a board certification from the local Mexican surgery board or another authority in Mexico?
Do you perform only cosmetic procedures or both cosmetic and reconstructive surgeries?
Who will administer general anesthesia during my procedure – will it be a qualified anesthesiologist or a registered nurse anesthetist?
Based on the responses of your cosmetic or plastic surgeon in Mexico, and your comfort levels and rapport that you are able to establish with them, you will be more confident moving forward with your surgery procedure.
Growth of plastic surgery wordwide
The International Society of Aesthetic Plastic Surgery (ISAPS) published the results of its Global Aesthetic Survey in 2016, which showed that Mexico now ranks among the world's top five countries for plastic surgery procedures.
The other 4 countries include the U.S., Italy, Japan, and Brazil. These five countries together account for more than 41 percent of all cosmetic plastic surgery procedures performed worldwide.
The primary reason behind this boom in plastic surgery procedures in Mexico is widening awareness among American and Canadian patients about the high quality medical and surgical care in Mexico.
Medical tourism in Mexico overall is rising rapidly, and plastic surgery is one of the key components of it. According to the UNWTO (United Nations World Tourism Organization), medical tourism has emerged as an increasingly popular trend that is boosting international travel.
Clearly, plastic surgery in Mexico is going to have a substantial share in this burgeoning market.
A report by Oxford Economics and VISA estimates that medical tourism market will exceed $3 trillion by 2025.
Best plastic surgery packages in Mexico
Jet Medical Tourism® is a trusted service provider of plastic surgery packages in Mexico. When you choose our team, you get comprehensive support from start to finish and beyond.
From addressing all your questions and concerns to arranging your initial consultations with a plastic surgeon in Mexico to organizing your flight times, travel, and stay arrangements, we will hand-hold you through the entire process every step of the way.
Over the years, we have fostered relationships with some of the best hospitals, clinics, weight loss surgeons and board-certified plastic surgeons in Mexico. Our clients love us and vouch for the deeply satisfying results they have experienced while joining hands with us for their bariatric surgery or plastic surgery in Mexico.
Our experienced and compassionate team of professionals is working hard behind the scenes and on the ground in Mexico to ensure your safety and well-being and help you achieve outstanding plastic surgery results.
To learn more about our services, schedule a no-obligations consultation with us now at Jet Medical Tourism®.