Weight Loss Surgery Procedures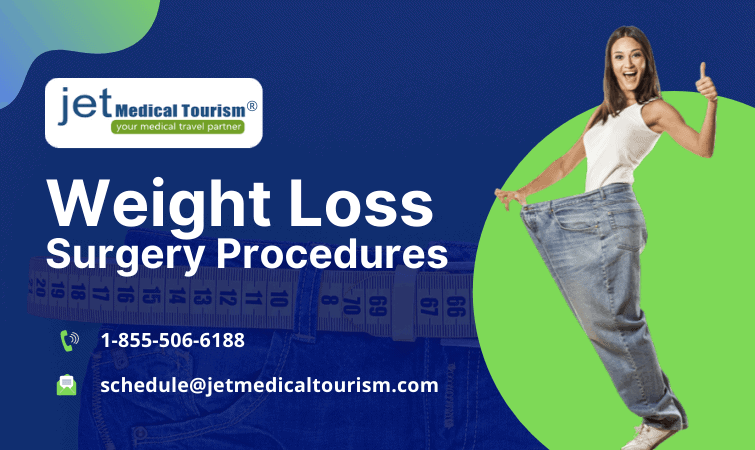 Weight loss surgery makes necessary changes to the digestive system to help an obese or overweight patient lose weight. Different types of weight loss surgery techniques are collectively termed as bariatric surgery. These techniques will either reduce the absorption of nutrients in the body, or limit the amount of food intake, or both.
Proven success of weight reduction surgery
Bariatric surgery has become widely accepted because of its highly predictable and successful weight loss results. Millions of people worldwide have benefited with safe and sustainable outcomes of bariatric surgery.
Research studies have shown that as many as nine of out of 10 previously obese individuals are able to reduce 50 percent or more of their excess body weight after a bariatric procedure. Even among patients suffering from super severe obesity, eight out of 10 individuals are successful in achieving 50 percent excess weight loss. 
Recognized by the NIH for fighting obesity
The National Institutes of Health (NIH) reported over a decade ago that patients suffering from severe obesity develop resistance to maintaining weight loss. Conventional approaches such as increasing exercise, consuming lesser calories, and professional weight loss programs do not help these patients.
Health benefits of bariatric Surgery
Weight reduction surgery can help resolve or improve various obesity-related health conditions, such as heart disease, hypertension, and type 2 diabetes. In many cases, patients who undergo a successful bariatric surgery also demonstrate a progressively reduced need for medications for their obesity-related illnesses. 
Contact Jet Medical Tourism® today to learn more about weight loss surgery options available to you at affordable prices.
The NIH recognized that weight loss surgery (bariatric surgery) is the only effective treatment, which can combat severe obesity and help patients maintain long-term weight loss.
How does weight loss surgery work?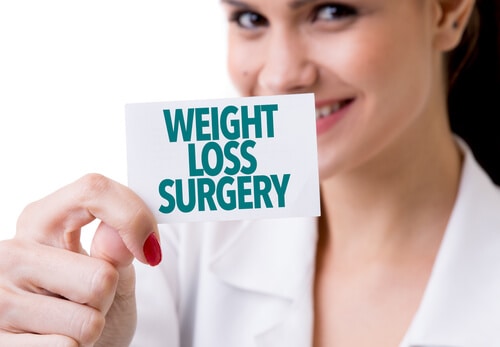 Bariatric surgery procedures such as gastric sleeve, gastric bypass, and lap band surgery work in one of the following two ways:
Altering the anatomy of the gastrointestinal tract (which is the stomach and digestive system). This reduces the patient's need to consume food. 

Causing multiple physiologic changes in the body. This alters the body's fat metabolism and energy balance, resulting in lower body weight. 
Improved energy levels and ability to exercise
When patients pursue a dietary weight loss program, it often results in loss of energy. As a result, the patient is unable to perform the required physical exercises that must be combined with dietary weight loss. In most cases, patients end up regaining weight shortly after their dietary weight loss program. 
Weight loss surgery counters this tendency of weight-regain by helping reduce the defects in your fat metabolism. While you lose weight after the surgery, you will feel more energized and engage in greater physical activities. The energy balance is not disrupted with bariatric surgery, and patients can maintain weight loss in the long term by adhering to an active lifestyle.
Favorable hormonal changes to lower body weight 
Following a weight reduction surgery, patients develop a positive attitude and achieve a reduction in their daily stress levels. Massive weight loss also helps them reduce hormones such as cortisol (stress hormone) and insulin (sugar regulating hormone). 
Hormonal changes trigger a variety of factors that will lower the patient's uptake and storage of fat in the into the body's storage depots. This allows the body to break the vicious cycle of weight gain and helps the patient achieve sustainable weight loss and improve their overall health and quality of life. 
Types of weight loss surgery
Different types of weight loss surgery procedures include: Gastric Bypass, Gastric Sleeve, Adjustable Lap Band and BPD/DS (Biliopancreatic Diversion with Duodenal Switch).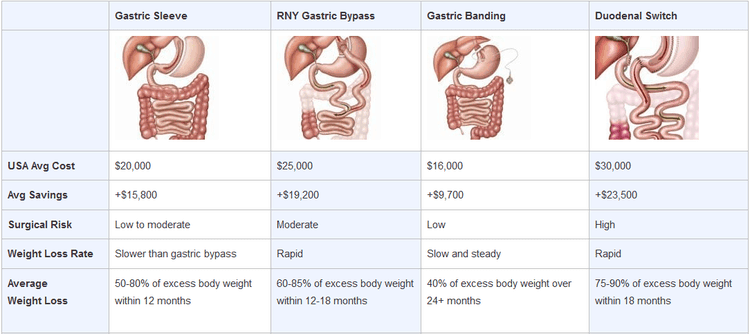 Different types of weight loss procedures have their own benefits and limitations. Here is a comparison between different weight loss surgeries:
Gastric sleeve surgery
Sleeve gastrectomy or gastric sleeve involves the removal of about 80 percent of the stomach. The remainder part of the stomach is a tubular pouch (resembling the shape of a banana).
The new stomach pouch has a considerably lower capacity to hold food, which enables the patient to consume smaller quantities of food. In addition, the gastric sleeve surgery has a key effect on the gut hormones. This favorably impacts a number of factors, such as satiety, hunger, and blood sugar levels.
ALSO READ: Pros and cons of gastric sleeve surgery

Gastric bypass surgery    
Gastric bypass surgery, clinically called the Roux-en-Y Gastric Bypass, is recognized as the gold standard among different types of weight loss surgeries. The procedure is performed in two phases. The first phase involves the creation of a small stomach pouch (about 30 ml in volume).
This is done by dividing the top of the stomach from the remaining part of the stomach. The second phase involves dividing the initial portion of the small intestine. Compared to the original stomach, the newly created stomach pouch is significantly smaller. This reduces the patient's need to consume calories, allowing them to eat smaller and fewer meals in a day.
Related: Gastric bypass pros and cons
Adjustable gastric lap band
Lap band surgery or the adjustable gastric band is another type of weight loss procedure. This involves the use of an inflatable band that is placed around the top part of the stomach. This creates a small stomach pouch above the band, while the remaining stomach stays below the band.
The smaller stomach pouch encourages the patient to consume smaller food quantity, satisfies their hunger quickly, and promotes a feeling of fullness. This type of bariatric surgery involves no cuts in the stomach and no rerouting of the intestines.
Duodenal switch surgery
The BPD/DS or Biliopancreatic Diversion with Duodenal Switch is an advanced bariatric procedure aimed at achieving greater weight loss than other types of weight loss surgeries. In the first phase of this procedure, the weight loss surgeon will create a smaller stomach pouch by removing a part of the stomach.
In the second phase, the surgeon will bypass a major portion of the small intestine.
The duodenal switch weight loss surgery is considered to the most effective for obesity patients who are suffering from type 2 diabetes. Patients are known to achieve and maintain excess weight loss of at least 60 to 70 percent at a five-year follow up.
Weight loss surgery requirements
While many people want to lose weight in a safe and quick manner, not everyone has the eligibility for weight reduction surgery. It is important to ask your bariatric surgeon: "Am I eligible for weight loss surgery?"
BMI Qualifications for weight loss surgery
BMI (body mass index) is one of the most important criteria for bariatric surgery. An individual with a BMI of more than 40 is usually a candidate who qualifies for bariatric surgery. But people with obesity related medical conditions such as high blood pressure, heart disease, type 2 diabetes, osteoarthritis and obstructive sleep apnea may also qualify with a lower BMI. 
Related: How much do you have to weigh to get gastric sleeve
If you meet any one of the following weight loss surgery requirements, you could be a candidate for a bariatric procedure:
You weigh at least 100 pounds more than your ideal body weight

Your BMI exceeds 40 

Your BMI exceeds 35 and you are suffering from obesity related health conditions

You have failed to maintain a healthy body weight for a long time period, even with a professional diet management program 

Additional Criteria for Bariatric Surgery
Apart from the BMI, to qualify for weight loss surgery, a candidate may also be required to meet various other criteria as follows: 
Should be in good general health to sustain the anesthesia and the surgical procedure as well as the rapid bodily changes that would follow the procedure

Should be committed to following the weight loss surgeon's pre- and post-operative instructions, such as quitting smoking for several weeks before and after the surgery

Should be willing to make post-surgical lifestyle changes, such as eating a balanced diet and maintaining an exercise routine
The final decision about your candidacy for a bariatric procedure will be made by the weight loss surgeon. They would also provide you guidelines on how to fulfill the criteria to be eligible for weight loss surgery, in case you are lacking somewhere with respect to your eligibility. 
Which weight loss surgery is best for me?
Making a choice to undergo bariatric surgery is life-altering decision. Once you have made the choice, you will be confronted with the next most important question: While weight reduction surgery is right for me?
Each type of weight loss procedure comes with its own set of advantages and limitations.
Which bariatric surgery is Right for Me: researchers' view
A number of researchers have compared different types of weight loss surgeries, including sleeve gastrectomy, gastric bypass and lap band.

Research studies show that among these three primary procedures, gastric bypass can result in the greatest weight loss. However, the procedure is also more invasive compared to the other two options. 

According to experts, this is the trade-off you will have to consider. Weight loss techniques that produce the largest weight loss (both short term and long term) are also more invasive. This means, the surgery will have a longer recovery and involve a relatively higher risk of complications. 
You may take a 'which weight loss surgery is best for me' quiz to determine what meets your requirements most effectively. This quiz or self-questioning will help you decide what do you value most? What is your biggest concern – weight loss, or safety, or cost, or a combination of all?
The largest number of individuals will choose

Roux-en-Y gastric bypass surgery.

The surgery involves reducing the stomach size and bypassing a portion of the small intestine.

The second most sought-after bariatric surgery is sleeve gastrectomy. This involves the removal of a part of the stomach to help you feel fuller faster.
A relatively smaller number of patients choose lap band surgery.
Which weight loss surgery is best for me in terms of weight loss?
According to researchers, you can expect to reduce your body weight to these levels with each of the weight reduction surgery techniques: 
Related: Gastric sleeve vs. gastric bypass vs. lap band: which is the best weight loss surgery?
How much does weight loss surgery cost?
One of the most important questions for many patients is: How much does weight loss surgery cost? A report published in the American Journal of Medicine (AMJ) showed that the cost of all types of medical procedures, including bariatric surgery in Mexico is up to 65 percent less than the cost in the US. 
Numerous other research reports in recent years have also indicated that the cost of bariatric surgery in Mexico can be lower by up to 70 percent (or one-fifth of the cost of the same surgery in the United States). 
Affordable weight loss surgery in Mexico does not mean that there would be a compromise on the quality or safety of the procedure. The costs of medical care in Mexico are substantially lower because of the general lower cost of living compared to the US. Furthermore, insurance-related costs are usually avoided because patients from the US and Canada are ready to pay cash. 
Other overheads such as malpractice insurance are also mostly avoided in Mexico. In the US, on the other hand, the costs of medical care are anyway extremely exorbitant. That makes the bariatric surgery costs in Mexico significantly cheaper simply by comparison. 
How much is weight loss surgery in Mexico – compare costs with the US and Canada (prices in US$)
| | | | |
| --- | --- | --- | --- |
| Bariatric Surgery | Mexico | United States | Canada |
| Gastric Sleeve  | $5,000 | $15,000 | $15,000 |
| Gastric Bypass | $7,000 | $25,000 | $20,000 |
| Lap Band Surgery  | $5,500 | $10,000 | $11,000 |
| BPD/DS Surgery  | $8,000 | $30,000 | $25,000 |
Related: Should you get bariatric surgery in Mexico vs USA? Compare risks and costs
The typical cost package for bariatric surgery in Mexico includes: 
Surgeon's fee

Hospital charges

Hospital stay (usually overnight stay)

Laboratory tests and blood work (pre- and post-surgical)

Nutritionist guidance program 

Prescription drugs (usually for a week)

Airport transfers

Online support
Weight Loss Surgery in Mexico
Weight loss surgery in Mexico is now an increasingly accepted solution for thousands of American and Canadian patients who struggle with obesity and related conditions.
In Mexico, you can have a bariatric procedure performed at a 60 to 80 percent lower cost and receive the same standard of care as in their home country.
Patients from the US and Canada widely report their satisfying experience with bariatric surgery in Mexico. Patient feedback shows that the quality of care in Mexico is closely comparable to the US. And in terms of personalized treatment, Mexico hospitals are often better.
Bariatric surgeons in Mexico are directly involved with every aspect of patient care from initial consultation to post-operative recovery.
Patients seeking weight loss surgery in Mexico do not feel rushed as they might do in the US. With clear cost and quality benefits, the number of patients traveling to different Mexican cities for weight loss surgery continues to rise with each passing year.
Weight loss surgery in Tijuana, Mexico
Do you plan to have bariatric surgery in Tijuana, Mexico? That is a good decision because thousands of women and men from the US and Canada who struggle with obesity are visiting this border city each year for life-altering weight loss surgery. 
Fwist
Tijuana is now a leading international bariatric surgery destination, thanks to the city's advanced surgical facilities and highly qualified weight loss surgeons.
Weight loss surgery in Tijuana, Mexico could cost you as little as $5,000, which is nearly one-fifth of the cost you might have to pay for the same procedure in the US.
Weight loss surgery in Cancun, Mexico
Many Americans and Canadians are choosing weight loss surgery in Cancun, Mexico at the city's CSG or JCI accredited hospitals and bariatric centers. Weight loss surgeons in Cancun are top rated, and many of them have acquired their qualifications and experience in the US. 
While the costs of weight reduction surgery in Cancun are low, there is no compromise on the quality of care. You can choose the right type of bariatric surgery procedure in consultation with your surgeon in Cancun, and achieve your personal health and weight loss goals at a fraction of the cost. 
Weight loss surgery in Nuevo Laredo, Mexico
Patients from the US and Canada, who are seeking affordable ways to get rid of excess body weight, can choose weight reduction surgery in Nuevo Laredo, Mexico. Texans, in particular, are choosing Nuevo Laredo for bariatric surgery in large numbers because of the city's close proximity to Texas and easy travel options. 
A range of state of the art hospitals and bariatric centers for sleeve gastrectomy, gastric bypass, and lap band surgery are now available in Nuevo Laredo. Obesity patients from Texas and other destinations in the US and Canada have excellent medical tourism options in Nuevo Laredo. 
Related: Weight loss surgery in Nuevo Laredo Mexico: Texans flock to Nuevo Laredo
Weight loss surgery in Juarez, Mexico
Bariatric clinics and hospitals in Juarez, Mexico have the latest surgical equipment and led by top weight loss surgeons in the country. The best part is that a highly qualified bariatric surgeon in Juarez would charge a much lower fee compared to even an ordinary surgeon in the United States. 
Medical tourism in Juarez, Mexico has grown rapidly in recent years, with weight loss surgery as one of the most popular procedures among American and Canadian patients. 
Related: Safe weight loss surgery in Mexico
Does insurance cover weight loss surgery?
In the US and Canada, most insurance companies consider weight loss surgery as an elective procedure, and may not offer coverage. Even when a patient has insurance coverage for bariatric surgery in the US or Canada, they may not qualify for the procedure. That is because the tough insurance conditions require the patient to have a certain minimum BMI to qualify. 
Even when the patient does qualify and has adequate insurance coverage for weight loss surgery in the US or Canada, they will have to pay additional charges. High costs of deductibles and co-pays must be considered. Secondly, the health plan may not cover anesthesia costs, lab tests, and recovery expenses. 
Sometimes, an employee's health insurance may cover weight loss surgery, but the employer may not have purchased the "rider" required for this coverage. In effect, obese patients in the US and Canada are too often uninsured or under-insured when it comes to bariatric surgery.
Weight loss surgery medical tourism – insurance coverage
While bariatric surgery medical tourism in Mexico is highly affordable for American and Canadian patients, the costs are usually not covered by insurance. However, patients may buy insurance coverage for additional unforeseen expenses, which could include:
Additional medical costs incurred to treat post-bariatric complications 

Additional surgical and medical consultations

Additional hospital stay costs 

Additional travel costs

Additional costs of travel for a non-scheduled visit to the surgeon's office within 12 months after the weight loss surgery

Trip delay or cancellation costs  

Travel liability 

Lost baggage 

Accidental injury or death

Weight loss surgery before and after pictures
When an individual is considering weight loss surgery, they may have a number of concerns about the procedure. Will the surgery meet their personal weight loss goals? How will it affect their overall aesthetic appearance? Which type of bariatric surgery will help achieve the maximum weight loss? 
The expert surgeons in our network have helped thousands of patients lose their extra pounds and transform their lives. They can also help you achieve the very best long-term weight loss results.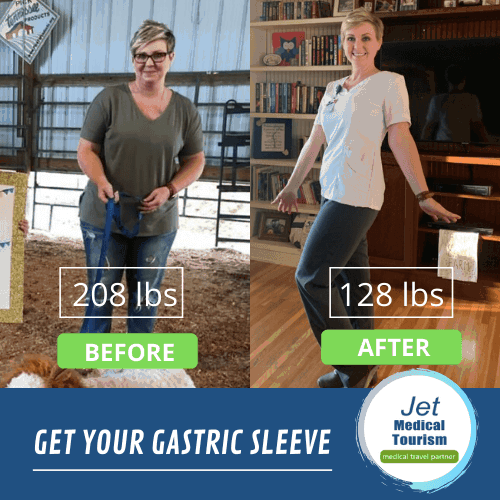 During the weight loss surgery consultation, the surgeon can make use of gastric sleeve before and after photographs to give a clear visual idea to the patient. After reviewing these photos, the patient is in a better position to make a decision. 
Most satisfying results in bariatric surgery are achieved where the patient knows clearly what the procedure can or cannot do for them.
Therefore, experienced weight loss surgeons encourage patients to review before and after images in order to develop realistic expectations.
This also helps mitigate any risk of misunderstanding or disappointment occurring at a later stage. 
Find a bariatric surgeon near you 
Jet Medical Tourism® is one of the top service providers for American and Canadian patients seeking safe and proven bariatric surgery in Mexico. Jet Medical Tourism® has partnered with some of the most modern and accredited weight loss surgery hospitals, bariatric centers and surgeons in Tijuana, Nuevo Laredo, and other cities in Mexico. 
Jet Medical Tourism® has bariatric surgeons on board to ensure patients struggling with obesity in the US and Canada can receive safe and sustainable weight loss results at a fraction of the cost in their home country. 
To find a bariatric surgery near you, call our representative today or contact us online to set up a convenient appointment.

Related articles on bariatric weight loss surgery