At Jet Medical Tourism, we offer simple and affordable options to finance your surgery with a monthly payment plan to fit your budget. This allows you to immediately acquire the medical care you desire. Click Citerra Finance to start.
Citerra Finance, Citerra finances both surgery and TRAVEL. At Citerra Finance, we can offer tailored medical loans. We can finance your medical procedure and include financing for your travel as well.
United Medical Credit, you have an experienced team of associates to help consult and support you through every step of financing your surgery.
eFinancing Solutions, eFinancing Solutions offers several financing options for most credit profiles. Your application will be processed and matched with an appropriate lender.
For Canadian Patients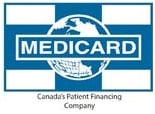 Medicard is Canada's premier finance company for Canadian patients.
Medical Financing for Bariatric Surgery