Mini Gastric Bypass Surgery in Mexico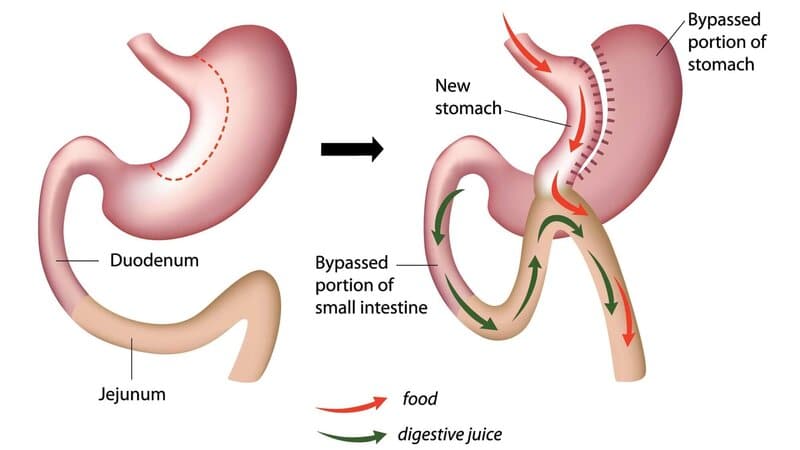 If you've been struggling with obesity, there are many bariatric surgery options that can help you lose weight rapidly and safely.
The mini gastric bypass (MGB) is a variation on gastric bypass surgery that can help you shed pounds and improve your health.
If you are a candidate, the bariatric surgeons at Jet Medical Tourism® in Tijuana, Mexico, can provide this weight loss surgery for just $5,299.
What is a Mini Gastric Bypass?
The mini gastric bypass surgery (MGB) is an effective and relatively low-risk version of the traditional Roux-en-Y gastric bypass. Both procedures involve the creation of a smaller stomach pouch that is connected to the small intestine.
On average, mini gastric bypass patients lose about 60-75% of their excess body weight 24 months after surgery.
The mini gastric bypass was originally developed by Dr. Robert Rutledge in 1997 to reduce operating time, simplify the procedure, and minimize the risk of complications.
How Mini Gastric Bypass Works
Mini gastric bypass surgery works in much that same way as a regular gastric bypass.
The mini gastric bypass alters gut hormones and combines both restrictive and malabsorptive components to promote rapid weight loss.
Restrictive weight loss involves restricting the amount of calories that can be consumed. This is achieved by creating the smaller stomach pouch.
Malabsorptive weight loss involves reducing the amount of calories absorbed during digestion. This is achieved by bypassing part of the stomach and up to six feet of the small intestine.
The Advantages of Mini Gastric Bypass
Reversible surgical procedure
Short, simple, and effective
Fewer risks of complications when compared to other bariatric surgery procedures
How Mini Gastric Bypass is Performed
The mini gastric bypass is a surgical procedure performed in two-steps.
Step 1: Creating the Stomach Pouch
The stomach is divided, and a narrow tube is created, which becomes the "new stomach". With resizing, only a small amount of food can be eaten.
The first step of the bypass is the restrictive part of the procedure. This involves using a laparoscopic stapler to reduce the stomach's capacity by about 75 percent. As a result, the stomach will transform into a narrow-tube. Post-surgery, the stomach pouch will gradually adapt and have the capacity to hold between 4 to 8 ounces.
Step 2: Rerouting the Small Intestine
A portion of the small intestine is connected to the lower part of the new stomach. Food passes from the new stomach into the small intestine where it meets the digestive juices that move downwards from the main part of the stomach.
The second step of the procedure is the bypass part which involves connecting a portion of the small intestine to the lower part of the new stomach while bypassing the upper part of the small intestine. As a result, about 2 to 7 feet of intestine has been bypassed before absorption of food (calories) can take place.
Recovering from the Surgery
After the mini gastric bypass surgery, patients will stay in the hospital for up to three nights of monitoring. This will be followed by a one-night stay at the hotel. After returning home, patients can resume work and normal activities within three week.
Start you weight loss journey setting up a consultation today.
How Much Does Mini Gastric Bypass Cost?
Mini gastric bypass surgery through Jet Medical Tourism® costs $5,299.
This price covers hospital fees, surgical fees, pre-op and post-op examinations, hotel accommodations, and round-trip ground transportation from San Diego International Airport to Tijuana, Mexico.
Why Come to Us for Mini Gastric Bypass?
What Jet Medical Tourism® Has to Offer
A Skilled Team of Surgeons
Our highly qualified team of bariatric surgeons have experience and credentials similar to surgeons who perform bariatric procedures in the United States and Canada.
State-of-the-Art Surgical Facilities
In our surgical suites, you will find the latest tools in bariatrics. We can perform mini and traditional gastric bypass surgery using minimally invasive laparoscopic techniques.
Drivers and Accommodations
Our packages include a stay at the luxurious Real Inn Hotel here in Tijuana. Patients will also have their own driver to get to and from the San Diego airport.
Save Money on Weight Loss Surgery
The exchange rate in Mexico means that patients coming from the U.S. and Canada can save up to 70% on their gastric bypass or mini gastric bypass. We also offer medical travel insurance.
Weight Loss After Mini Gastric Bypass
Undergoing mini gastric bypass surgery may help you with weight loss, which varies across patients because everyone has a different body mass index (BMI) due to different heights and weights.
On average, you can expect mini gastric bypass patients lose about 60-75% of their excess body weight after surgery (first 24 months).
More bariatric surgery procedures