Single Incision Gastric Sleeve Surgery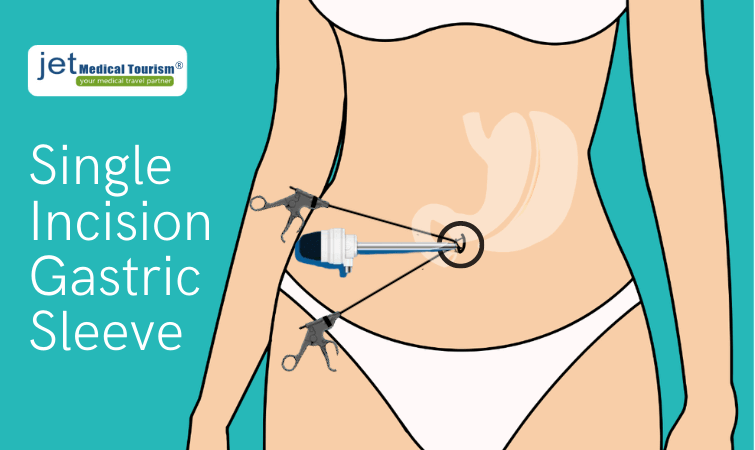 Are you considering bariatric surgery for weight loss, but are overwhelmed by invasive procedures and lengthy recovery times?
Single-incision laparoscopic surgery (SILS) can produce the same results as traditional bariatric procedures through just one incision.
See how Jet Medical Tourism® in Tijuana, Mexico, can save you money and help you achieve a healthy transformation.
The Unique Benefits of SILS
In addition to weight loss and health benefits after laparoscopic surgery with our Tijuana surgeons, SILS provides patients with:
Improved Comfort
Bariatric procedures often require multiple incisions in the abdomen for a surgeon to access the gastrointestinal tract. With single-incision laparoscopic surgery, patients can expect a more comfortable procedure performed through just one incision.
Minimal Scarring
Traditional bariatric surgery requires several incisions, which leave scars following the procedure. With single-incision surgery, the incision will be placed discreetly around the navel. The scar can be easily concealed with clothing and onlookers may not notice it at all.
Shorter Procedure
Because this laparoscopic surgery requires just one incision, our bariatric surgeons can often complete the procedure in about 90 minutes. This means you'll spend less time under anesthesia and lower your risk of anesthesia-related complications.
Faster Recovery Time
Because just one incision has to heal, recovering from SILS is easier and faster than traditional bariatric surgery. Many patients report recovering in about one week.
Comparable Results
Though the surgery is performed through a single incision, the results are the same as traditional methods. For example, a gastric sleeve can be successfully completed through one incision instead of having a patient endure a traditional surgery that requires 5-6 incisions.
What to Expect During SILS
SILS procedure involves the use of high-precision surgical devices along with a laparoscope (a tiny camera attached to a monitor at the other end). Some surgeons may also make use of the Robotic surgical machines to achieve more accurate results.
Here are the steps involved in a single incision sleeve gastrectomy.
Anesthesia
You will first be placed under anesthesia. Although SILS is less invasive than traditional methods, your surgeon may still prefer general anesthesia.
Bariatric Surgery
Your gastric sleeve surgery or other bariatric procedure will begin with the placement of a single incision around your navel. Your surgeon will insert a tiny camera in the incision and perform your weight loss surgery while viewing it on a monitor.
Close Incisions
Once the surgery is complete, your bariatric surgeon will close any incisions made in your GI tract. The surgical instruments and camera will be removed through the incision. Then, the incision will be closed with dissolvable sutures.
Ready to get started with SILS, send us a message. 
Understanding Medical Tourism in Tijuana, Mexico
Weight loss surgery in the United States and Canada can be expensive, costing upwards of $20,000. Jet Medical Tourism® in Tijuana, Mexico, provides the same quality surgeries for a fraction of the price. Our affordable packages include surgeon's fees, post-surgery testing, and round-trip ground transportation to and from our Tijuana medical center, so you won't be surprised by any hidden fees.
Our surgeons speak English, so you can communicate effectively with the person performing your weight loss surgery. We accept financing options, saving you even more money.
Whether you're receiving gastric bypass surgery or gastric sleeve with the SILS method, you can expect reasonable prices and high-quality service with Jet Medical Tourism.
What is a Single Incision Gastric Sleeve?
Single incision sleeve gastrectomy is a highly advanced and innovative bariatric surgery designed to minimize complications and ease post-surgical recovery. The standard laparoscopic gastric sleeve surgery involves five to six small incisions in the abdominal area through which the surgeon will access the GI tract. But in case of a single incision surgery, only one incision will be placed discreetly around the navel.
Select Surgeons Perform SILS
Only a handful of weight loss surgeons in the world are currently able to perform single incision gastric sleeve surgery. While the surgery is easier on the patient, it is relatively more technical and complex for the operating surgeon. Therefore, if you are seeking SILS laparoscopy, your first priority should be to identify the right bariatric surgeon with specific training and expertise in this procedure.
Minimally Invasive, More Precise
A single incision can be placed quickly, which means you will spend relatively lesser time under general anesthesia with SILS sleeve gastrectomy. The single incision will also heal faster, so your downtime will be reduced. The procedure involves the use of a tiny but high-powered fiber-optic camera, which provides a clear view of the underlying digestive tract structures to the surgeon. This ensures more targeted and precise surgery.
Is Single Incision Gastric Sleeve Safe?
Single incision gastric sleeve surgery is a safer procedure compared to the standard laparoscopic sleeve gastrectomy. The risk of anesthesia related complications is minimized because the surgery can be completed faster with just one incision. The post-op recovery is also faster and safer because the single incision will heal faster. The risk of infection in the incision will be minimal because multiple cuts are avoided.
However, it is important to remember that many bariatric surgeons still do not have adequate training or experience to perform this relatively new and advanced single incision laparoscopic surgery. Therefore, the key to your safety and success of results lies in the choice of your surgeon. Make sure that you work only with a trusted weight loss surgeon who has experience in various bariatric techniques, including single incision gastric sleeve.
Related: Is gastric sleeve safe?
Single Incision Gastric Sleeve Cost
Single incision gastric sleeve cost will be about $5,200 on average in Mexico. The same procedure in the United States or Canada can cost you around $20,000 on average. It is possible that some insurance companies in the United States and Canada may not be offering coverage for this relatively new surgery. So, you should be prepared to pay the costs out of pocket.
In general, the cost of SILS is slightly higher than the standard gastric sleeve surgery. The reasons are two-fold: 1) very few plastic surgeons in the US, Canada and Mexico currently perform this surgery; and 2) the procedure may involve the use of highly advanced robotic surgical technology.
Your single incision gastric sleeve cost in Mexico will typically cover the following cost components:
Bariatric surgeon's fee
Fee charged by other attending specialists or physicians
Costs of nursing care and other assistant staff
Hospitalization costs, including overnight stay charges if any
Fee of the in-house nutritionist and physical therapist
Costs of pre- and post-surgical medical tests and blood work
Cost of prescription meds and antibiotics
Ground transport from the airport to hotel and back
Related: How much does gastric sleeve cost?
Single Incision Gastric Sleeve in Tijuana
Single incision gastric sleeve in Tijuana can be performed by some of the top-rated weight loss surgeons. Tijuana is one of the largest medical tourism centers in Mexico because of its shared border with California. Almost all the latest bariatric procedures, including single incision laparoscopic sleeve, are available in Tijuana at state of the art hospitals and bariatric centers.
Why Choose SILS in Tijuana?
Advancements in surgical techniques and technology now enable bariatric surgeons to perform SILS single incision laparoscopic surgery in Tijuana. The city is home to some of the most qualified and skilled bariatric surgeons who have an excellent success record with weight loss procedures. For a relatively more intricate procedure such as SILS laparoscopy, you need a top talented surgeon. You can easily access these surgeons in Tijuana.
Convenience of Visiting Tijuana
You can conveniently travel from the US for your single incision surgery in Tijuana. The city is right across the border from San Diego. You can arrive by road or by air. The city has an excellent healthcare infrastructure and receives thousands of medical tourists from the US and Canada every year. The bariatric surgeons in Tijuana will speak in English. The hospitals provide personalized services to ensure you have a satisfying treatment experience in Tijuana.
Benefits of Single Incision Gastric Sleeve
A growing number of patients are now seeking single incision gastric sleeve surgery to eliminate obesity. The procedure offers certain inherent advantages, which are highly appealing to patients.
At the time of your initial consultation, you should discuss with your bariatric surgeon why you should choose SILS sleeve gastrectomy and how it can help you meet your weight loss goals.
Less Invasive: Single incision laparoscopy is minimally invasive because it avoids the use of multiple cuts and incisions.
Faster Recovery: Post-surgical recovery time will be reduced because only one incision requires healing in case of SILS laparoscopy.
Low Infection Risk: The risk of infection in the incision sites is relatively lower during and after the surgery because of just one incision.
Aesthetic Appeal: Final results with a single incision laparoscopic surgery will be more attractive because of negligible scarring.
Reduced Discomfort: Post-operative swelling, soreness and bruising will be lesser with a single incision, which will reduce your discomfort.
Effective Weight Loss: The weight loss results with an SILS sleeve gastrectomy will be as effective as with the standard gastric sleeve surgery.
Am I Eligible for SILS in Tijuana Mexico?
It is vital to determine your candidacy for single incision sleeve gastrectomy before you can go ahead with the procedure. During your pre-op consultation, your surgeon will review your age, medical history, current BMI, any underlying health complications, and your personal aesthetic goals. Based on this evaluation, they will recommend whether you are eligible for a single incision laparoscopic surgery.
In general, the right candidates for single incision sleeve gastrectomy will have the following attributes:
BMI of 40 or above
BMI of 35 or above along with an obesity-related medical condition
BMI under 45 (some surgeons may prefer this limit)
Preferably you have not had an abdominal surgery in the past
You do not have excessive central obesity
You strongly prefer minimal to no subsequent scarring
You are prepared to stop smoking at least for a few weeks
You are committed to following the surgeon's dietary guidelines
Difference Between Gastric Sleeve and SILS
You should have a clear understanding of the distinctions between standard laparoscopic sleeve gastrectomy and single incision laparoscopic sleeve (SILS). Your surgeon will explain you the differences at the time of your consultation so that you make an informed choice.
Invasiveness: In the standard laparoscopic gastric sleeve, your surgeon will have to create five to six small incisions in the abdominal area. The SILS laparoscopy, on the other hand, can be performing using just one incision.
Scarring: In case of regular laparoscopic VSG, you will have some degree of visible scarring in the incision sites. However, in case of SILS procedure, a skilled surgeon will hide the incision within the navel for negligible scarring.
Healing: Post-surgical healing in case of an SILS single incision laparoscopic surgery will be faster because only one cut needs to heal. But the standard gastric sleeve may take slightly more time to heal all the cuts.
Surgical Skill: Compared to a standard VSG surgery, a single incision laparoscopic sleeve requires more advanced surgical skills and the use of latest technology. Only a few surgeons have the expertise for SILS surgery as of today.
Single Incision Gastric Sleeve Reviews
Single incision gastric sleeve reviews will help you feel more reassured about the success rate and patient satisfaction levels with this procedure. Before you make a final decision, you should request your bariatric surgeon to share with you single incision surgery reviews of past patients. However, you should note that the reviews and testimonials related to this surgery will be fewer in numbers because the procedure is relatively recent.
The advantage with single incision gastric sleeve reviews is that you can receive real insights into the procedure from an actual patient. These reviews are naturally more credible, and you will connect with them emotionally because a real patient is telling their story. If you are looking for a spark of inspiration to make your decision, you should read SILS surgery reviews of actual patients.
Contact Jet Medical Tourism
®

for Single Incision Gastric Sleeve in Tijuana, Mexico

Single incision gastric sleeve in Tijuana, Mexico is a path-breaking bariatric surgery. If you want to get rid of obesity but are not ready to accept abdominal scarring, this innovative single incision laparoscopy is for you. It will give you the best of both the worlds, and deliver sustainable results and lasting satisfaction in every way.

Jet Medical Tourism® is one of the leaders in the field of bariatric surgery medical tourism to Mexico. We have the capability and experience to provide you the very latest weight loss procedures, including single incision gastric sleeve in Tijuana, Mexico.

Call us today to schedule a free consultation with our bariatric surgeons.
More Bariatric Surgery Procedures