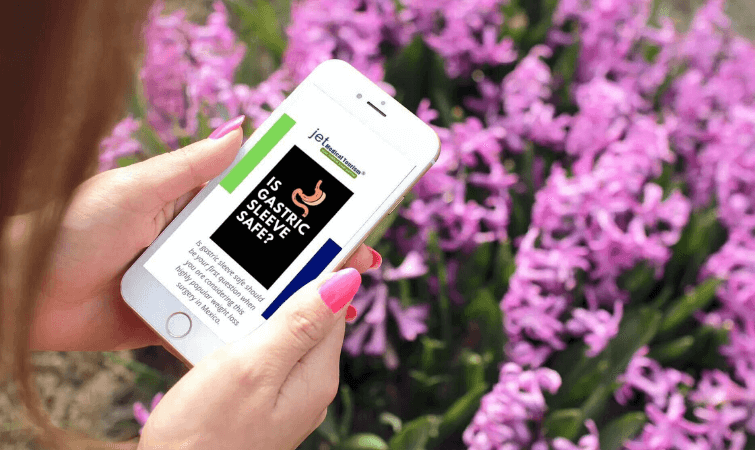 Is gastric sleeve safe should be your first question when you are considering this highly popular weight loss surgery in Mexico. You may be surprised to know that gastric sleeve complications are lower than most other surgeries. You can gauge how safe is gastric sleeve from that fact that the American Society of Metabolic and Bariatric Surgery (ASMBS) puts its risks considerably lower than even hip replacement or gallbladder surgeries.
Side effects of the gastric sleeve surgery are usually mild and temporary. But the key to success in this procedure lies in the skill and experience of your Mexico bariatric surgeon. It is equally important to choose a reputable clinic or hospital in Mexico to ensure your risk of gastric sleeve surgery complications is minimal. Read on to learn about the long term effects of gastric sleeve.
Is gastric sleeve safe in Mexico? To obtain an authentic answer directly from a bariatric surgeon in Mexico, email Jet Medical Tourism® for a free consultation!
Is Gastric Sleeve Surgery Safe?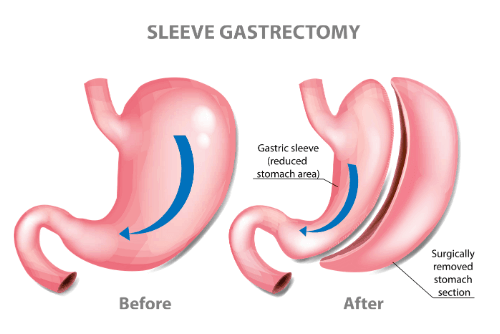 Safety should be your paramount concern when you are seeking a bariatric surgery in Mexico to achieve weight loss. Feel free to ask your surgeon during the initial consultation: "Is gastric sleeve surgery safe?" A dedicated and responsible weight loss surgeon will inform you about the safety profile of this procedure. They will also objectively evaluate your health condition and individual risk factors to inform you how safe is gastric sleeve for you.
ASMBS Supports Gastric Sleeve
According to the ASMBS, gastric sleeve surgery has proven to be a safe and effective treatment for patients suffering from morbid obesity. The ASMBS further goes on to say that gastric sleeve should be considered the primary surgical procedure for weight loss. Clearly, when the top authority on bariatric surgery in the US endorses this procedure, it should satisfy your concerns about: "Is gastric sleeve safe?"
Researchers Highlight Gastric Sleeve Safety
How safe is the sleeve surgery is also indicated by the Cleveland Clinic on its website. It says that the increasing popularity of this procedure is obviously because the surgery is less invasive and avoids rerouting of the intestine. Gastric sleeve complications are fewer compared to other bariatric procedures. Long term effects of gastric sleeve are highly favorable for most patients.
Your Own Contribution to Safe Results
You should be aware that many of the risks, complications, and side effects of the gastric sleeve surgery can be eliminated with your own efforts. Be prepared to follow your surgeon's guidelines related to diet and exercise. Chew your food thoroughly, avoid high-calorie foods and drinks, drink plenty of water to stay hydrated, and take your nutrition supplements as directed.
READ THIS ALSO: Is a gastric sleeve worth it?

Safe gastric sleeve surgery checklist
While you discuss with your surgeon about: "Is gastric sleeve safe long term?" you should also request them to provide you a pre- and post-surgery checklist. This will make it easier for you to comply with their guidelines and achieve safe and predictable results. Here is a suggested safe gastric sleeve surgery checklist:
Measure your weight, height and BMI
Talk to your insurer to check if you qualify for gastric sleeve surgery
Obtain copies of your documents related to medical history
Apply for a passport if you are planning gastric sleeve in Mexico
Schedule an appointment with Jet Medical Tourism

®

Follow pre-operative diet and exercise plan as per your surgeon's guidelines
Submit the medical documents, including any test reports that your surgeon may require
Schedule a date for surgery with Jet Medical Tourism

®

Make arrangements for your travel and stay in Mexico with assistance from your patient coordinator
Preferably have someone accompany you on the surgery day in Mexico
Follow the surgeon's guidelines for diet, rest, recovery, incision care, medications, and post-op tests during your stay
Follow your surgeon's dietary and physical activity guidelines on your return to your home country
RELATED READ: What is the safest form of weight loss surgery?
Is it safe to get a gastric sleeve in Mexico?
While you are considering a bariatric surgery for weight loss, you may want to know: "Is gastric sleeve safe in Mexico?" Over the last decade, Mexico has emerged as the world's leading destination for high quality and low cost gastric sleeve surgery. Every year thousands of Americans and Canadians visit some of the most exotic locales in Mexico, which have built world-class medical infrastructure.
Leading Hospitals and Surgeons
You should choose an accredited or reputable hospital in Mexico, which has a long and established track record of successful surgeries. Some of the hospitals have even obtained the coveted JCI accredited, which is the gold standard for hospital safety. Gastric sleeve surgeons in Mexico are highly competent, having advanced qualifications, training, and experience in the field.
Work with a Dependable Partner
Facts and statistics speak for themselves when it comes to the question of: how safe is gastric sleeve surgery in Mexico. The key to success, however, lies in your choice of Mexico bariatric surgeon, hospital or clinic. As long as you partner with a respected medical tourism provider with experience in Mexico weight loss surgery, you will be in safe hands for your procedure.
RELATED READ: Travel to Tijuana Mexico for gastric sleeve surgery
Gastric sleeve complications & tips to treat them
While the safety profile of gastric sleeve surgery is clinically proven and well-documented, some patients will still experience post-operative issues. Your Mexico weight loss surgeon will clearly inform you about potential gastric sleeve complications as well as side effects of the vertical sleeve gastrectomy. They will require you to sign a consent form before admitting you for surgery.
Gastric Sleeve Surgery Complications
Temporary Side Effects of the Gastric Sleeve
Bruising and swelling
Mild pain and soreness
Feeling tired or fatigued
Infection in the stitches area
Stress and anxiety
Most of the gastric sleeve complications are easily treatable, and the side effects will likely resolve on their own. You should focus on your post-surgical care instructions to minimize your risks. If the signs of a complication or side effect persist, talk to your surgeon. They will be able to provide you a medical resolution for your concerns.
How safe is gastric sleeve surgery in the long term?
You may want to ask your surgeon: "Is gastric sleeve safe long term?" The answer is a resounding "Yes," provided you continue to maintain your recommended diet and an active lifestyle. It will get progressively easier for you to control your diet because your stomach size would be smaller. Secondly, the reduction of hunger hormones in your body will curb your urge to eat.
With some self-discipline about your dietary habits and fitness routine, you can experience outstanding results with your gastric sleeve surgery in Mexico. The long term benefits of gastric sleeve may include permanent freedom from obesity and a resolution of or reduction in the symptoms of obesity-related diseases.
RECOMMENDED ARTICLE: Pros and cons of gastric sleeve surgery
Contact Jet Medical Tourism
®
for a Safe Gastric Sleeve Surgery in Mexico
Are you looking for a real answer to this question: "Is gastric sleeve safe in Mexico?" Look no further, and place a call to Jet Medical Tourism® today. We will arrange your free consultation directly with a pre-eminent bariatric surgeon in Mexico. They will explain to you how safe is gastric sleeve in Mexico, and will address all your questions and concerns in detail. Call us now and get set for a safe and life-changing gastric sleeve surgery in Mexico.