Gastric Sleeve Surgery in Mexico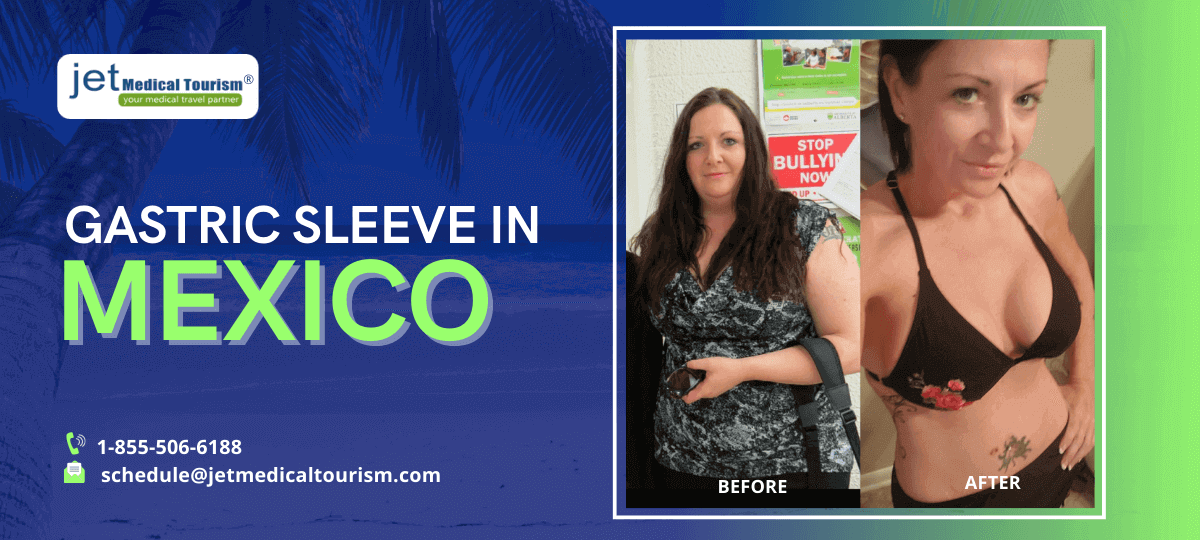 Are you eating a healthy diet and exercising but still feel overweight?
Laparoscopic gastric sleeve surgery can help you achieve your weight loss goals and give you a slimmer figure.
A gastric sleeve procedure with Jet Medical Tourism® in Tijuana, Mexico, is $4,199. Learn how this bariatric surgery can improve your life.
The Benefits of Gastric Sleeve Surgery
Improved Health
Sleep apnea, high blood pressure, and diabetes can all be consequences of excessive weight. A gastric sleeve can greatly reduce or altogether eliminate these health issues.
Decreased Appetite
By removing part of your stomach, a gastric sleeve reduces your hunger hormones and appetite, helping you keep the weight off.
Lower Risks
While our bariatric surgeons always perform weight loss surgery as safely as possible, gastric sleeve surgery has fewer risks for complications than gastric bypass surgery and other bariatric surgeries.
More Self-Esteem
Looking and feeling healthier will likely make you feel more attractive and confident, which can increase your quality of life.
What is a Gastric Sleeve?
Also known as a vertical sleeve gastrectomy, gastric sleeve surgery removes about 80% of the stomach, reducing it to a tube-shaped "sleeve." A smaller stomach means patients both feel full faster and produce less hunger hormones, leading to dramatic weight loss.
Since a sleeve gastrectomy doesn't involve intestinal rerouting, it has a lower risk of complications than other bariatric surgeries, like gastric bypass surgery.
Patients generally lose up to 70% of their excess body weight within 12 to 18 months after vertical sleeve gastrectomy.
Restrictive and Metabolic Procedure
Gastric sleeve is not only considered a restrictive procedure, but also a metabolic surgery that induces the desired physiological changes to curb appetite. The reduced stomach volume will enable you to limit your meal portions, while the hormonal modulation will make you feel less hungry. The dual effect will help you achieve up to 70 percent weight loss within the first year on average.
Underlying Benefits for Health
Gastric sleeve surgery will not only help eliminate morbid obesity, it will also deliver additional medical benefits. Obesity-related type 2 diabetes may go into remission or the symptoms may entirely disappear. Your cardiovascular risks will significantly reduce as your blood pressure and cholesterol levels return to normal. Obesity is also associated with anxiety and depression, which will reduce following your VSG surgery Tijuana.
Qualifications for Gastric Sleeve Surgery
Qualifications for gastric sleeve surgery, also known as sleeve gastrectomy, may vary depending on the specific requirements of the bariatric surgery center or the guidelines set by the surgeon. However, here are some common qualifications that are often considered:
Age
Candidates are usually between 18 and 65 years old, although this can vary.
BMI (Body Mass Index)
To qualify for a gastric sleeve, candidates need to have a BMI of 40 or higher, or a BMI of 35-39.9 with severe comorbidities, such as diabetes or hypertension. In some cases, individuals with a BMI lower than 35 may be considered if they have severe weight-related medical conditions.
Failed Weight Loss Efforts
Prior to considering surgery, you should have exhausted attempts to lose weight through diet, exercise, or medical interventions.
Interested in Weight Loss Surgery?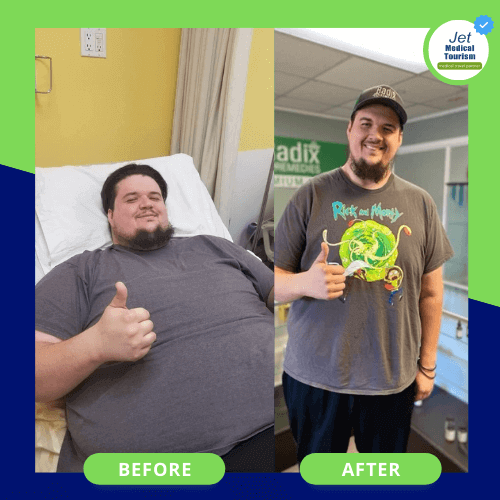 Struggling with weight loss can be frustrating, especially if you eat healthy and keep an active lifestyle.
Excess weight may not be your fault: genetics and family history play a big part in your body type and health. Gastric sleeve surgery can slim your figure and remove stubborn fat, giving you a new perspective on life.
The gastric sleeve is a popular weight loss option because it's a less invasive bariatric surgery that leads to significant long-term weight loss. If you're interested in gastric sleeve surgery, request a consultation with our surgeons in Tijuana and Nuevo Laredo today or give us a call at (855) 506-6188.
Enjoying Medical Tourism in Tijuana, Mexico
Jet Medical Tourism will handle the travel arrangements for patients and their guests as soon as they land at San Diego International Airport. During their trip to Tijuana or Nuevo Laredo, our patients and their companions stay in luxury hotels. We help coordinate shuttle service between the hotel and the hospital.
The Real Inn Hotel in Tijuana is directly across from Plaza Rio Tijuana, a 792,000-square-foot shopping center with restaurants, bars, movie theaters, and more. The hotel includes an onsite car rental agency, travel agency, and Starbucks.
The Quartz Hotel & Spa offers an outdoor swimming pool, a garden, and a fitness center, as well as a special "Care Room" specifically designed to provide relaxation and comfort for medical tourists.
The Gastric Sleeve Surgery
What to Expect at Our Tijuana Facilities
Anesthesia
General anesthesia is administered to keep patients comfortable throughout the weight loss surgery surgery.
Small Incisions
Small incisions are made in the abdomen, giving our doctors access to the stomach.
Surgical Tools
A surgical tool with a camera on the end called a laparoscope is inserted into the body through the incision.
Tissue Removal
Once our surgeons have access, they will remove 80% of the stomach, limiting the amount of food that the stomach can hold.
Reshaping the Stomach
Using a surgical stapler, our bariatric surgeons will reshape the remaining stomach into a sleeve shape.
Sutures
The laparoscope is removed and the incisions are closed with sutures.
Post-Surgery
Patients usually stay in the hospital for one to two nights, and need a week of rest after bariatric surgery. Heavy lifting and intense exercise should be avoided for 6 to 8 weeks.
The staff at Jet Medical Tourism® is committed to helping all of our patients have a successful recovery, and are available after you leave Tijuana if you have any questions or concerns after you return home, contact our Tijuana, Mexico location
Maintaining Your Results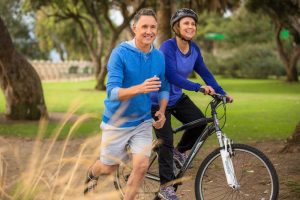 Patients can enjoy the benefits of a gastric sleeve for a lifetime if they adopt a healthy lifestyle after surgery.
Crucial to maintaining a healthy weight is adopting a nutrient-rich diet. Lean proteins, leafy vegetables, and low-calorie foods must become everyday meals. Regular exercise is also necessary to maintain a healthy weight. Our Tijuana staff will help you shape your new post-surgery lifestyle, greatly increasing the probability of maintaining a slimmer body and better health.
For more information, check out our gastric sleeve recovery guide.
Alternatives to Gastric Sleeve
If you're not a candidate for a gastric sleeve, our Tijuana surgeons may recommend one of these alternative surgeries:
Gastric Bypass
This surgery not only reduces the size of the stomach but it also reroutes the small intestine. These elements combined limit the amount of food that can be eaten and the number of calories the small intestine absorbs. Learn more about gastric bypass.
Mini Gastric Bypass
Similar to gastric sleeve surgery, a mini gastric bypass is a less intensive weight loss surgery and carries a lower risk of complications. Unlike most bariatric surgeries, mini gastric bypass is also reversible. Learn more about mini gastric bypass.
Is Gastric Sleeve in Mexico Safe?
All surgical procedures carry risk. But the key is to make sure you're working with a well-qualified and experienced surgeon. This is why checking out the surgeon credentials and facility reviews is critical, regardless of which country you're receiving the procedure in.
If you are still asking the question "is gastric sleeve safe", make sure the medical facility has everything necessary to take good care of a bariatric patient. Here are a few tips to help you do that: 
The doctors should be certified: The bariatric surgeons should be board-certified and/or experienced at performing sleeve surgery in Mexico. 
The hospital or clinic must have bariatric equipment: It goes without saying that the facility must be in compliance with the required standards of safety and cleanliness. In addition, it should also have an in-house lab, intensive care unit, x-rays, tomography, and blood bank. 
There should be an operating room specifically for gastric sleeve patients: This means the hospital or clinic should have state-of-the-art laparoscopic equipment, surgical beds for bariatric patients, laparoscopic HD cameras and screens, and an anesthesia machine with ventilator.
The facility should have a full surgical staff: The place where you choose to receive gastric sleeve in Tijuana, Mexico should at least have a cardiologist, internist, and a pulmonologist in addition to an expert bariatric team. 
Also, consider your experience while communicating with the facility and the surgeons. Do they take the time to talk with you and know you during the initial consultation? Or do they seem in a hurry? All these factors will help ensure you choose a facility that's safe and puts your well-being above your money!
Related: What is the success rate of gastric sleeve in Mexico? 
Gastric Sleeve Mexico Cost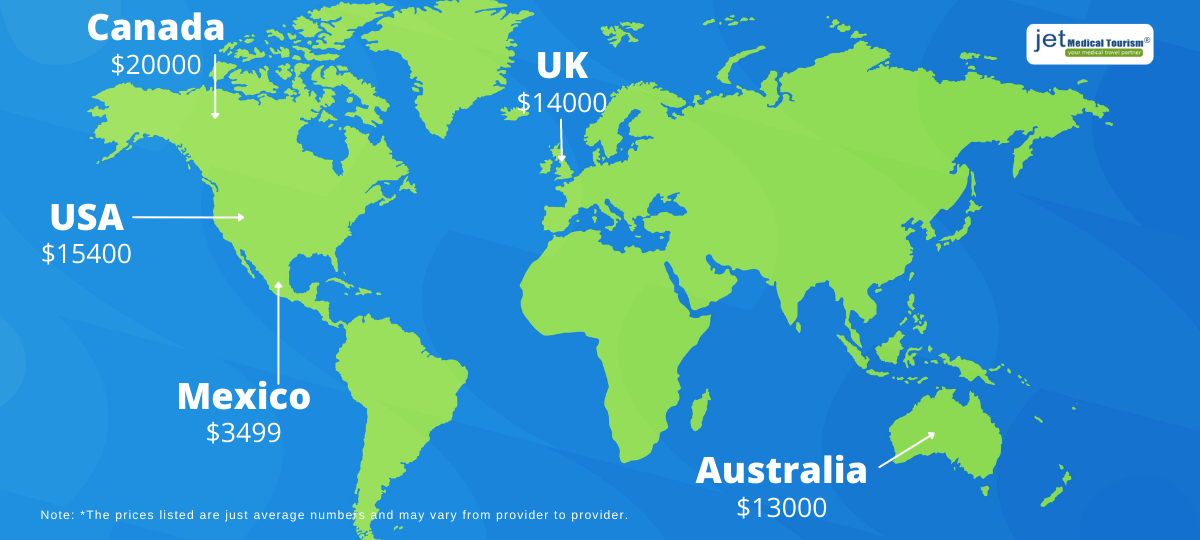 The gastric sleeve price in Mexico can range from $3,499 to $9,000, depending on the hospital and surgeons. It also depends on whether your insurance company covers gastric sleeve surgery performed in Mexico. 
For a more precise idea about the cost of Mexico gastric sleeve, we recommend talking to a Jet Medical Tourism® representative. Call us today.
What is Included in the Cost of Gastric Sleeve in Mexico?
At Jet Medical Tourism®, your gastric sleeve surgery package will generally include the following:
2 nights stay in the hospital

1 night stay in a hotel after you're discharged from the hospital 

Private ground transportation (in-town, inbound, outbound)

Pre-surgery tests (blood test and EKG)

Post-surgery standard medications

Post-surgery test (drain and leak test)

Surgeon liaison 

Nutrition consultation (pre-op and post-op)
There won't be any hidden costs and you will be attended by an experienced and dedicated bariatric surgeon and their medical team.
Related: How much does gastric sleeve cost?
Does Insurance Cover Gastric Sleeve Surgery in Mexico?
Gastric sleeve surgery is generally not covered by the American insurance providers, but it is best to talk to your insurance company directly about this. 
If your insurance doesn't cover the vertical sleeve or your claim is denied, don't worry, we have you covered! Jet Medical Tourism® offers affordable medical financing so you can receive the best bariatric care even without insurance.
Gastric Sleeve Process
Once the bariatric team has made sure you qualify for the surgery, and you arrive at the Mexico facility, your doctor will explain the vsg surgery process to you. If you have any questions or concerns, feel free to discuss them with your surgeon or the team.
To give you a general idea of what occurs during the surgery, here is a step-by-step breakdown of the gastric sleeve process:
Step 1

: You will be lying face up, on your back, on the operating table.

Step 2

: The anesthesiologist will administer general anesthesia.

Step 3

: Once you are under the anesthesia, a breathing tube will be inserted into your esophagus. 

Step 4: The bariatric surgeon will make 3-5 tiny incisions in the abdominal wall for the insertion of small trocars (hollow steel tubes; trocars will help the surgeon perform your operation).
Step 5: Next, your abdomen will be filled with carbon dioxide gas in order to separate the small intestine from stomach wall.
Step 6: The surgeon will then insert a probe mounted with a laparoscope (camera) and pencil-thin surgical instruments in the abdomen.
Step 7: Then a bougie tube will be inserted to act as a sizer for your new stomach.
Step 8

: If any Hiatal Hernias are present, they will be removed to prevent gastro-esophageal reflex disease (GERD)

Step 9: A stapler will be used to divide your stomach in 2 parts
Step 10: The staple lines will be reinforced with sutures to ensure no stretching or leakage occurs.
This is obviously a very general overview; if you are curious about the exact, detailed gastric sleeve process, you can talk to your surgeon about it.
Related: How does gastric sleeve work
Preparing for Gastric Sleeve in Mexico
What happens during your surgery will be the responsibility of your surgeon and the hospital. However, you can still take some steps to ensure you are in best possible condition on the surgery day. Effectively preparing for gastric sleeve will not only reduce your stress, it will also minimize your risk of complications.
Here is what you need to know about preparing for vertical sleeve surgery.
Stop drinking carbonated beverages and alcohol (of any kind).

Stop drinking coffee, tea, or anything that may contain caffeine.

Stop smoking.

Stop eating processed, refined, and junk foods.

Start practicing chewing your food for longer.

Start eating less carbohydrates and more protein.

Start working out lightly to boost your lung capacity (this could be walking, climbing stairs, yoga, or dancing for 20-30 minutes every day).
Related: Gastric sleeve pre op diet
You should implement these tips at least 1 month in advance, but 2-3 months prior to surgery is best for optimal safety.
What to Pack for Gastric Sleeve in Mexico?
Wondering what to pack for your vertical sleeve surgery visit to Mexico? Here is what you'll need:
A small suitcase and a carry-on

A neck pillow (if you want)

Some spending cash in local currency if possible.

A pair of comfy, easy-to-slip-in flip-flops

3-4 pairs of underwear and loose, stretchy clothes (for a 4-night stay)

Headphones with your own music to pass the time

Eye-mask and earplugs for a good night's sleep

A sweater or warm jacket (for the plane ride)

A heating pad

For more detailed packing instructions, check out this guide.
Related: Travel to Tijuana Mexico for gastric sleeve surgery
Why Should I Choose Gastric Sleeve Surgery in Tijuana Mexico?
Gastric sleeve has become the number #1 bariatric procedure around the world due to a variety of reasons. If you are wondering how the procedure can benefit you, consider this:
No change in the digestive system: It doesn't alter the internal physiology of the patient, i.e., the stomach and intestine can still function normally.
Reduces hunger hormone: It eliminates the upper part of the stomach that's responsible for producing Ghrelin hunger hormone.  
Reduces cravings: It significantly reduces the patient's cravings for unhealthy foods.
Reduces food intake: It eliminates your ability to eat large amounts of food, and you feel fuller with less food.
No risk of post-op health issues: It poses little to no risks of developing ulcers, vitamin deficiency, osteoporosis, anemia, or intestinal blockage.
No need for frequent hospital visits: It doesn't require any fills or adjustments.
Can be converted: It can be converted to roux-en-y gastric bypass or duodenal switch if the patient wishes to do so.

Can Gastric Sleeve Surgery in Mexico Help Me Lose Weight?
Gastric sleeve procedure can definitely help you lose the excess weight, no matter how "big" you are right now. Why? Because it effectively makes use of the two-pronged approach to weight loss. 
In other words, gastric sleeve not only reduces your stomach size, it also reduces your hunger and cravings! Unlike other weight loss surgeries, where the patient has to constantly curb their cravings for unhealthy food, VSG eliminates the hunger hormone (Ghrelin) that's causing the cravings in the first place. 
Here is how Mexico sleeve gastrectomy will help you drop off the pounds effortlessly:
It will reduce your stomach to 70-80% of its original size.
It will enable you to eat less and still feel fuller for longer.
It will significantly reduce ghrelin hunger hormone in your stomach, so you won't feel the intense bouts of hunger you currently do.
This two-pronged approach will result in a rapid weight loss and almost immediate health benefits.
Related: Long term effects of gastric sleeve
Expected Weight Loss After Gastric Sleeve in Mexico
Now to the big question… how much weight can a person lose after sleeve weight loss surgery in Tijuana, Mexico? 
The majority of VSG patients lose 70-80% of their excess weight within a year of undergoing the surgery. If you adhere to post-operation diet and exercise daily for even 20-30 minutes, you are more likely to lose all of your extra weight within 1 year and keep it off!
Average Monthly Weight Loss After Gastric Sleeve in Tijuana, Mexico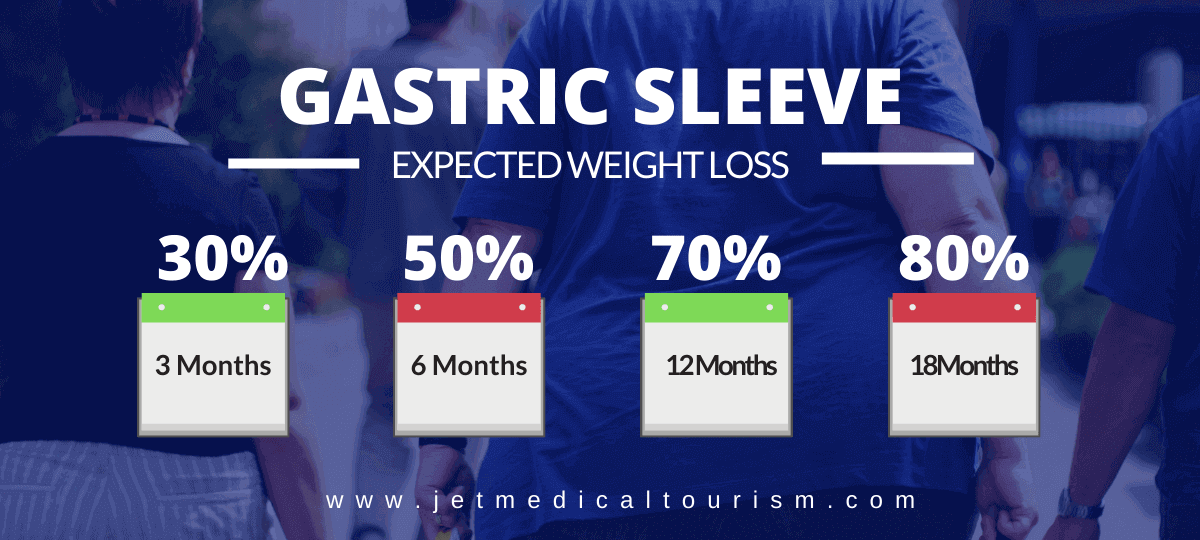 The average monthly weight loss after gastric sleeve surgery varies patient to patient. Your weight loss will depend on your starting weight, existing health issues, and how well you stick to the post-surgery diet. 
But generally speaking, you can expect to lose 30-40 pounds in the first 3 months. Then you will lose at least one to two pounds every week for the next 12-18 months.
In our experience, the average expected weight loss for gastric sleeve patients goes something like this:
3 months after gastric sleeve: Loss of 30% extra weight
6 months after gastric sleeve: Loss of 50% extra weight
12 months after gastric sleeve: Loss of 70% extra weight
18 months after gastric sleeve: Loss of 80% of extra weight
Keep in mind that these kinds of results can only be achieved if you follow the dietary and exercise guidelines strictly. VSG will only work if you implement a proper nutritional diet into your life.
Best Gastric Sleeve Surgeons in Mexico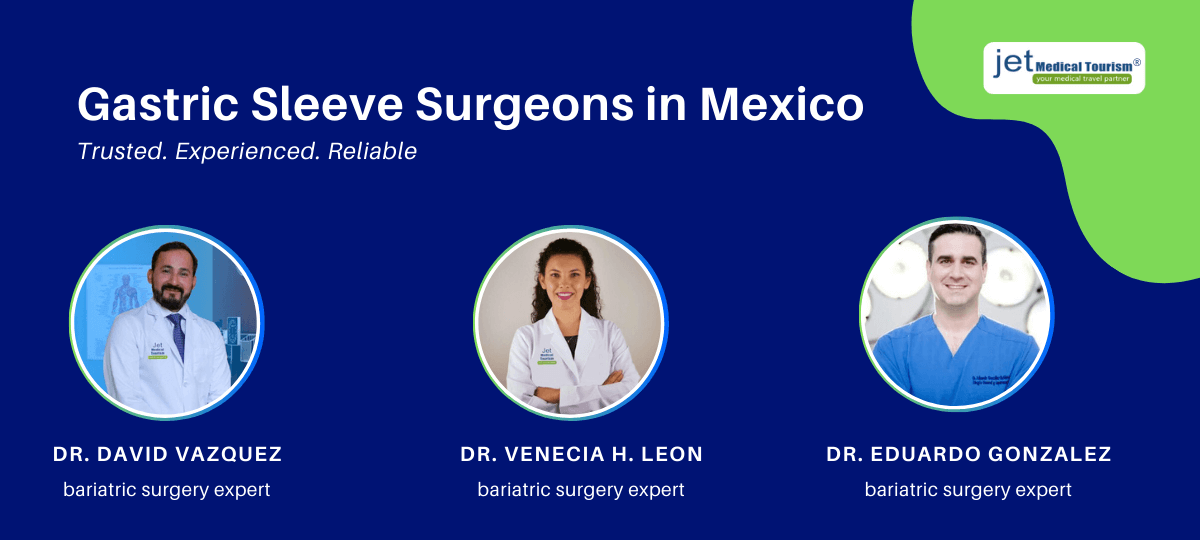 In order to get the highest patient care possible, Jet Medical Tourism® works with some of the best weight loss surgeons in Tijuana, Mexico who go the extra mile in delivering the highest success rates. 
Bariatric surgeons in Tijuana include Dr. Eduardo Gonzalez, Dr. Venecia Leon Hernandez and Dr. David Vazquez. These surgeons have access to leading bariatric equipment, medical technology and have performed many successful vertical sleeve surgeries in Mexico.
How to Choose Tijuana Gastric Sleeve Doctors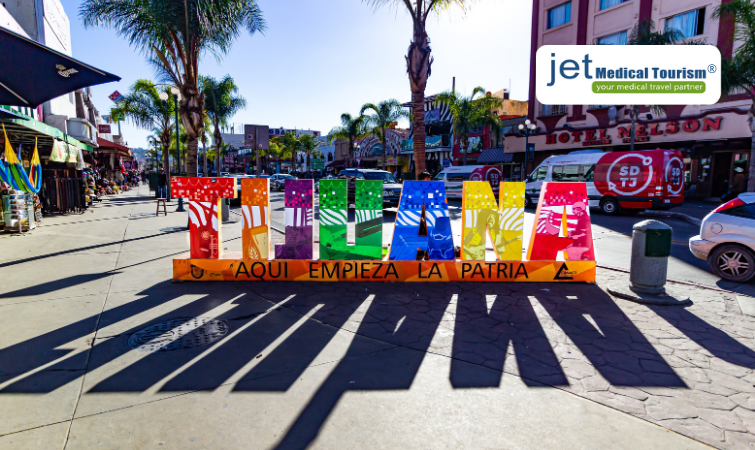 One of the most important decisions you will be making in your weight loss journey is how to choose a bariatric surgeon in Tijuana. Tijuana, Mexico has some of the finest and most dedicated surgeons who have successfully performed thousands of vertical sleeve gastrectomy procedures. Once you have found the right Tijuana gastric sleeve doctor, you can expect safe and predictable outcomes.
Qualifications: The first thing you should look for while selecting a surgeon for your sleeve gastrectomy Tijuana is their qualifications. It is important to work with a fully trained and qualified bariatric surgeon.
Experience: Tijuana Mexico stomach surgery is a complex procedure. An experienced surgeon will be able to handle unforeseen emergencies in the operating room. They will know how to minimize your risks when you have related medical conditions.
Personalized Care: Your doctor for VSG surgery Tijuana should be committed to providing you personalized care and attention. To obtain best results, they should customize your VSG procedure according to your unique needs.
Risks and Complications Gastric Sleeve in Mexico
Every surgical procedure comes with some degree of risks, and the same can be said about gastric sleeve. Even though sleeve gastrectomy is considered one of the safest bariatric procedure in the world, it may result in some complications, such as:
Staple line leaking: The surgeon will take every possible measure to prevent this, but some patients can develop leakage from staple lines. This may lead to difficulty breathing, rapid heart rate, or a fever after the surgery. 
Blood clots: The formation of blood clots is possible in the patient's arms or legs. The symptoms include loss of sensation, pain, swelling, and redness. 
Strictures

:

Strictures refers to the condition when the stomach becomes inflamed and the food can't enter the intestines. The symptoms include vomiting, nausea, food intolerance, and difficulty swallowing. 

Wound site infection: If you notice any wounds around your incisions, or you notice the incisions are not healing properly, you might have an infection. 
If you notice any of the symptoms mentioned above, it is critical to call your doctor right away. These gastric sleeve complications need to be addressed immediately or they can result in severe consequences.
Only a very small number of patients experience any health complications after gastric sleeve, and that too only if the surgeon is not competent or experienced enough.
Gastric Sleeve in Tijuana Mexico Reviews
Here is what our patients are saying about their experience:
"I couldn't be more satisfied with my experience! Jet Medical Tourism® Coordinators were always very good to me and very helpful. I was very well taken care of by Dr. Reyes and his team. I would definitely recommend him. I am so glad that I made this decision to take this journey! Thank you all!" – Ashley M.
"Jet Medical Tourism® has been extremely helpful in this whole process. I would highly recommend the Extended Nutrition Program. It is invaluable to keep you on track once you begin this journey. The app that comes with the program to track food is amazing. It has a bar code scanner to help with this as well. The recipes and reminders have also been very helpful." – Kristen L.
"I had the Gastric Sleeve Surgery on October 5th. I highly recommend Jet Medical Tourism®, Dr. Reyes, Dr. Marisol and their team for any type of surgery you need. They are very knowledgeable and kind. They go out of their way to make you feel special. I am doing very well 10 days post op. If you have any questions Jet Medical Tourism is there to answer them. Contact them today and start your new and exciting journey you won't regret it." – Tiwanna A.
View more Jet Medical Tourism® gastric sleeve reviews.
Gastric Sleeve Surgery Before and After
Jet Medical Tourism® takes immense pride in being able to share the successful gastric sleeve stories of our patients along with their gastric sleeve before and after pictures with you. 
*Keep in mind that weight loss results vary patient to patient.
View more gastric sleeve before and after photos
Gastric Sleeve Surgery Tijuana, Mexico
Tijuana, Mexico has developed a modern, world-class medical infrastructure for bariatric surgery procedures such as VSG. The city enjoys close proximity to the US as a border town, which makes it easy for patients from all over the United States and Canada to visit Tijuana for VSG surgery. The city is completely safe for medical tourists and the government has invested heavily to make Tijuana a top tourism destination.
Well-Equipped Hospitals and Clinics
The hospitals and bariatric clinics in Tijuana are equipped with the latest surgical technology and facilities. You can expect the highest standards of care when you choose VSG Tijuana Mexico. The full-service hospitals in the city usually have in-house facilities for diagnostics and lab tests. The operating rooms are state of the art. If you need an overnight stay at the hospital, you can expect the best of comforts and amenities at the rooms.
Skilled and Compassionate Surgeons
Many of the bariatric surgeons in the city have extensive experience in performing sleeve surgery in Tijuana, Mexico. The high influx of visitors from the US and Canada has ensured that the surgeons understand the unique needs of these patients. Most of the surgeons can converse in English. They will spend adequate time with each patient and address all their gastric sleeve requirements with compassionate care.
Related: Is Tijuana safe? Travel for tourists
Single Incision Gastric Sleeve Mexico
Top perform laparoscopic vertical sleeve gastrectomy Mexico, surgeons typically create five to six small incisions in the abdominal area. But now some surgeons are offering the innovative single incision gastric sleeve surgery Mexico procedure. The goal of this single-access VSG procedure is to reduce incisional morbidity while increasing aesthetic benefits.
Safe and Effective Technique
According to an NIH research article, the single incision gastric sleeve surgery is safe and can be performed using the same surgical principles as the conventional laparoscopic technique. A skilled VSG Tijuana Mexico surgeon can perform this procedure with predictable outcomes, provided they have received specific training in this technique. At present, only a few bariatric surgeons worldwide offer the single incision procedure.
Ideal Solution for Scarless Surgery
If you are overly concerned about the subsequent scarring in your abdominal area, you may benefit from single incision VSG surgery Mexico. In this procedure, your surgeon will create a tiny incision of about 2 cm around your navel. The complete sleeve gastrectomy will be performed through this small incision. Once the healing is complete, you will virtually have no tell-tale signs of having undergone a gastric sleeve in Tijuana.
Single Incision Gastric Sleeve Tijuana Cost
Single incision gastric sleeve in Tijuana will cost you about $5,000 to $6,000 on average. The cost may be marginally higher than what you would pay for a conventional laparoscopic sleeve surgery in Mexico. The reason is that only a few surgeons are currently equipped to perform this surgery. However, Tijuana Mexico stomach surgery single incision is still about 70% cheaper than what it would cost you in the US or Canada on average.
Your single incision VSG surgery Mexico cost will generally include the following:
Fee charged by the bariatric surgeon
Fee of any other attending doctors and staff
Anesthesia team charges
Surgery room costs
Overnight stay at the hospital (for the first night)
Pre- and post-op lab tests and blood work
Prescription medications for one week
Nutritionist consultation at the hospital
Transport costs from the airport to hotel and back
Why Jet Medical Tourism
®

for Gastric Sleeve in Tijuana, Mexico?

Jet Medical Tourism® is a trusted name in the Mexico bariatric industry. Here's why:
Pre-surgery and post-surgery care and nutrition program

Board-certified surgeon(s)

State-of-the-art medical equipment and technology 

Affordable pricing with financing available

Reputable medical facilities 

24×7 medical staff and surgical team

 

High Quality Outcomes: Team of skilled surgeons have 15+ years experience, collectively.
Low Wait Time: Fill out your online application within 10 minutes and get approved within 48 hours.
Save Money: Our all-inclusive gastric sleeve surgery packages are a fraction of the cost of VSG in the U.S. and Canada.
Related: Is Jet Medical Tourism® legit?
Schedule Gastric Sleeve Consultation
If you have been considering the gastric sleeve in Tijuana, Mexico, our weight loss surgeons in Mexico can help you make your dream a reality. Email us today to schedule a free consultation or call (855) 506-6188 to speak with our friendly staff.

More bariatric surgery options

Other useful resources:
Reference: