Rhinoplasty in Mexico (Nose Job)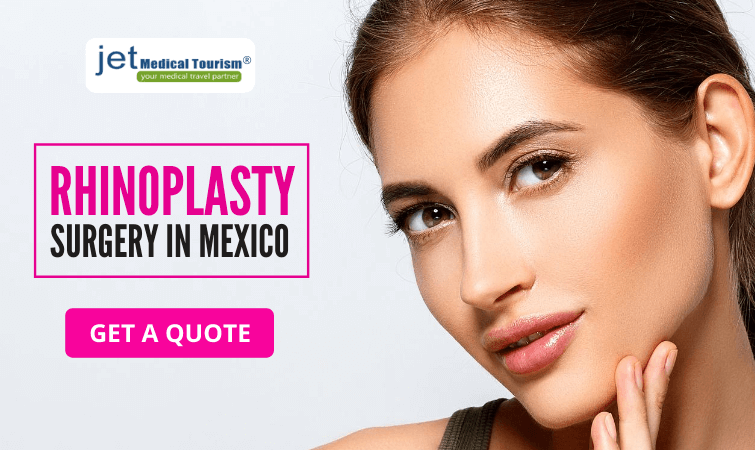 Rhinoplasty in Mexico ranks among the top five plastic surgery procedures because of its potential to dramatically enhance facial appearance. Popularly known as a nose job, rhinoplasty is usually performed to improve the size and shape of the nose in proportion to other facial features.
However, if you are experiencing functional difficulties such as nasal breathing obstruction due to structural issues or a nose injury, you could also benefit from rhinoplasty. Your cosmetic surgeon in Mexico can perform nose reshaping surgery by using the open or closed surgical technique.
Closed rhinoplasty will be your surgeon's first preference because in this technique the surgical incisions will be placed only inside your nose. Therefore, no external scars will occur. But it requires a skilled surgeon to perform this technique because they will have to access most parts of your nose from within the nostrils to correct your cosmetic or structural problems.
Open rhinoplasty may be used if you need substantial changes to your nose shape and size. In this technique, your surgeon will have more access to the bone and cartilage. It will involve an incision in the columella, which will leave a very tiny scar underneath your nose. When you work with an expert surgeon, they would also have the skill to perform specialized procedures such as reconstructive rhinoplasty or ethnic rhinoplasty, depending on your unique needs.
If you are unhappy with the shape or size of your nose, you can choose rhinoplasty to enhance facial balance. Thousands of Americans choose rhinoplasty surgery every year to improve their cosmetic nose appearance and also correct any structural defects.
Contact Jet Medical Tourism® today for more information on a safe and affordable nose job in Mexico.
Rhinoplasty surgery in Mexico
Mexico has emerged as one of the major medical tourism destinations for patients in the US and Canada who wish to undergo nose reshaping surgery.
Rhinoplasty surgery in Mexico will be performed by a high qualified and experienced plastic surgeon. You should ideally choose a surgeon who is board certified or has a specialization in head and neck surgery (otolaryngology) procedures.
Close geographical proximity to Mexico is a real plus point for people in the US and Canada. Rhinoplasty in Tijuana and other cities in Mexico will be performed at surgery center and/or accredited hospitals that are headed by some of the best plastic surgeons in the field.
Rhinoplasty cost in Mexico
A nose job in Mexico will cost about US$5,000 compared to US$10,000 in the US or Canada. Nose surgery cost in Mexico is about 50 to 70 percent cheaper than the cost in the US or Canada at an equivalent medical facility.
This results in huge cost savings for medical tourists who may not be able to afford the excessively high nose plastic surgery prices in their home country.
For a nose job in Mexico, price is usually inclusive of the pre- and post-surgical tests, anesthesia costs, plastic surgeon's fee, hospital stay expenses, medications for a week, and aftercare.
Top rhinoplasty surgeons
You can find some of the top rhinoplasty surgeons in the world in Mexico. Top nose surgeons would have typically received general surgery training followed by advanced residency training in plastic and reconstructive surgery.
Some of the rhinoplasty surgeons in Mexico have even received board certification from the prestigious American Board of Plastic Surgery. If you are considering a corrective nose procedure after your primary surgery, you may choose a top revision rhinoplasty specialist in Mexico.
Recovery after rhinoplasty, nose job
When rhinoplasty is performed by a skilled and experienced plastic surgeon in Mexico, you can expect to have a faster and easier post-surgical rhinoplasty recovery with minimal risk of complications.
Most patients will be able to go back to their normal routine or return to work in about one week after rhinoplasty. Temporary side effects such as mild discomfort and swelling will resolve within a few days after the surgery.
Nose job rhinoplasty surgery before & after
It is always a good idea to review as many rhinoplasty before and after images as you can prior to making a final decision. With these pictures, you can make a realistic and well-informed choice about your nose job in Mexico.
Rhinoplasty in Mexico consultation
If you have been considering a nose job or rhinoplasty surgery to enhance your facial appearance, the board-certified plastic surgeons in our network are trusted experts at performing this procedure. Email us today for more information or a virtual consultation for your Mexico rhinoplasty surgery. Or call (855) 506-6188 for more information on surgery prices or other cosmetic surgeries.

Related rhinoplasty nose job articles
Related neck & facial surgeries