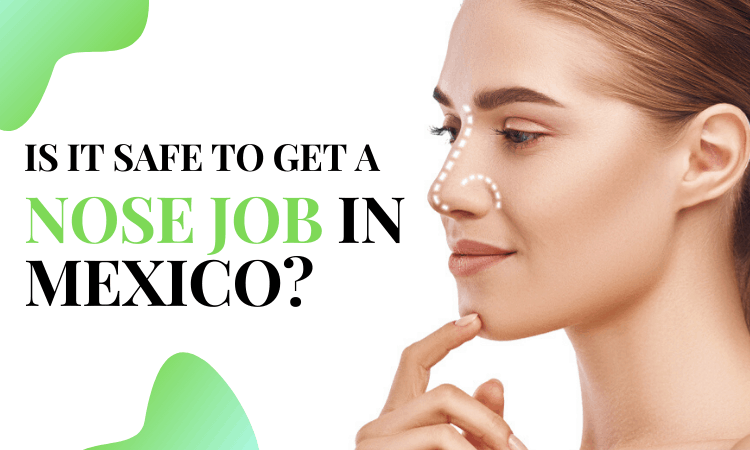 Rhinoplasty, commonly known as a nose job, is a cosmetic surgery procedure that can dramatically enhance the shape and size of your nose to create a more attractive facial appearance. The growing popularity of nose plastic surgery in Mexico can be gauged from the fact that in 2018 as many as 5.8 percent of the total rhinoplasty procedures worldwide were performed in Mexico.
According to a global survey report published by the International Society of Aesthetic Plastic Surgery (ISAPS), 41,814 nose job procedures were performed in Mexico in 2018.
To get a perspective, you may note that the US was just marginally ahead of Mexico, with 48,222 rhinoplasty procedures performed during the same period in the US.
Is it safe to get rhinoplasty or nose job in Mexico: Yes or No?
If you are wondering whether it is safe to get a nose job in Mexico, the short answer is "YES!" A Mexico nose job is as safe as a nose surgery anywhere in the US or Europe today. For this reason, tens of thousands of women and men from the US and Canada choose to visit Mexico every year for their rhinoplasty surgery.
Contact Jet Medical Tourism® for more details on the best nose job in Mexico.
The visible aesthetic results of these patients as well as their positive feedback when they return to their home country continues to encourage more people every year from the US and Canada to benefit from medical tourism in Mexico for rhinoplasty.
Here are some of the key reasons why it is safe to get a nose job in Mexico:
Leading cities in Mexico have heavily invested in state of the art medical infrastructure and technology over the years.
The accredited Mexico hospitals and surgery centers are equipped to perform advanced plastic surgery procedures for the face, breast, and body.
Mexico plastic surgeons are highly qualified and, in many cases, board certified either by the surgery boards in Mexico or the United States.
Rhinoplasty or nose reshaping surgery is one of the specialized procedures in the country with more than 40,000 Mexico nose jobs performed annually.
Dedicated nose job surgeons and staff in Mexico provide personalized care and attention to every patient, devote adequate time to surgical planning, and do not feel compelled to perform a rush job, which makes a difference to the final outcomes.
Professional plastic surgery tourism service providers such as Jet Medical Tourism

®

can help you choose the best nose job surgeon in Mexico to help ensure that you get the perfect nose job with safe, predictable, and natural looking results that will last a lifetime.
Types of nose jobs in Mexico
Your Mexico nose job surgeon will evaluate your nasal anatomy, facial features, and your personal aesthetics to determine the best nose job procedure for you. Here are some of the major types of nose jobs you can get in Mexico:
a) Reduction Rhinoplasty
If you have an elongated nasal tip, a bump on the nasal bridge, flared nostrils, or disproportionately large nose, you can benefit from reduction rhinoplasty in Mexico. Your surgeon will remove a minor amount of cartilage or bone as well as reduce the nostril size to create a sharper and more proportionate nose.
b) Augmentation Rhinoplasty
In relation to other facial features, if your nose appears undermined or disproportionately small, you can choose a Mexico nose job called augmentation rhinoplasty. Your surgeon will perform tissue or bone grafting to build up your nose bridge or tip to create a nose size and shape that perfectly complements the rest of your face.
c) Reconstructive Rhinoplasty
Patients who have suffered facial trauma and lost a part of their nose in an accident, or have undergone a nose cancer surgery, may choose reconstructive rhinoplasty in Mexico. Using flap techniques, skin grafting, and other approaches, an experienced Mexico plastic surgeon can help restore a natural looking nose.
d) Ethnic Rhinoplasty
People of African American, Middle Eastern, Hispanic, and Asian descent now increasingly choose ethnic rhinoplasty in Mexico to reshape their nasal contours. A skilled nose job surgeon in Mexico will preserve your unique ethnic facial identity while creating a highly desirable and proportionate nose appearance.
YOU MIGHT WANT TO READ: Best Plastic Surgeons in Mexico
Nose job recovery
Nose plastic surgery in Mexico is usually completed as an outpatient procedure, and you can go back to your hotel the same day after surgery. Depending on the extent and type of nose job you have had, the recovery period will vary. But in general, you can expect to travel back to your home country within a week and resume your regular routine or go back to work. However, you should continue to avoid strenuous exercises for about three to four weeks after rhinoplasty.
Mexico nose job procedure
Here are the steps involved in your Mexico nose job procedure:
STEP 1: Anesthesia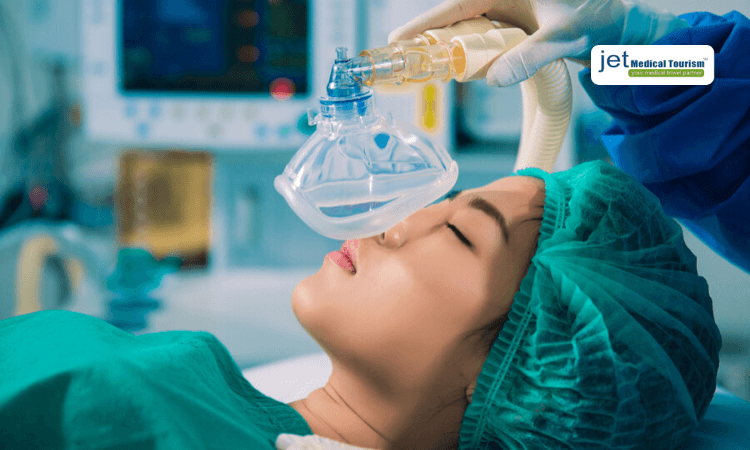 Your surgeon will use general anesthesia or IV sedation with local anesthesia to perform your rhinoplasty. A qualified anesthesiologist will administer it, and will be present in the operating room to monitor your condition.
STEP 2: Nose Surgery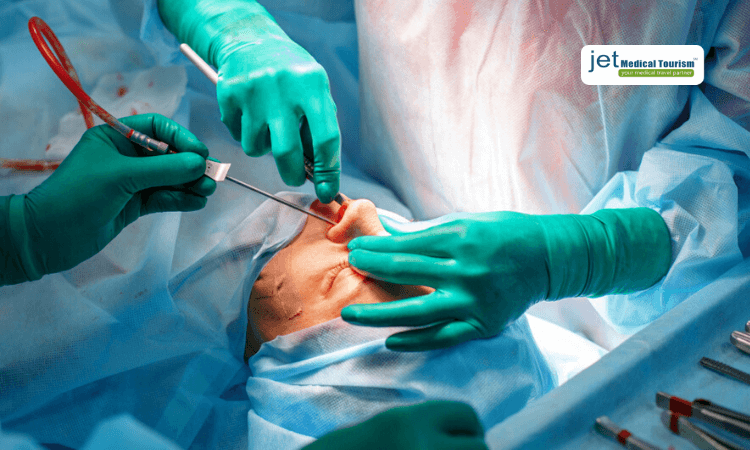 Following anesthesia, your surgeon will place very small incisions either inside your nostrils (closed rhinoplasty) or just below the columella on the nasal base (open rhinoplasty). They will perform the required nose modifications through the incisions as per the customized surgery plan.
STEP 3: Nasal packing and sutures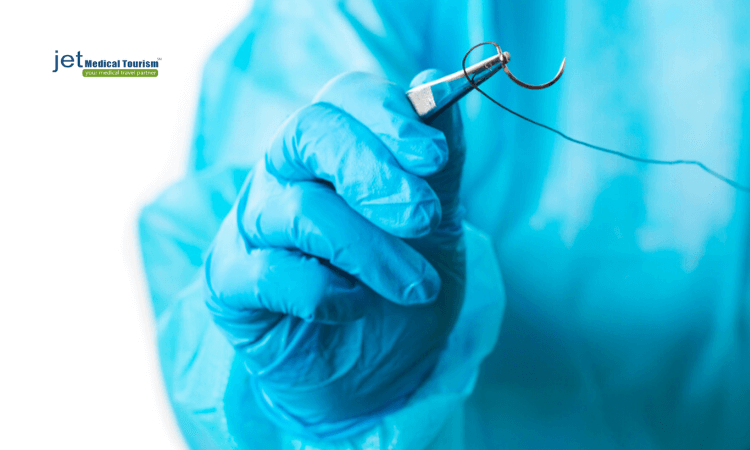 Once the surgery is completed, your Mexico plastic surgeon will close the incisions with sutures and place a temporary splint or nasal packing to help retain the new shape of your nose.
Nose job in Mexico cost
Nose surgery cost in Mexico will be a fraction of what it could cost you in the US or Canada for the same level of surgical quality standards and facilities.
| | | | |
| --- | --- | --- | --- |
| Country | Mexico | United States | Canada |
| Nose Job Cost | US$3,500 | US$10,000 | US$9,000 |
CHECK THIS OUT: Plastic Surgery in Mexico: Costs, Cosmetic Surgeons
Nose job before after pictures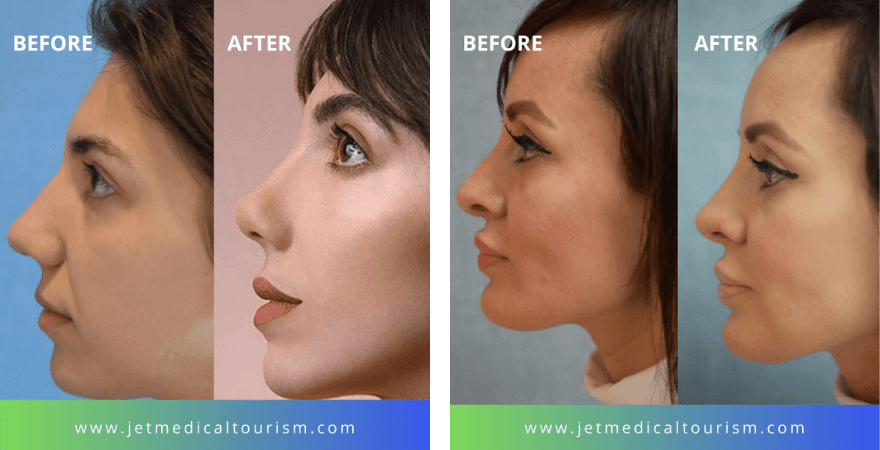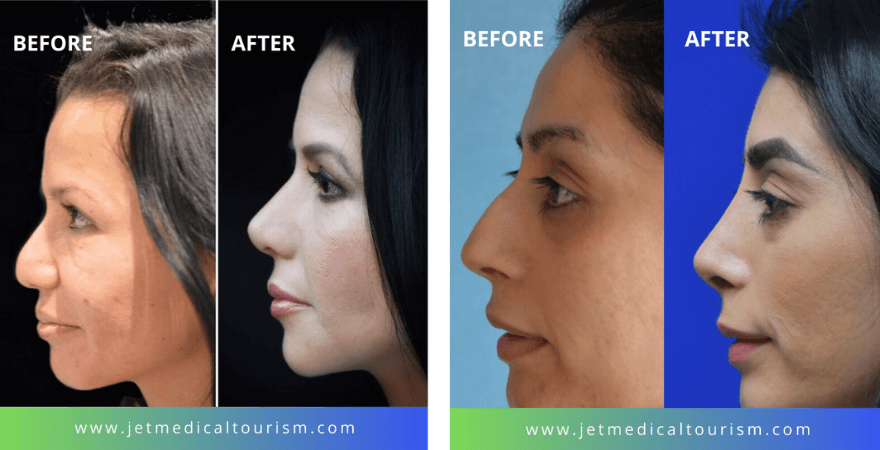 Choosing best nose job surgeon in Mexico
Your goal should be to work with the best nose job surgeon in Mexico who has a proven track record of success in a wide range of facial plastic surgery procedures, including rhinoplasty.
Check the qualifications, training, certifications, and experience of the rhinoplasty surgeon, and determine whether they have operating privileges at an accredited surgery center or hospital.
Jet Medical Tourism® has on board some of the most skilled and experienced surgeons in Mexico for nose plastic surgery.
What is nose job or rhinoplasty?
Rhinoplasty in Mexico, popularly known as a nose job, is a plastic surgery procedure to modify the size, shape, and overall aesthetics of your nose to make it complementary with the rest of the facial features.
Nose job in Mexico can help you achieve both cosmetic enhancement of the nose and functional improvements to clear any breathing obstructions.
Rhinoplasty can be performed using open or closed surgical techniques, depending on the extent of alterations you will need to reshape your nose. Your Mexico plastic surgeon can perform augmentation rhinoplasty, reduction rhinoplasty, ethnic rhinoplasty, reconstructive rhinoplasty or revision rhinoplasty, depending on your facial anatomy and unique goals.
Is nose job painful?
Your nose job in Mexico will be a completely painless procedure. Your cosmetic surgeon in Mexico will determine whether you require general anesthesia or IV sedation with local anesthesia. In both these techniques, you will not experience any pain or discomfort through your rhinoplasty surgery.
In case of general anesthesia, you will be fully asleep through your surgery, and will have no recollection of it when you are brought out of anesthesia after the procedure. Your surgeon may prefer to use general anesthesia if you want to eliminate any procedure-related anxiety.
At a state of the art Mexico hospital or surgery center for rhinoplasty, your surgeon will make use of advanced, high-powered surgical tools to perform the procedure with high precision, while minimizing any trauma to the surrounding tissue.
This will reduce your post-surgical recovery time and discomfort. Your surgeon will also give you pain medications for a few days to keep you completely comfortable during your initial recovery.
How long does rhinoplasty take?
Rhinoplasty is a relatively minor plastic surgery in Mexico, which is usually performed as an outpatient procedure. Depending on your nose reshaping goals and the type of rhinoplasty technique chosen for your case, the length of your surgery will vary.
In general, it will take anywhere between two to three hours inside the operating room to complete your nose job procedure. Before your surgeon begins the procedure, an anesthesiologist will place you under general or local anesthesia with IV sedation, which will take a few minutes to take effect.
If your rhinoplasty involves both cosmetic and functional improvements to your nose, your Mexico plastic surgeon may perform procedures such as resizing or reshaping of the nostrils, reshaping the nasal tip, removing the nose hump, and reducing or increasing the overall projection and size of your nose.
This type of comprehensive rhinoplasty may take about three hours. However, if you only need relatively minor cosmetic modifications to your nose, your surgeon may perform a closed rhinoplasty and complete the surgery in about 1.5 to 2 hours.
You should be prepared to spend a full day at your Mexico hospital or surgery center because after the procedure is completely, your surgeon will keep you under observation for a few hours in a special recovery area. Once they are satisfied with your condition, you can return to your hotel the same day of your surgery.
How long does it take for swelling to go down after rhinoplasty?
After your rhinoplasty in Mexico, you will experience some bruising and swelling during the initial recovery phase. While the bruising will resolve quickly, the swelling will be more pronounced in the first week, and begin easing from the second week.
Your Mexico nose job surgeon may recommend you to use ice packs on the incision sites several times a day for the first 48 to 72 hours after your surgery. This will help improve the swelling and make you feel more comfortable.
If you have had dramatic changes to your nose, your complete swelling may disappear gradually over several weeks. But from the second week, you can wear makeup to hide the minor effects of swelling that still linger on.
Clinics/Hospitals in Mexico for nose job
Hospital Angeles, Tijuana
Established in 2006, Hospital Angeles ranks among the leading and most modern hospitals for medical tourism in Mexico. The hospital is JCI-accredited, which is considered the international gold standard for the quality of patient care and safety. More than 130 doctors at Hospital Angeles Tijuana have board certifications from the Mexican Medical Board.
The hospital is equipped to provide top-tier surgical care with personalized services and advanced technology for procedures such as rhinoplasty in Mexico. In addition to its cutting-edge surgical equipment and state of the art operating rooms, Hospital Angeles Tijuana also provides the best in class patient comfort.
All patient rooms at the hospital are private with in-suite bathrooms and include amenities such as flat panel TVs, Wi-Fi, sleeping options for visitors, private entryway, and a separate dining and conversation area. Patients from the US and Canada seeking nose job in Mexico are assured of the highest standards of care, considering that Angeles Hospital Tijuana is the largest private hospital network in Mexico.
The hospital, which operates a network of 28 certified hospitals all over Mexico, is fitted with the same latest medical and surgical equipment that is available at some of the topmost hospitals in the US. Multi-lingual staff and English-speaking managers will do everything to make your visit to Mexico completely comfortable for your rhinoplasty surgery.
San Juan Clinic, Tijuana
San Juan Clinic, Tijuana is a high quality medical and surgical facility designed for outpatient and short-stay plastic surgery procedures such as rhinoplasty. The clinic's standards of care go beyond the minimum requirements set forth by the General Health Law of the State of Baja California.
San Juan Clinic Tijuana is known for its pristine medical environment and compassionate, English speaking that is dedicated to making your treatment experience completely satisfying and successful. You can expect personalized care and attention from the doctors and the support staff, no matter how big or small your surgery procedure may be.
The clinic is equipped to provide advanced plastic surgery procedures using the latest surgical technology and techniques. In addition to rhinoplasty, patients from the US and Canada receive various other cosmetic procedures for the breast, body, and face from experienced Mexico plastic surgeons at the clinic.
San Juan Clinic, Tijuana, is located less than four miles from San Diego, and you can reach the facility from the border in 10 minutes by road. Some of the top cosmetic surgeons in Mexico from the renowned Hospital Angeles several blocks away visit the clinic to perform various plastic surgery procedures.
The clinic has two advanced operating rooms fitted with state of the art surgical technologies, which are equipped to undertake scheduled as well as emergency surgical procedures.
INT Hospital, Tijuana
Ranking among Mexico's best-equipped hospitals, INT Hospital in Tijuana offers similar technology and amenities as some of the best US surgical facilities for rhinoplasty and other cosmetic surgery procedures. INT Hospital features four spacious operating rooms with medical grade equipment and qualified and experienced staff who will provide you personalized care at every step.
The trained plastic surgeons and nurses at the hospital have received their training from the US in many cases. The medical team is known to provide ethical and compassionate patient care, and is supported by multilingual staff that is fluent in English and Spanish. INT Hospital provides 24×7 nursing care to ensure you excellent care and attention throughout your hospital stay.
This full-feature hospital is located conveniently in the Zona Rio district of Tijuana, just a few blocks from the US border. Its proximity to the San Diego International Airport has made it a plastic surgery tourism destination of choice for patients from the US and Canada who seek world-class surgical care at an affordable cost.
INT Hospital also features an ICU unit, an in-house testing lab and x-ray facility, and a surrogate blood bank. The operating rooms are equipped with the latest medical and surgical technology. The rooms at the hospital feature large bathrooms, air conditioning, private Internet, and American cable TV entertainment.
Jet Medical Tourism, Trusted Provider of Nose Job in Mexico
When you partner with Jet Medical Tourism® for your Mexico nose job, you know that you are in safe hands. The focused and committed team of professionals at Jet Medical Tourism® will guide and assist you at every step for your rhinoplasty in Mexico, and help you achieve the transformative results you have always wanted for your face and your overall personality. Call us today to schedule a consultation.