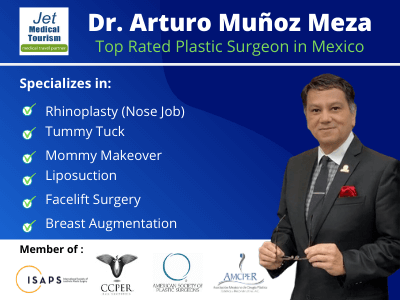 Dr. Arturo Muñoz Meza has developed core principles that form the foundation of his surgery practice as a dedicated plastic surgeon in Tijuana, Mexico.
In his 20+ years of medical career, the principles, which focus on providing unsurpassed care, high satisfaction, and complete safety to patients, have led Dr. Arturo Muñoz Meza to be consistently recognized as one of the best plastic surgeons in Mexico.
Mexico's Top Plastic Surgeon: Dr. Arturo Muñoz Meza
"My experience has taught me that when someone has positive self-image, they are more engaged in their relationships and life in general. Due to the physical transformation they receive, my patients not only feel more confident about how they look, they also find more joy while going through their everyday activities. They feel proud and less inhibited, which drastically improves their relationships – with others and with themselves." – Dr. Muñoz Meza.
Dr. Arturo Muñoz Meza's rock-solid reputation for delivering incredible aesthetic results have made him the preferred board certified plastic surgeons in Tijuana.
His development and refinement of advanced techniques for facial rejuvenation, breast surgery, and body contouring have led Dr. Muñoz Meza to receive multiple residency requests from some of the most prestigious hospitals in the world.
With each procedure he performs, Dr. Muñoz Meza incorporates a combination of signature techniques he has refined through over 20 years of experience. He emphasizes on capturing and restoring the features that create authentic-looking results and characterize natural beauty.
Dr. Arturo Muñoz Meza's Degrees & Professional Affiliations in Plastic Surgery
Dr. Muñoz Meza was born in Guatemala City, where he attended the San Carlos de Guatemala University and graduated with great distinction. After receiving his medical degree in General Surgery, Dr. Muñoz Meza went on to complete his Plastic Aesthetic and Reconstructive Surgery training in Guadalajara University Hospital.
The judicious Dr. Muñoz Meza is a distinguished member of several esteemed organizations, including:
American Society of Plastic Surgeons (ASPS)
International Society of Aesthetic Plastic Surgery (ISAPS)
Mexican Association of Plastic, Aesthetic and Reconstructive Surgery (AMCPER); and
Colegio de Cirugía Plástica Estéticay Reconstructiva de Baja California (CCPERBC).
In addition to Dr. Meza's own surgical practice, Dr. Arturo Munoz Meza Plastic Surgery Center, and collaboration with peers, he is actively engaged in humanitarian work. Over the years, he has performed thousands of pro-bono (free) reconstructive surgeries to help people who are born with physical deformities.
Dr. Muñoz Meza's Expertise in Plastic Surgery Procedures
Dr. Muñoz Meza offers full range surgical procedures, including:
Rhinoplasty (Nose Job)
One of the most requested plastic surgery procedures, rhinoplasty works to correct breathing issues as well as create a more balanced facial appearance. Whether you are a man or woman, rhinoplasty can significantly improve your nasal profile and facial features, giving you better self-confidence and body image.
Dr. Arturo Muñoz Meza is among the top ranked rhinoplasty surgeons in Mexico.
Tummy Tuck
Tummy Tuck in Mexico involves flattening, tightening, and toning of the abdominal area in a way that's simply not possible with exercise and diet. If you struggle with a belly pouch no matter how many abdominal crunches you do every day, a tummy tuck just might be the answer for you.
Mommy Makeover
The Mommy Makeover is a combination of surgical procedures that are designed to give women a pre-baby look. If you want to reclaim a youthful figure after going through one or multiple pregnancies, a mommy makeover will help you get the toned body you had before.
Dr. Meza combines a variety of procedures such as liposuction, tummy tuck, breast lift (mastopexy) with or without breast implants (silicone gel filled FDA approved, smooth, rounded) and breast augmentation to remove the stubborn fat and loose skin that's so prevalent in mothers. With mommy makeover, you can get rid of all your body concerns in a single sitting.
Liposuction
Liposuction involves contouring the patient's body by removing fat cells. Stubborn or uneven fat deposits can hide an otherwise fabulous body shape and make anyone feel uncomfortable in their own skin.
Even exercise and diet can fail to address these frustrating "fat pockets". If you have unwanted fat around your belly, hips, thighs, or arms, and it preventing you from achieving your ideal body shape, liposuction can definitely help. This is an FDA-approved procedure than can permanently eliminate fat from your body.
Facelift Surgery
Facelift surgery addresses several signs of aging that can be found on someone's face, such as wrinkles, crow's feet, and age spots. A facelift can help you get a more youthful appearance and take 10 years' off your face. The result is a brighter, smoother, and rejuvenated skin that doesn't need any expensive creams to stay young!
Breast Augmentation
Breast augmentation is perhaps the most popular cosmetic surgical procedure among women across the world. Many women undergo breast augmentation because they want to have bigger, fuller, and perkier breasts. Dr. Meza has been helping women achieve their desired bust shape for over 20 years.
Dr. Arturo Muñoz Meza for Plastic Surgery in Mexico
Dr. Meza's commitment to patient satisfaction and safety is reflected in his comprehensive approach to providing his patients with attentive care at each step of their experience. Patients appreciate the attention to detail he devotes to achieve impressive aesthetic outcomes, as well as the compassionate service he and his team provide from the initial appointment through post-op recovery.
If you're looking for a plastic surgeon in Mexico, consider the high level of care of Dr. Meza that inspires so many of his patients to refer their friends and family to him. He is internationally acclaimed for his signature method he developed over 20 years to perfect rhinoplasty, breast reduction, breast augmentation, tummy tuck, and facial reconstruction surgery.
The committed Dr. Meza also offers non-surgical procedures to restore a more refreshed and youthful facial appearance, including botox, laser skin resurfacing, cosmetic injectable dermal fillers (hyaluronic acid, Radiasse (calcium hidroxiapatite) and Botulinim Toxin, supported with a fine cream set for maintenance.
Key Attributes that Make Dr. Meza a Top Plastic Surgeon in Mexico
Dedicated to building and maintaining patient's trust
Patients must feel completely at ease while communicating every concern with their plastic surgeon. Dr. Meza feels that their physical, emotional, and financial concerns should be openly shared so he can provide the best results. Dr. Meza wants his patients to know they can trust him to look out for their best interest.
Providing successful procedures with a low level of risk
Due to his 20+ years of experience in performing the cosmetic procedures, Dr. Meza is better able to give you the results you want. He will give you a professional evaluation that best addresses your expectations and unique concerns.
Patient education and no unrealistic promises
The dependable Dr. Meza is perhaps the only plastic surgeon you meet who will ask you to reconsider your decisions! He encourages patients to set long-term goals, rather than pursue "quick-fixes" that can jeopardize their safety. Dr. Meza takes pride in his work to give natural-looking results that are minimally detectable and give you maximum satisfaction.
Support from a skilled, trustworthy, and compassionate staff
Over the last 20+ years, Dr. Meza has developed a team of highly-skilled medical and administrative professionals who are trained to anticipate and respond to every patient's needs. His staff will go above and beyond to ensure you are treated with utmost respect, dignity, and confidentiality.
Committed to achieving 100% patient satisfaction
Dr. Meza wants all of his patients to be completely satisfied with the services they receive, be it a Botox injection or breast augmentation surgery. He understands that providing patient care is a profound responsibility and privilege, which he fulfills with total respect.
Book an Appointment with Our Board-Certified Plastic Surgeon in Mexico
Interested in scheduling a consultation with Dr. Meza or learning more about plastic surgery in Mexico? Patients seek treatment from far and wide, including the US, UK, Canada, and Europe. If you have any questions, Dr. Muñoz Meza's friendly team will be happy to assist you.
Please call our Jet Medical Tourism® office at 1-855-506-6188 or email us to schedule your visit today.