Is Tijuana Safe? Travel for Tourists
Is Tijuana safe is one of the first concerns many people have who are planning to travel to this city, whether for fun, exploration, or for medical tourism. Nobody asks: "Is America safe?" when they plan to visit the United States (well they may in 2020 and cities like Chicago and LA are well known for their gang issues). But if you are wondering about how safe Tijuana is, you may be surprised to know that it is safer than many American and European cities.
In 2015, several American cities had a homicide crime rate higher than that of Tijuana, Mexico. When you ask "Is Tijuana dangerous?" you should remember that Americans have been safely traveling to Tijuana over a century. Almost no serious incidents are reported against international visitors. Tijuana is the gateway to the amazing nation of Mexico – false and misleading public perceptions notwithstanding.
Are you wondering about this question – "Is Tijuana safe?" Contact us Jet Medical Tourism® today to learn how we can help you with your safe medical travel to Tijuana.
Is it safe to go to Tijuana?
Tijuana shares the world's most crossed border with the United States. With more than five million people living near the border, the Tijuana/San Diego transborder settlement is the fourth largest in the world. So, if you are wondering "Is it safe to go to Tijuana?" you should remember that this biggest Mexican city close to the US border is perfectly secure and virtually incident-free for visitors.
Get Ready to Fall in Love with Tijuana
The right question to ask is not how safe is Tijuana, but how fabulous is Tijuana. Of course, vested interests misuse the power of media to create a false image about almost anything and anyone – and Tijuana is no exception. But you visit this eclectic Mexican city, experience its culture and hospitality, and discover some of its truly hidden gems, you might fall in love with Tijuana.
Millions of Cross-Border Travelers
Millions of travelers cross the heavily guarded Tijuana/US border every year, which makes it an incredibly safe travel experience. You should ask some of the visitors about: Is it safe to travel to Tijuana? They will almost invariably describe the region as just as safe as any US city. Known for its rich heritage and museums and exotic hotels, restaurants and fun places, Tijuana is also home to world-class hospitals and surgery centers.
Is it safe to drive to Tijuana from San Diego?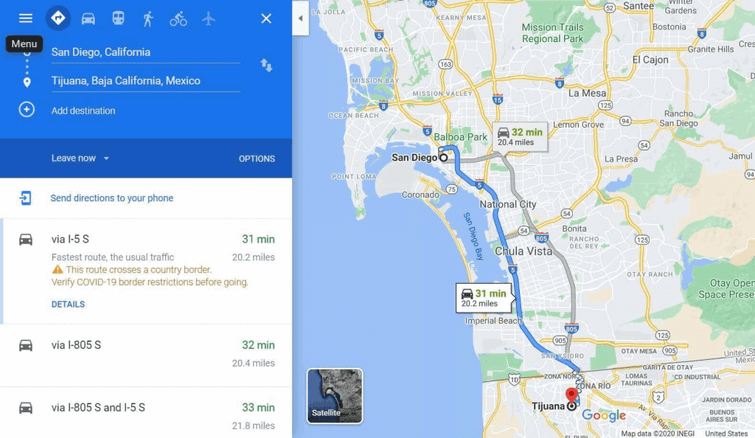 When you ask is Tijuana safe, it is also pertinent to ask whether it is safe to drive to Tijuana. Many leisure tourists as well as people visiting for surgery in Tijuana prefer to drive down from San Diego to Tijuana. Having your own vehicle will increase your convenience and it is the quickest way to get around in the city. Roads are busy but manageable, and you can find secure paid parking anywhere in the city.
Purchase Mexican Auto Insurance
Your concern about "Is it safe to go to Tijuana by car?" will be mitigated if you purchase an auto insurance policy prior to crossing the border. Although nobody will check your policy upon entry, it will keep you financially secure in the rare event of a car accident while in Tijuana. You can purchase Mexican car insurance from multiple locations in and around San Ysidro, or simply buy a policy online prior to your travel.
Using a Taxi or Uber in Tijuana
Once your worries about "Is Tijuana dangerous" have been resolved, and you are ready to travel, you may also consider using Tijuana taxis for local travel. If you are visiting for plastic surgery or weight loss surgery Tijuana, your medical tourism provider can arrange for your local travel. Otherwise Taxis in Tijuana are safe and drivers are mostly friendly. You may also consider using Uber in Tijuana, which operates here just the same way as it does in the US.
Do you need a passport to go to Tijuana
While it is important to be well-informed about how safe is Tijuana, it is equally important to follow the rules of travel. When you ask your medical tourism provider about is it safe to travel to Tijuana, you should also ask about travel documentation requirements. A responsible provider will make sure that you are carrying all the valid documents so that you do not face any hurdle at the border while going for your surgery in Tijuana.
Carry Your Valid Passport
When you are crossing the border between San Diego and Baja California to visit Tijuana, you are required to have your valid passport (or another government-approved identification) with you. On your return from Tijuana to the US, keep your passport handy because you will be required to show it. If you are a resident alien, you should present your green card. Alternate IDs may be acceptable if you are traveling by land.
Obtain Your Tourist Permit
When you are visiting Tijuana by road and plan to stay there more than 72 hours, you will be required to obtain your tourist permit. You can receive this permit from the immigration office close to the border entry or obtain in advance from the Mexican consulate in the US. You will also need to complete a migration form and submit it while leaving the US.
Is Tijuana dangerous? True or False?
To address your concerns about is Tijuana, Mexico safe, you can evaluate the city's risk profile on various parameters. On each parameter, you can compare it with the US and see for yourself whether visiting for a surgery in Tijuana is worth it.
Here are some of the key parameters to on which you can judge: Is Tijuana dangerous?
Crime Risk: Although crime risk does exist in Tijuana, just like most American cities, tourists are almost never targeted. The government of Mexico has taken robust steps in recent decades to protect top medical tourist destinations such as Tijuana from criminal activity.
Mugging Risk: Criminals may operate in specific pockets of Tijuana that are not frequented by tourists. As long as you avoid showing off expensive gadgets, watches, or jewelry, you will be fine. Is Tijuana safe for walking? The answer is yes, as long as you stay within touristy areas.
Transport Risk: Tijuana taxi and Uber drivers are generally safe and friendly. They may sometimes try to charge more when they know you are a tourist, or may like to take you to a restaurant or hotel where they have a commission. But if you ask is Tijuana dangerous for local travel, it is not.
Female Visitor Risk: Women travelers to Tijuana can feel as safe as men, provided they are alert and attentive. An occasional incident of sexual harassment may be reported at a nightclub or bar, but as long as you remain in tourist areas, particularly after dark, you will be safe.
Is Tijuana safe for tourists?
Media often thrives by sensationalizing and exaggerating even a minor incident in order to create hype and sell their content. If you take them at face value, almost any city in the world would appear like an active war zone. In reality, if you ask is Tijuana safe for tourists, the answer is a resounding yes! In fact, it would be a shame to miss such a wonderful city just because of false perceptions created by vested interests.
CHECK THIS OUT: A comprehensive guide to leisure tourism in Tijuana, Mexico while getting weight loss surgery
Is Tijuana safe at night?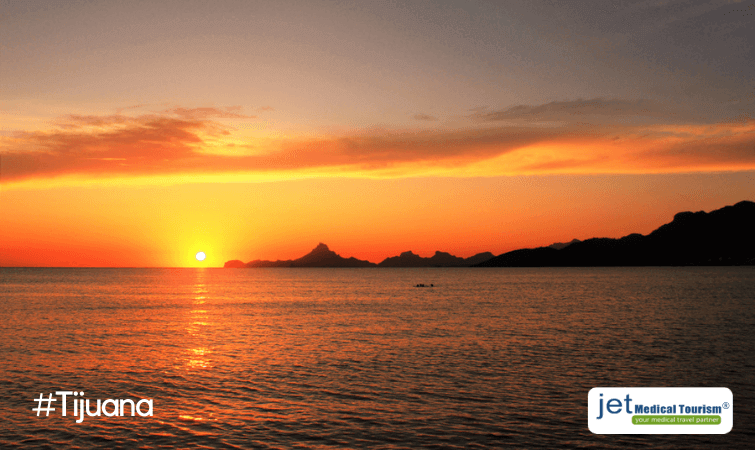 Tijuana is known for its exciting nightlife. While some localities are not considered safe for walking at night, in general you are unlikely to encounter any problems. Is Tijuana safe at night one hundred percent? Well, the answer is no. An occasional pickpocket incident may occur if you stray into the non-tourist parts of the city at night. But the prime areas for tourists, such as Zona Rio and Downtown, are safe 24×7. These areas have a have a watchful police presence at night.
Tijuana travel safety tips
How safe is Tijuana is also a function of how diligent you are about following the travel advisories and safety guidelines. Here are a few useful travel safety tips that will ensure your safe medical travel and a successful surgery in Tijuana.
Choose a trusted and experienced medical tourism provider who can organize your safe travel to Tijuana from start to finish.
Stay at a reputable hotel or another accommodation that your medical tourism provider or hospital has recommended.
Coordinate your airport to hotel pick up and drop through your hospital in Tijuana.
Stay confined to areas that are popular among tourists for your local sight-seeing in Tijuana.
Avoid beggars, fast-talkers and other strangers on the street.
Be discreet about using any expensive phones, cameras or jewelry.
Do not fall for any offer of illegal drugs.
If you wish to enjoy street food, choose heated foods over cold ones.
Consider buying travel insurance coverage for financial security.
READ THIS TOO: Travel to Tijuana Mexico for gastric sleeve surgery
Tijuana medical tourism
Tijuana is less than 30 minutes away from downtown San Diego, CA. The city's close proximity to the US makes it convenient for thousands of women and men from the US and Canada to visit this border city every year for medical tourism. Some of the leading companies such as Jet Medical Tourism® are doing exemplary work by helping people who have little or no health insurance coverage obtain excellent medical treatments in Tijuana at a low cost.
Bariatric Surgery in Tijuana
Safe and affordable weight loss surgery Tijuana is enabling people to get rid of obesity and restore a healthy and active life. Some of the best bariatric surgeons in Tijuana, Mexico are able to provide latest procedures at state of the art hospitals and surgery centers. When you ask your medical tourism provider about is Tijuana safe, you should also discuss your prospects for gastric sleeve Tijuana or gastric bypass Tijuana, Mexico.
Plastic Surgery in Tijuana
People often ask is it safe to go to Tijuana for plastic surgery? The good news is that the city has developed highly advanced and modern infrastructure for plastic surgery procedures. Whether it is tummy tuck Tijuana, rhinoplasty Tijuana or BBL in Tijuana, Mexico, you can expect to achieve predictable and desirable results at a fraction of the cost that you may have to otherwise pay in your home country.
YOU MIGHT ALSO LIKE: Is it safe to get a nose job in Mexico?
5 Reasons why Tijuana is one of the safest destinations for medical tourism
Are you struggling to find a real answer to this question: Is it safe to go to Tijuana for medical treatment? You should check out this 2016 article in the respected UK newspaper The Independent to know about Tijuana's successful medical tourism industry. The article says that Tijuana's greatest draw for Americans is its low cost healthcare (they want it even more than Tijuana's famous nightlife!)
Here are five reasons that tell you why is it safe to travel to Tijuana for medical tourism.
Sharing American Values: Close proximity to the US has ensured that Tijuana has imbibed American culture to a significant extent. Many doctors and staff speak English, and some have even studied in the US.
Strong Government Support: The local economy of Tijuana depends to a major extent on medical tourism. Therefore, it has excellent support from the government to protect and facilitate visitors from the US and Canada.
Full Service Hospitals: Tijuana has a number of well-equipped and full-service hospitals and surgery centers. These facilities have state of the art medical technologies and offer high quality medical care to patients.
Skilled and Experienced Surgeons: Whether you are seeking plastic surgery or bariatric surgery in Tijuana, you can expect to work with best in class surgeons. Some of the surgeons are board certified in Mexico or the US.
Personalized Medical Care: Doctors in Tijuana will provide adequate time and attention to every patient. You can receive personalized care and advanced medical solutions that are tailored to meet your unique needs.
Weight loss surgery in Tijuana: Is it safe or not?
People who are suffering from obesity can receive weight loss surgery Tijuana to achieve a healthy body weight and eliminate obesity-related medical problems. However, some patients may have questions, such as is Tijuana safe for medical tourism or is Tijuana dangerous. You should have the right facts in order to make a well-considered and objective decision about your bariatric surgery in Tijuana.
Top Qualified Weight Loss Surgeons
Some of the best bariatric surgeons in Tijuana, Mexico have qualifications and skills that are equivalent or even better than their counterparts in the US or Canada. These surgeons have years of experience in performing procedures such as gastric sleeve surgery and gastric bypass surgery. They have an outstanding success rate and are able to provide safe outcomes even in the most complex cases.
Use of Advanced Surgical Techniques
Weight loss surgeons at Tijuana hospitals have received comprehensive training and use cutting-edge surgical techniques to perform bariatric procedures. In most cases, they will use laparoscopic surgery for your sleeve gastrectomy or gastric bypass procedure. This helps ensure less invasive and more precise surgery. Your post-operative recovery will be faster and your risk of complications will reduce with these advanced techniques.
YOU MIGHT WANT TO READ: Should you get bariatric surgery in Mexico vs USA? Compare risks and costs
Can I get a safe gastric sleeve in Tijuana?
Gastric sleeve Tijuana has emerged as the most popular weight loss surgery procedure in recent years. This procedure is relatively less invasive and achieves very high satisfaction levels for most patients. With the influx of thousands of patients from the US and Canada every year, bariatric surgeons in Tijuana have acquired extensive experience in this procedure.
You can choose to have your gastric sleeve in Tijuana, Mexico at a leading hospital or bariatric surgery center. The procedure involves an initial post-op recovery time of only about one week. So, you can quickly and comfortably move on with your weight loss journey after this surgery in Tijuana.
RELATED READ: Safe weight loss surgery in Mexico

Safe gastric bypass in Tijuana
Gastric bypass Tijuana, Mexico is a time-tested weight loss procedure. Tijuana bariatric surgeons have perfected this procedure over the years. Some of the surgeons have performed thousands of gastric bypass surgeries in Tijuana with an exceptional track record of performance. Latest techniques, including laparascopic surgery, are used to perform this procedure in Tijuana.
Your goal should be to work with the right medical tourism provider who has on-board some of the best bariatric surgeons in Tijuana, Mexico. Gastric bypass is a relatively more intricate procedure, which involves changes to both the stomach and the intestine. Leading Tijuana weight loss surgeons have deep anatomical understanding and surgical expertise to perform this procedure.
Plastic surgery in Tijuana
Tijuana is home to some of the best plastic surgery hospitals and surgery centers in the country. Plastic surgeons in Tijuana have the training and experience to perform the latest cosmetic, plastic and reconstructive procedures for the body, breast and face.
Tummy tuck Tijuana
Whether you are looking for a full traditional tummy tuck Tijuana or just a partial or mini tummy tuck, you can achieve excellent results from top surgeons in the city. Where necessary, your Tijuana plastic surgeon may recommend tummy tuck in conjunction with liposuction or another procedure to create a more sculpted abdominal appearance.
Rhinoplasty Tijuana
Women and men in various age groups and from different ethnicities are choosing nose job Tijuana to enhance their facial balance. Rhinoplasty Tijuana may be performed as an open or closed surgery, depending on your needs. Tijuana nose job can sometimes be performed together with chin augmentation to create more proportionate results for your face.

Facelift Tijuana
If you want to take several years off your face and restore a youthful look, you should consider facelift Tijuana. A full traditional facelift is a major procedure, which will be performed by highly experienced plastic surgeons in Tijuana. Depending on your requirements, your surgeon may also perform a partial or mini facelift Tijuana .
Boob Job Tijuana
Breast augmentation Tijuana ranks among the most sought-after plastic surgery procedures today. If you are bothered by the appearance of disproportionately small breasts or want to create a more voluptuous bust, you should consider boob job Tijuana. Your surgeon will provide the latest silicone implants to perform this procedure with sustainable results.
Mommy makeover Tijuana
If you want to restore your pre-pregnancy figure with a comprehensive plastic surgery procedure, you may be a candidate for mommy makeover Tijuana. Highly skilled Tijuana cosmetic surgeons affiliated with prominent hospitals in the city can perform this procedure. Your surgeon will customize your mommy makeover Tijuana to match with your unique needs.
RELATED ARTICLE: How much does mommy makeover cost in Mexico?
BBL in Tijuana
In recent years, Brazilian butt lift plastic surgery has come up as one of the most in-demand procedures. The good thing about BBL in Tijuana is that the surgery is less invasive and can create a curvaceous, youthful look of your rear side. If you want, you can combine your BBL surgery in Tijuana with thigh lift for more harmonious outcomes.
Best bariatric surgeons in Tijuana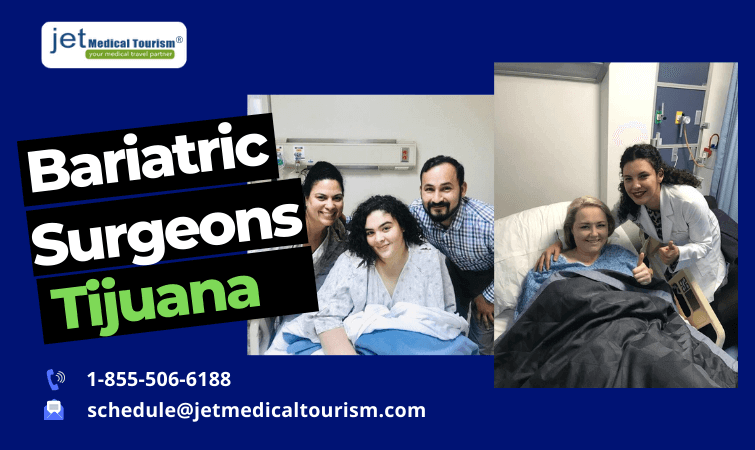 When you are considering issues such as is Tijuana safe for weight loss surgery, your focus should be on finding the best bariatric surgeons in Tijuana. The surgeon should ideally have the training and experience in both gastric sleeve Tijuana and gastric bypass Tijuana procedures. Then they can recommend the most appropriate surgery for you according to your requirements.
Look for these attributes in your Tijuana bariatric surgeon:
Does the surgeon use the laparascopic technique to perform bariatric surgery?
Has the surgeon received specific training in obesity and metabolic surgery procedures?
How many years of training and experience do they have in the field of weight loss surgery?
Best plastic surgeons in Tijuana
Plastic surgery is as much of an art as it is science. Your plastic surgeon in Tijuana should have the skills to create results that are not only aesthetically attractive, but also natural looking and long lasting. Just remember that the single most critical factor that will influence your final results will be the skill of your plastic surgeon.
During your initial consultation, when you ask your surgeon is Tijuana safe, you should also ask these key questions:
Has the surgeon obtained specialized training in plastic surgery, after completing their general surgery training?
Is your Tijuana plastic surgeon well-versed in performing all types of plastic surgery procedures for the breast, body, and face?
Will the surgeon customized your plastic surgery procedure, or do they adopt a 'one size fits all' approach to this surgery?
How Jet Medical Tourism
®
ensures patients' safety in Tijuana
At Jet Medical Tourism®, we completely understand the safety concerns of our patients who want to ensure whether is it safe to travel to Tijuana for surgery. We follow the best industry practices and principles to deliver a safe treatment experience to all our patients in Tijuana. Here are the key elements in our approach to ensuring patient safety in Tijuana.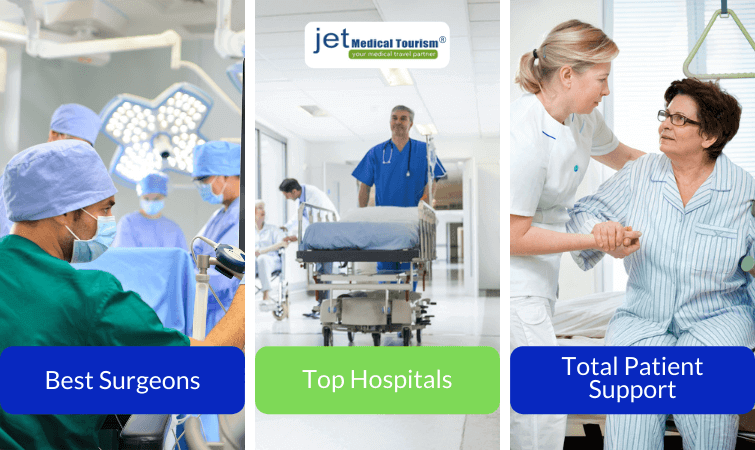 Best Surgeons On-Board: Jet Medical Tourism

®

has teamed up with some of the leading plastic surgeons as well as bariatric surgeons in Tijuana for various procedures. Our surgeons have an exceptional performance record and enjoy the trust of their past patients who have achieved completely satisfying results.
Tie-Ups with Top Hospitals: Jet Medical Tourism

®

has partnered with the leading hospitals and surgery centers in Tijuana. These state of the art medical facilities are fully licensed by the government and have been around for years. We work with hospitals that care for their reputation, and will do everything to win your confidence by provided the highest standards of care.
Total Patient Support: Right from your initial consultation to your arrangements for medical travel and your actual surgery in Tijuana, Jet Medical Tourism

®

will support and assist you at every step. With our right guidance and dedicated services, we will work to exceed your expectations. Your safety is our highest priority, and all our decisions are driven by a singular of goal of helping you achieve the best outcomes.
Final thoughts on "how safe is Tijuana"
More than a million people from the US and Canada visit Mexico every year for safe, competent and affordable surgery. A large number of these patients get their treatments in Tijuana with outstanding results. How safe is Tijuana should be clear when you see the growing popularity of medical tourism in the city year after year.
American and Canadian patients are highly demanding, and they deserve the very best of medical treatment. If the hospitals or doctors in Tijuana would compromise on the standards of safety and care, nobody would be visiting the city. The US government would also do everything to protect its citizens if there were any concerns.
In the final analysis, is Tijuana, Mexico safe for medical tourism? Yes, it's definitely safe – just avoid certain neighborhoods which is very easy to do. How many people visit South Chicago or South Central LA for instance?
Moreover, the condition is that you should have the right medical tourism company that is reliable and committed to helping you achieve your treatment goals in a safe manner. As long as you have the best partner like Jet Medical Tourism®, you can expect the best results.