Cancun Medical Tourism, Mexico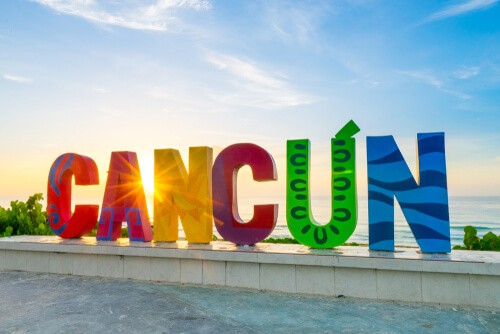 In Mexico, Cancun Medical Tourism is thriving with people from the US and Canada choosing this popular destination for superior and cost-effective surgeries and other medical and dental procedures.
The idea of combining a weight loss surgery or plastic surgery in Cancun along with a vacation in this spectacular tourist hotspot at a small fraction of the cost in the US is appealing to hundreds of thousands of potential patients.
Cancun, which has always been known for its crystal-clear waters, breathtaking beaches, and an amazing party culture, is now also a major destination for medical tourism in Mexico.
Each year thousands of Americans and Canadians receive affordable cosmetic surgery or weight loss surgery in Cancun, and spread the good word with a new youthful and attractive body to flaunt back home.
Cancun attracts as many as six million international tourists every year, including many who seek some sort of medical or surgical treatment at prices which can be up to 70 to 80 percent lower than those in the US and Canada.
Why medical tourism in Cancun, Mexico is booming?
According to the Association of Medical Tourism in Cancun, the region is witnessing an annual increase of about 10 percent in the number of Americans who want to receive bariatric surgery or plastic surgery in Cancun.
World-class hospitals and clinics for weight loss and cosmetic procedures are available across Cancun, Mexico.
In addition, American patients are also seeking other medical services ranging from skin and dental care to more complex hip and knee surgeries. One of the reasons is that millions of Americans are currently without medical insurance, and the healthcare costs in the country are becoming increasingly prohibitive.
Even among those who are paying high medical insurance premiums in the US, most people do not qualify to receive coverage for procedures such as plastic and reconstructive surgery, bariatric surgery, fertility treatments, and cosmetic dental care.
Figures compiled by MedicalTourism.com show that about two in three patients who choose Medical Tourism in Cancun, Mexico do not have health insurance.
Apart from the low cost of plastic surgery and weight loss surgery in Cancun, what is more important is that nearly 85 percent of the American patients (according to available data) report that they received more personalized and professional medical care than they would in the US.
Cost savings combined with high success rate of surgical procedures is driving up the demand for medical tourism in Mexico year after year.
Types of bariatric surgery in Cancun
Bariatric surgery has emerged as one of the most sought-after procedures, which has put Medical Tourism in Cancun, Mexico on top. Cancun hospitals and weight loss clinics are equipped to provide almost all the latest and most advanced bariatric procedures, including:
Gastric Sleeve Surgery in Cancun – The most popular surgical procedure designed to achieve permanent or long term weight loss in an uncomplicated manner.
Gastric Bypass Surgery in Cancun – For patients seeking very substantial weight loss, this procedure is the gold standard among all bariatric techniques.
Lap Band Surgery in Cancun – For patients who want to choose a less invasive weight loss surgery, this procedure is ideal, and it can even be reversed at a later stage.
Types of plastic surgery in Cancun
Cosmetic, reconstructive, and plastic surgery in Cancun is performed by some of the most qualified and experienced plastic surgeons in Mexico.
While liposuction body contouring surgery is one of the most popular procedures, patients who choose Medical Tourism in Cancun, Mexico also have access to dozens of other state of the art plastic surgeries for the breast, body, and face.
Most of the plastic surgery procedures in the US and Canada are considered "elective" by the health insurance companies, and no coverage is provided to the patients.
As a result, many Americans and Canadians are choosing plastic surgery in Cancun to receive the same quality of care at a much lower cost than they would have to pay out-of-pocket in their home country.
Some of the common plastic surgeries in Cancun for medical tourists include:
Liposuction
Laser Lipo
Breast Augmentation (Breast Implants)
Breast Lift (Mastopexy)
Breast Reduction
Nipple Reduction
Breast Revision
Nose Surgery (Rhinoplasty)
Eyelid Lift (Blepharoplasty)
Arm Lift (Brachioplasty)
Chin Reduction
Facelift (Rhytidectomy)
Neck Lift
Cheek Augmentation (Cheek Implants)
Cheek Dimple Surgery
Forehead Lift
Double Chin Removal
Vaginal Rejuvenation
Labiaplasty
Vaginal Tightening
Tummy Tuck (Abdominoplasty)
Abdominal Etching (Abs)
Ear Reshaping (Otoplasty)
Gynecomastia (Male Breast Reduction)
Lip Augmentation
Thight Lift
Butt Implants (Buttock Augmentation)
Brazilian Butt Lift
Calf Implants
Pectoral Implants
Facial Feminization
Hymen Reconstruction (Hymenoplasty)
Medical tourism in Cancun, Mexico – other medical procedures
In addition to plastic surgery and weight loss surgery in Cancun, medical tourists can benefit from various other safe, proven, and effective medical procedures including:
Cardiovascular Surgery
Cancer Surgery
Head and Neck Surgery
Ophthalmic Surgery
Pediatric Surgery
Neurosurgery
Orthopedic Surgery
Ob-Gyn (Obstetrics & Gynecology)
Varicose Vein Removal Treatments
Trauma Services
Anti-Aging Procedures, including Hormone Re-balancing, Cellular Revitalization, and Alternative Therapies
Visitors from the US and Canada seeking medical procedures in Cancun, Mexico should ideally choose accredited hospitals and clinics to receive the best quality medical tourism in Mexico. Medical facilities in Cancun have accreditation from national Mexican as well as internationally recognized agencies, such as the JCI of the United States.
Medical tourists should preferably engage the services of a salient medical tourism facilitator who has established relationships with some of the leading surgeons and hospitals in Mexico.
Quick travel tips for medical tourists in Cancun
Cancun has its own international airport (IATA: CUN).
Hospitals and clinics serving international tourists are often located not too far from the airport.
All hospitals and most other business will accept payments in US dollars, but it is a good idea to keep some pesos when shopping in the local markets or using the city's bus services.
Purified water is offered in most eateries in the "Hotel Zone", but patients may prefer to have bottled water.
Pay attention to the beach flag colors: green denotes that the water is safe for swimming; yellow and red signify caution; and black means that you should stay out of the waters.
Key takeaway
Cancun is one of the hottest international travel destinations, with over six million international arrivals every year. If you are considering medical tourism in Cancun, Mexico, you can look forward to restoring your health and physical appearance as well as rejuvenating your mind and soul in this stunning resort city without you having to empty out your bank account and future savings for years to come.