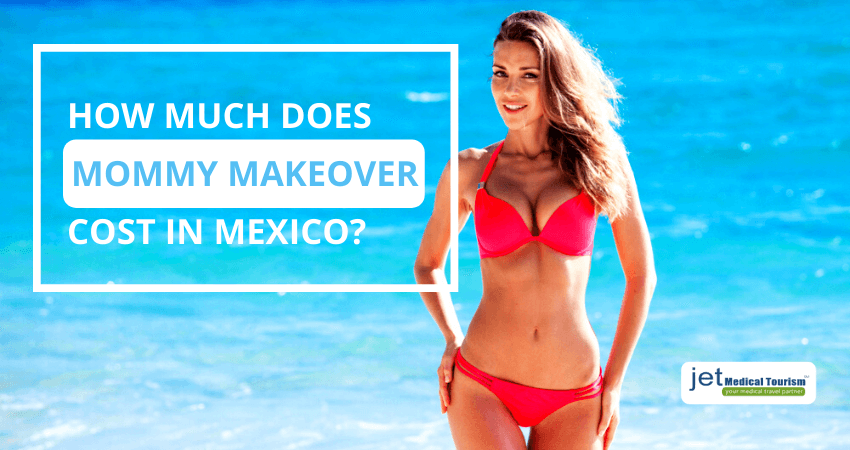 Many moms in the US and Canada wish to have a comprehensive plastic surgery procedure to restore their pre-pregnancy figure. However, while most have heard of mommy makeover surgery in Mexico, they may not know exactly what is mommy makeover and how it can help them achieve their aesthetic body goals. They may also wonder about how much does mommy makeover cost in Mexico.
Pregnancy and childbirth are probably the most fulfilling experience of life for a woman, but they may leave some unwanted effects on their body, such as loose skin in the abdomen, buttocks and thighs, sagging or oversized breasts, stretch marks, and unsightly fat bulges in some areas of the body. Mommy makeover in Mexico is a cosmetic surgery procedure to counteract these body changes.
During your initial consultation with a Mexico plastic surgeon, you should ask what is mommy makeover and what type of procedures it will include to meet your unique needs.
One of the key reasons behind the popularity of mommy makeovers is that the procedure is highly customizable, and a skilled surgeon can match it to your anatomical and personal cosmetic goals, budget, and desired timeline.
Read on to understand what is mommy makeover, how much does a mommy makeover cost in Mexico, and how it can help you achieve a more attractive and youthful body that resembles your pre-pregnancy figure.
What does a mommy makeover consist of?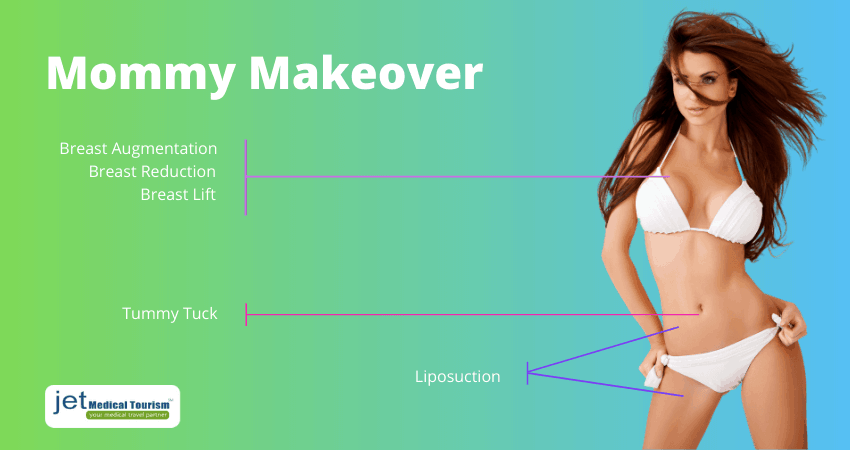 At the time of your pre-op consultation with a knowledgeable Mexico cosmetic surgeon, you should feel free to ask questions and clear all your doubts and concerns.
One of the key questions to ask would be what does a mommy makeover consist of and how your surgeon plans to perform this comprehensive surgery.
Your surgeon will assess your areas of concern in your body, and discuss what type of procedure should be a part of your makeover. Pregnancy and nursing could have caused significant physical changes to your body, so you may consider multiple procedures that can be performed at the same time.
In answer to your question on what does a mommy makeover consist of, here are some of the key procedures to consider: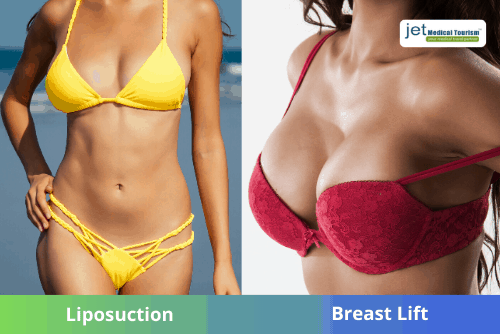 Liposuction
Nearly every mommy makeover includes liposuction fat reduction plastic surgery as a part of the procedure. Liposuction is an excellent choice if you have stubborn fatty tissue deposits in certain areas of the body. In a mommy makeover, liposuction is often used on the hips, buttocks, thighs, breasts, abdomen, and upper arms.
Breast Lift
Your breasts may gain volume during pregnancy and breastfeeding, but after childbirth the breasts may somewhat deflate. In this condition, the breast skin and muscles may not spring back and elasticity is lost. This condition can be corrected with breast lift or mastopexy as part of a mommy makeover in Mexico to restore a firmer, rejuvenated upper body.
Breast Augmentation or Breast Reduction
Sometimes the breast size may become smaller after you have completed nursing your baby. In this case, your Mexico mommy makeover surgeon may recommend breast augmentation, either independently or along with a breast lift. It will involve placement of silicone or saline breast implants to boost volume.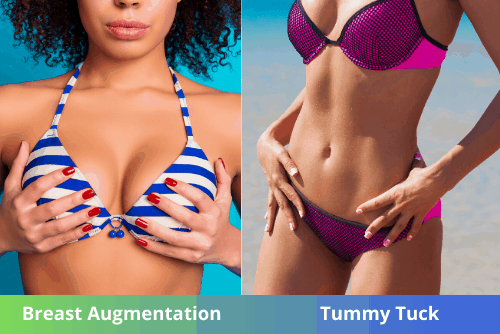 In some cases, the breast size and volume gained during pregnancy and nursing may not return to its normal level later on. In this case, your mommy makeover plan may include breast reduction surgery to restore a more proportionate upper body figure and eliminate any physical discomfort.
Tummy Tuck
Pregnancy will take a toll on your abdominal area, and the skin and abdominal muscles may slacken, causing a flabbier tummy. Even strength training and weight loss exercises may not restore a firm and flat belly you had prior to pregnancy. Your surgeon may recommend tummy tuck surgery (abdominoplasty) to restore a toned and taut stomach as part of your mommy makeover.
RELATED READ: How Much Does a Tummy Tuck Cost in Mexico
Body Lift
Following childbirth, you may feel that your entire lower body is sagging, particularly if you have lost or gain significant body weight in multiple pregnancies. Your mommy makeover surgery can include a lower body lift to tighten the muscles in your buttocks, thighs, groin, and abdomen to help you achieve a subtle lift and a smoother, youthful lower body appearance.
When you ask your surgeon what does a mommy makeover consist of, you should also ask how much does mommy makeover cost in Mexico, based on your customized selection of procedures.
How long does mommy makeover surgery take?
Your mommy makeover surgery in Mexico can be completed as a single, combined procedure, or in stages. In most cases, your plastic surgeon will prefer to perform it as one combined procedure. This means you will go through the process of preparation, anesthesia, surgery, and recovery only once.
However, depending on your personal choice, you may request your surgeon to stagger your procedures over two stages or more. In a single combined procedure, it may take about three to four hours inside the operating room to complete your mommy makeover surgery. But this can vary from case to case, so you should ask your surgeon specifically how long does mommy makeover surgery take.
Mommy makeover in Tijuana Mexico – Is it a viable option?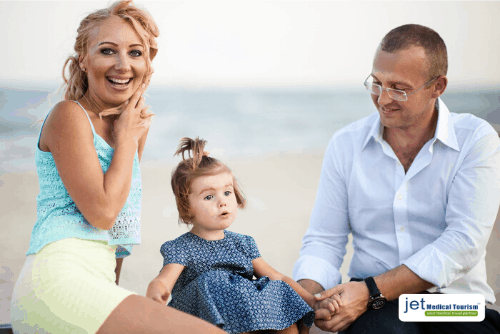 Located only 15 miles from San Diego, Tijuana is one of the best destinations for US medical tourists seeking mommy makeover. At a fraction of the cost of an average plastic surgery procedure in the US, you can choose mommy makeover in Tijuana, Mexico at a reputable hospital or surgery center.
More American and Canadian women are choosing mommy makeover in Tijuana, Mexico every year because the quality of patient care here is on par with some of the best hospitals anywhere in the world, including the US.
As long as you are represented by a trusted medical tourism service provider such as Jet Medical Tourism, you can be assured that you will work with high qualified and experienced plastic surgeons for your mommy makeover in Tijuana, Mexico.
How much does a mommy makeover cost in Mexico?
The average price of a mommy makeover in Mexico at Jet Medical Tourism ranges from $8,000 to $13,000. When you want to choose among the very best hospitals or surgery centers and work with a plastic surgeon with a proven track record, your mommy makeover cost in Mexico will be a small fraction of what it would cost in the US or Canada.
While the price is a vital starting point, it's still crucial to ensure that your medical tourism service provider and their plastic surgeons on-board have demonstrated expertise for major cosmetic surgery procedures. Discuss your mommy makeover cost in Mexico with Jet Medical Tourism during your initial consultation.
Here is the estimated cost comparison to give you an idea of how much does mommy makeover cost:
| | | | |
| --- | --- | --- | --- |
| | Mexico | United States | Canada |
| Mommy Makeover Cost (avg.) | US $10,500 | US $23,000 | US $25,000 |
Is mommy makeover covered by insurance?
Many patients may want to ask this question: Is mommy makeover covered by insurance? In the US and Canada, mommy makeover is primarily considered an elective, cosmetic procedure, and not a medical necessity.
Therefore, the health insurance providers will not cover the costs of this surgery in your home country.
This makes a compelling case to consider undergoing a mommy makeover at the best plastic surgery centers in Mexico at a very affordable cost, while receiving the same standards of care as in the US or Canada.
Mommy Makeover after Weight Loss Surgery
A mommy makeover after weight loss surgery in Mexico is an excellent treatment option for many women. If you have lost a substantial amount of weight following a bariatric surgery, it may have caused the appearance of loose skin and isolated fat pockets in several areas such as the abdomen, thighs, hips, abdomen, breasts, and upper arms.
YOU MIGHT WANT TO READ: Weight Loss Surgery Cost in Mexico: A Comprehensive Guide
A Mexico mommy makeover after weight loss surgery is the most comprehensive and effective way to eliminate sagging skin and undesirable fat pockets, and restore a firm and youthful body appearance.
Mommy Makeover Recovery Time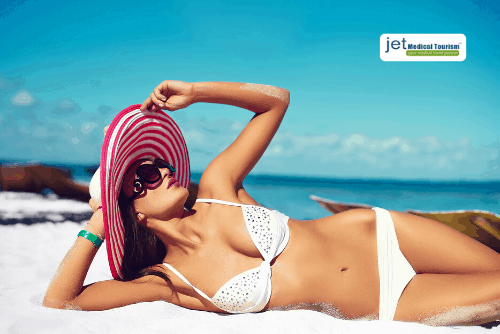 Your mommy makeover recovery period can vary, depending on the type and number of surgical procedures you have included in your treatment plan.
In general, you can expect to resume your normal work routine within 10 to 14 days after your mommy makeover plastic surgery in Mexico.
However, your surgeon will advise you to avoid vigorous activities and exercises or lifting of heavy weights for at least one month after your surgery.
As long as you diligently follow your Mexico cosmetic surgeon's post-operative care instructions, your mommy makeover recovery should be fast and hassle-free.
Mommy Makeover Before and After pics
Here are some of the mommy makeover before after pics of our past patients at Jet Medical Tourism. As they say, a picture says more than a thousand words.
Best Mommy Makeover Surgeons in Mexico
At Jet Medical Tourism, our patients trust us because we work with some of the best mommy makeover surgeons in Mexico. When you partner with us for your mommy makeover, you know you are in safe hands.
Our Mexico mommy makeover surgeons have advanced qualifications in plastic surgery and exceptional skill and experience in performing this cosmetic procedure.
When choosing the best mommy makeover surgeons in Mexico, we make sure the surgeon satisfies all the rigorous selection criteria that a highly competent plastic surgeon anywhere else, including the US or Canada, would meet.
Choose Jet Medical Tourism for Mommy Makeover in Mexico
If you are wondering whether mommy makeover is the right choice for you, or how much does mommy makeover cost in Mexico, speak to our knowledgeable and compassionate staff members at Jet Medical Tourism today.
We specialize in mommy makeover surgery in Mexico, and we work with some of the top plastic surgeons and world-class surgery centers in Mexico for this procedure. Call us now to schedule a free consultation with one of our mommy makeover surgeons.