Best Mommy Makeover Surgeon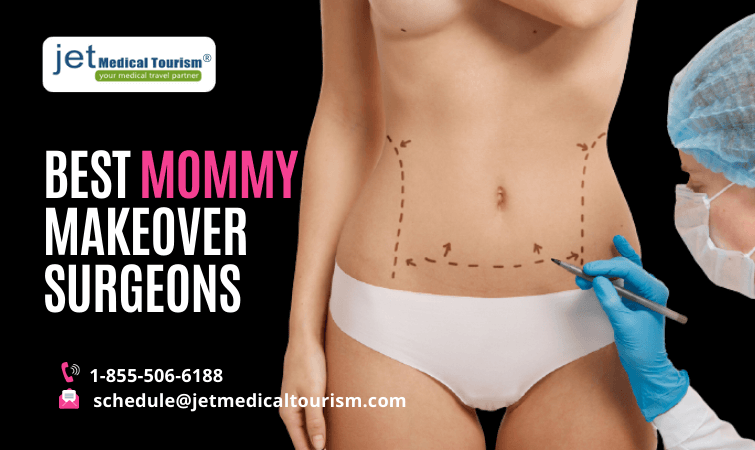 Mommy makeover is probably the most comprehensive plastic surgery procedure that can restore a mom's pre-pregnancy appearance. While innovations in surgical techniques have made the procedure safer, less invasive, and more predictable, the final outcome still depends on the skill of the operating surgeon. Choose the best mommy makeover surgeon near me to achieve your body transformation goals.
How to find the best mommy makeover surgeon nearby? Contact Jet Medical Tourism® today.
Finding the mommy makeover surgeons near me
With a large number of plastic and cosmetic surgeons offering a full range of procedures for the breast, body and face, it can be difficult to identify the best mommy makeover surgeon. Some patients may simply search online for "Top 10 mommy makeover surgeons" in the hope of finding the best plastic surgeon for mommy makeover near me.
However, this may not be the most prudent way to select a reliable surgeon.
Determine your budget: Mommy makeover is an expensive plastic surgery, and the insurance company is not going to cover your cost for an elective cosmetic procedure. Therefore, your first step should be to look at how much you want to spend from your savings or how much debt you want to take to finance your procedure.
Evaluate your options: Based on your affordability, you can consider various options to work with one of the top mommy makeover surgeons near me. You could approach a hospital or a private practice in your area. Most importantly, be open-minded to consider medical travel to have this procedure from a skilled surgeon at a low cost.
Check their website: Once you have short-listed the best mommy makeover surgeons near me, whether in your area or in a bordering medical tourism location, you should look at their websites to learn about their professional credentials. You may also look for their reviews, ratings and patient testimonials on social media and online forums.
Make an appointment: Get ready for an initial consultation with the top one or two among the best mommy makeover surgeons on your list. During the consultation, feel free to ask questions and address all your doubts and concerns. Make an independent decision after objectively considering all the strengths and limitations of the surgeons you meet.
YOU MIGHT ALSO LIKE: Best tummy tuck surgeons in Mexico
How to select the best mommy makeover surgeons
Choosing the best surgeons for mommy makeover is the single most important decision that will impact your aesthetic appearance and your well-being for years to come. Therefore, invest time in weighing all your options carefully, do not settle for the very first offer you receive, and try not to be influenced by anyone else except your own judgment.
Qualifications: The first thing you must consider in a surgeon is their academic background and training. The best mommy makeover surgeons near me would typically have advanced qualifications, certifications, and dedicated training in plastic, cosmetic, and reconstructive surgery. Do not settle for a general surgeon with low academic credentials.
Experience: Mommy makeover is a complex plastic surgery, which will combine multiple procedures performed at once. The best plastic surgeon for mommy makeover would have years of experience in this procedure, and would be well-versed in procedures, such as liposuction, breast lift, tummy tuck, and Brazilian butt lift as part of a mommy makeover.
Hospital privileges: Any major plastic surgery involving general anesthesia should be performed at a hospital or a fully equipped surgery center. The best mommy makeover surgeons near me would have staff privileges at a highly rated hospital or surgery center. These facilities conduct a thorough background check before they accept a surgeon on their staff.
Success record: You need a surgeon with a proven track record of successful surgeries and an impeccable reputation in the field. The top mommy makeover surgeons near me would be an authority in this procedure who can handle emergencies in the operating room and turn even a difficult case into an outstanding success with their skill and experience.
Bedside manner: A surgeon who is willing to listen to your concerns, empathizes with you, and is warm and reassuring in their mannerism is probably one of the best mommy makeover surgeons near me that you should consider. A relationship of trust and open communication with your surgeon will make a difference to your results and your overall satisfaction.
Questions to ask mommy makeover surgeon
At your initial consultation, you will have an opportunity to ask questions from your surgeon. The best plastic surgeon will provide detailed and transparent answers in a patient-friendly language to all your questions. It's always a stellar idea to prepare your list of questions ahead of time and carry it with you to your consultation.
Key questions may include:
Do you have qualifications in plastic surgery, or are you a general surgeon?
How many years of training and experience do you have in plastic surgery?
Have you performed mommy makeover surgery in the past, and if yes, what is your success rate?
Do you think I'm a good candidate for a mommy makeover?
Are there any risks involved in a mommy makeover that I should know about?
How long will it take for me to recover from the surgery, and what kind of scarring should I expect?
Where will you perform my surgery – at a hospital, a surgery center or a private surgical suite?
Can you share a few mommy makeover 'before and after' photos as well as patient testimonials with me?
Is your practice equipped to handle emergencies as well as revision surgeries, if the need arises?
How much will the mommy makeover surgery cost me?
READ: Mommy makeover checklist
Best plastic surgeon for mommy makeover in Mexico
Mexico is a world-class medical tourism destination for mommy makeover plastic surgery. At a fraction of the cost that you would spend in your home country, you may be able to afford the best mommy makeover surgeons near me in Mexico. Here are some of the reasons why it makes sense to choose the best mommy makeover plastic surgeon in Mexico.
Skills and experience: The best plastic surgeon for mommy makeover near me in Mexico would have the latest surgical skills and extensive experience to deliver safe and desirable outcomes.
Customized surgery: The best mommy makeover surgeon near me in Mexico would take time to customize your procedure to suit your unique anatomical and personal aesthetic goals.
Science and art: The top plastic surgeons in Mexico will combine the principles of science and art to create results that are cosmetically appealing, yet natural looking and sustainable.
Personalized care: The best surgeons for mommy makeover in Mexico will provide you personalized care and attention at every step of your procedure, which makes all the difference to your results.
Affordable fee: You may be able to afford one of the top 10 mommy makeover surgeons in Mexico because of their reasonable fee, low overhead, and no expenses such as medical malpractice insurance.
CHECK THIS: How much does mommy makeover cost in Mexico?
Final words
A mommy makeover surgery will give you a stunning hourglass figure, boost your self-confidence, and make you fall in love with yourself all over again. The key to success in this major surgery is how you select the best mommy makeover surgeon near me within your budget. Explore the option of medical tourism to have this life-changing surgery at an affordable cost from one of the top mommy makeover surgeons near me.

Related content