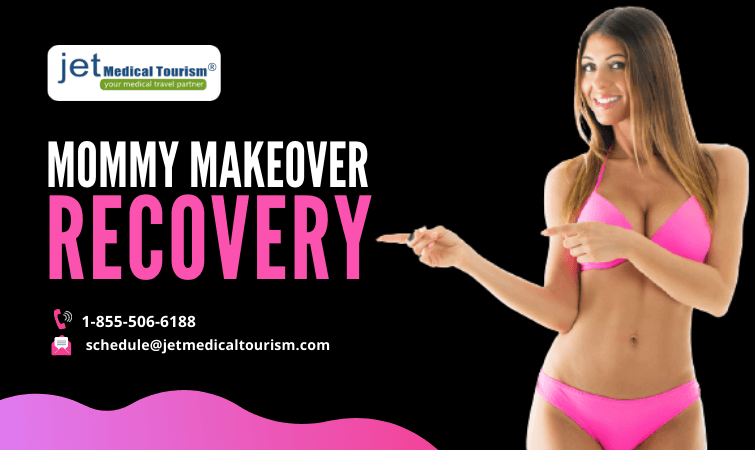 Mommy makeover is a comprehensive plastic surgery, typically involving multiple surgical procedures. Consequently, mommy makeover recovery time is relatively longer and post-operative care becomes vital to achieving the desired results. Before you leave for home after the surgery, your plastic surgeon and their team will explain to you about the estimated mommy makeover recovery week by week. You will also receive useful mommy makeover recovery tips, guidelines, and care instructions.
Contact Jet Medical Tourism® today.
Mommy makeover recovery time
Mommy makeover recovery time is estimated to be around two weeks post-surgery. Long-term recovery will take several more weeks or months, but you can return to your normal routine in two weeks. Notably, this procedure is not only the most extensive, but also the most customizable plastic surgery for women. Therefore, mommy makeover recovery time will vary from one patient to another depending on a number of factors.
Extent of surgery: If your procedure combines several major surgeries, such as breast reduction, tummy tuck, Brazilian butt lift, and liposuction, the mommy makeover recovery will take longer. However, if your custom surgery plan is less extensive, the recovery will be faster.
Surgeon's skills: Experienced plastic surgeons will use common incisions to perform multiple procedures. They will also minimize tissue trauma by using high-precision surgical techniques and devices. This will help cut down your post-op mommy makeover recovery time.
Post-op care: How diligently you follow your surgeon's mommy makeover recovery tips and guidelines will make a difference to your final recovery and results. Exercising too soon, smoking during the early phase, or not protecting the incisions from infection can delay your recovery process.
What to expect after a mommy makeover
When it comes to a major surgery such as a mommy makeover, patients naturally have numerous questions and concerns. How painful is a mommy makeover, how long after mommy makeover can I exercise, and how much time it takes for mommy makeover recovery. Here are some of the key things to expect after this surgery.
Pain and swelling: Minor bruising, swelling and pain in the incision sites are expected during early mommy makeover recovery. Your surgeon may prescribe mild pain medications for a few days to keep you comfortable.
Drainage tubes: In most cases, temporary drainage tubes will be placed in the incision areas beneath the skin. Excess fluid and blood will be drained out through these tubes. These may be removed in a week to 10 days.
Compression garment: If your surgery includes breast lift, tummy tuck, liposuction or another body contouring procedure, your surgeon may require you to wear compression garments for several weeks. This will expedite recovery.
Menstrual cycle: Be prepared that in the first few weeks or months of your mommy makeover recovery, you may have slightly irregular menstrual cycles. However, normalcy of the periods will be gradually restored on its own.
Post-op scarring: Some amount of scarring is expected after a mommy makeover. Your surgeon may advise you to use a silicone cream or silicone gel sheets to mitigate the effect of any visible scars in the first few months.
READ THIS: How much does mommy makeover cost in Mexico?
How painful is a mommy makeover
Mild pain and discomfort is an unavoidable side effect of any surgery, and mommy makeover is no different. How painful is a mommy makeover can vary between patients due to several reasons. But the pain can be easily managed with over the counter painkillers or prescription drugs. The pain during a mommy makeover recovery is temporary, and will subside almost entirely in less than two weeks.
Mommy makeover recovery week by week will reduce the pain
Less invasive surgeries in your custom plan will result in less pain
If pain is accompanied by fever or pus, it may be a sign of infection
Consult your surgeon if pain is severe and persistent even after meds
Avoid bending, lifting heavy items, or aggressive movements initially
Use support pillows and lie on the back to avoid pain during sleep
Apply ice packs in the first few days for relief from pain and swelling
Constipation is temporary side effect, which can add to the strain
Pain should be fully resolved by mommy makeover recovery week 4
READ THIS TOO: What is an hourglass mommy makeover?
Mommy makeover recovery timeline
Your mommy makeover recovery timeline will depend on how elaborate and invasive is your custom surgery plan. It is important to discuss your treatment goals with your surgeon and evaluate your willingness and ability to set aside dedicated time for recovery. If your surgery involves several upper and lower body procedures, your surgeon may decide to perform the mommy makeover in stages. In this case, your recovery will be extended.
However, in most cases, surgeons prefer to perform all mommy makeover procedures at once. This will ensure that you go through the anesthesia, surgery, and recovery process only once. In general, the mommy makeover recovery timeline may stretch over six weeks. Out of these, you may have to stay confined to home for the first two weeks, while you will need to take extra care for additional four weeks to allow for complete healing.
Mommy makeover recovery week by week
Your mommy makeover recovery time will depend, among other things, on your age, fitness level, and your body's natural ability to repair and heal. Before you leave for home after the surgery, your plastic surgeon and their staff may provide you an estimated mommy makeover recovery week by week guideline to help you assess your healing progress.
Week 1: Once the anesthesia effect wears off, you will experience some pain and soreness in the incision areas. Bruising and swelling will be more pronounced. Take your medications, rest at home, and walk slowly in week one.
Week 2: Bruising would have significantly resolved by the second week, but the swelling will linger on and improve gradually. Somewhere in the middle or by the end of week two, you may be ready to resume your daily routine or go to work.
Week 3: Mommy makeover recovery week by week will pick up pace by week three. Focus on a protein-rich diet to expedite healing, continue wearing your compression garments as directed, and focus on physical and emotional health.
Week 4: From mommy makeover recovery week 4, you may be ready to perform mild exercises. Consult a physical therapist who can guide you about the right type of fitness regimen at this stage to help you recover safely and fully.
Week 5 & 6: By this stage, much of the swelling would have disappeared, and you will be able to notice the attractive results of your procedure more clearly. It is the time to increase your exercises, wear new clothes, and enjoy your youthful appearance.
Mommy makeover recovery tips
When you are considering whether or not to have a mommy makeover surgery, a plethora of questions may arise in your mind. How painful is a mommy makeover, how much time it will take to recover, how long after mommy makeover can I exercise, and so on. During your consultation process, your surgeon will address all your concerns and give you several useful mommy makeover recovery tips.
If you are working, apply for about two weeks leave at your workplace well in advance.
Complete any pressing tasks ahead of time to have a stress-free mommy makeover recovery.
Arrange for a responsible person who can safely drive you back home after the surgery.
Hire a house help or request a friend or family member to assist you with daily chores for a few days.
Wear your compression garments 24×7 except when bathing to ensure expedited recovery.
Take pain meds and antibiotics as prescribed, but do not take blood thinners or herbal supplements.
Do not smoke for a few weeks – this is one of the most important mommy makeover recovery tips.
Although you are a mother, recovery is not the time to be a super hero and do too much too soon.
Increase the intake of lean proteins in your diet and stay well hydrated during the recovery phase.
If any signs of complications occur during your mommy makeover recovery, call your surgeon promptly.
Mommy makeover recovery time photos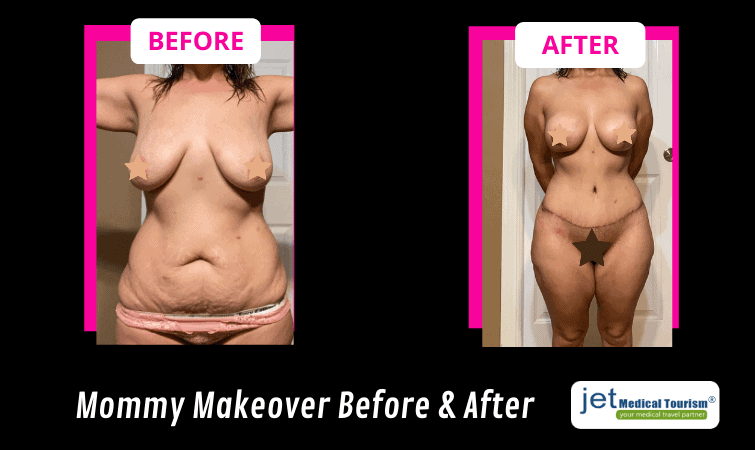 Mommy makeover, as the name suggests, will give you a dramatic physical makeover and restore your pre-pregnancy figure. However, it is important to keep realistic expectations and know exactly what the surgery can or cannot do for you. Mommy makeover recovery time photos are an excellent visual tool that can tell you the real story as it is.
YOU MIGHT ALSO LIKE: Mommy makeover results
Another advantage with mommy makeover photos of past patients is that you will have a better idea of your surgeon's actual performance and skills. Having confidence in your surgeon is vital to the success of this major procedure. Make the most of your initial consultation with your surgeon and make a poignant decision.
Related articles:
DISCLAIMER: Some or all of the hyperlinks embedded in this web page may link back to Mexico-specific surgery procedures. Those links are only meant for general information purposes, and may not have any relevance to the content of the given web page. Readers should exercise discretion and consult a medical professional before making any decisions related to a choice of procedure or a choice of location for treatment.