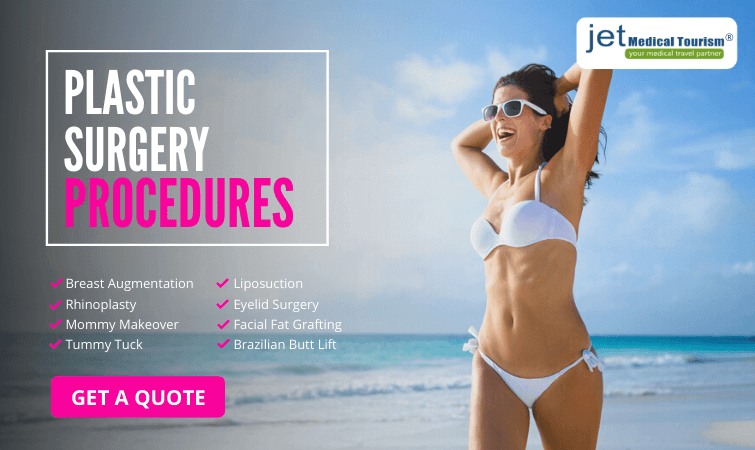 Plastic surgery procedures can be performed all areas of the body. The term plastic surgery originated from the Greek word "plastikos" which means to reshape and mold.
For a patient who is seeking a procedure to improve their physical appearance, it is important to first understand what is plastic surgery.
What is plastic surgery?
Plastic surgery is a medical specialty that makes use of proven surgical techniques to remold and reshape tissue according to the patient's unique anatomical and aesthetic needs. An experienced plastic surgeon will treat the patient as a whole and make sure that their overall health and physical appearance is enhanced.
Plastic surgery procedures can be performed on virtually any area of the body to address any disfigurement, scarring, or simply accentuate the patient's cosmetic looks. In each case, the plastic surgeon will consider the patient's physical as well as emotional well-being, and work to improve their overall quality of life.
Contact Jet Medical Tourism® today to for more information on plastic surgery procedures that are available to you.
Why choose plastic surgery?
Once you have a clear idea of what is plastic surgery, it is important to understand its benefits so that you can make an informed decision.
Aesthetic Appearance Benefits
One of the major benefits of plastic surgery is that it helps align your natural physical appearance with your desired aesthetic goals. The procedure will make you look more attractive and youthful and improve the contours and shape in the treated areas.
Following a plastic surgery procedure, chances are that your clothes will fit better and you will be able to wear a wider choice of dresses, sportswear and swimwear.
A skilled plastic surgeon can make sure that the cosmetic improvements are subtle and natural looking, and yet make a dramatic impact.
Physical Health Benefits
During your initial consultation with a surgeon, you should discuss about what is plastic surgery and how it can benefit your health. A procedure such as liposuction can reduce excess fat deposits, enabling you to perform exercises and improve your heart health.
Breast reduction can help address your back, neck and shoulder pain. Rhinoplasty can resolve breathing obstructions in the nose. Mommy makeovers can also provide significant health benefits, depending on the types of procedures performed.
Emotional and Psychological Benefits
Plastic surgery can do wonders for your self-esteem and personal confidence levels. When you love your own body image, it will improve your general happiness and positivity levels (being positive or optimistic in attitude). You will be able to strengthen your personal relationships, improve your social life, and even perform better at the workplace.
Positivity in personal, professional and social life will produce long-term emotional and psychological benefits, which are invaluable for your overall well-being.
Jet Medical Tourism® is a premier medical tourism facilitator for American, Canadian, and European patients seeking safe and advanced plastic surgery in Mexico at a fraction of the cost.

How does plastic surgery work?
You can choose from a wide range of plastic surgery procedures for the body, breast and face in order to achieve the desired aesthetic outcomes. How plastic surgery works will differ in each age group, as the physical appearance continues to transform with age.
How does plastic surgery work in your 20s?
Facial signs of aging are usually not a serious concern in this age group. Women with smaller sized breasts can choose breast augmentation to create a more voluptuous figure.
People with stubborn fat pockets in the hips, thighs, tummy, upper arms, neck or other areas may choose liposuction to improve their body contours. Nose reshaping surgery is also a popular plastic surgery procedure among 20-somethings.
How plastic surgery works in your 30s?
By the time women and men enter their thirties they often find themselves struggling with various aesthetic issues. These may include loose skin around the waist, sagging breasts, stretch marks after pregnancy, and excess fat deposits in certain parts of the body that do not respond to diet or exercises.
Liposuction, breast lift, breast implants, tummy tuck (abdominoplasty), mini facelift, and mommy makeovers are some of the plastic surgery procedures that work best for people in their 30s.
Plastic surgery: how it works in your 40s?
Your plastic surgeon may suggest appropriate procedures for facial rejuvenation and body contouring in your 40s, depending on the severity of loose skin, wrinkles, and fat pockets in your body.
If the facial skin has significantly sagged, thinned, or sunken, the plastic surgeon may recommend facelift, neck lift facial fat transfer, eyelid lift surgery, brow lift surgery, or a combination of these.
Breast implant surgery, breast lift with augmentation, mommy makeover, tummy tuck and liposuction are also popular procedures for women in their 40s.
Stretch marks, cellulite reduction, and varicose veins removal are also addressed in many cases. Men in this age group typically choose male tummy tuck or male liposuction or a combination of the two.
How plastic surgery is done in your 50s and 60s?
A large number of patients in this age group want to undergo facelift surgery. Loss of facial volume and reduced skin elasticity can cause conspicuous wrinkles and folds in the skin, making a person look older than their actual age.
Facelift surgery provides both women and men with deep facial rejuvenation with lasting results. Body lift procedures such as buttock lift, thigh lift, upper arm lift, breast lift and neck lift are also commonly performed for people in their 50s and 60s.
Depending on the patient's health, sometimes the plastic surgeon may recommend minimally invasive procedures involving laser, radio frequency, or ultrasonic based skin rejuvenation techniques for patients in this age group.

Cosmetic surgery vs. plastic surgery
If you are considering a surgical procedure to enhance your physical appearance, you should clearly understand the difference between plastic surgery and cosmetic surgery. While plastic surgery and cosmetic surgery are closely related medical specialties, they are not the same.
Difference between cosmetic and plastic surgery: scope is different
While both plastic surgery and cosmetic surgery aim to improve the patient's physical appearance, their scope of procedures is different.
Cosmetic surgery focuses solely on enhancing appearance, while plastic surgery involves both cosmetic and reconstructive procedures for more effective and holistic results.
The scope of cosmetic surgery typically includes procedures such as:
Body Contouring: Liposuction, tummy tuck, body lift
Facial Contouring: Nose job, chin augmentation, cheek lift
Facial Rejuvenation: Facelift, neck lift, eyelid lift, brow lift
Breast Enhancement: Breast implants, breast reduction, breast lift
The scope of plastic surgery typically includes procedures such as:
All the procedures performed as part of cosmetic surgery
All revision cosmetic surgeries
Mommy makeovers
Gynecomastia (male breast reduction)
Breast reconstruction (after a mastectomy or cancer surgery)
Hand repair surgery
Scar revision surgery
Burn repair surgery
Congenital defect repair surgery
Reconstructive surgery after trauma
Cosmetic surgery procedures are designed only to improve physical appearance, where as plastic surgery procedures combine aesthetic as well as functional and health improvements.
To communicate the fact that reconstructive surgeries are a part of plastic surgery procedures, the American Society of Plastic and Reconstructive Surgeons in 1999 changed its name to American Society of Plastic Surgeons (ASPS). Today, ASPS is the most prestigious plastic surgery organization in the United States.
Although most plastic surgeons obtain additional training in cosmetic surgery, the foundation of their surgical training remains plastic and reconstructive surgery. This is not the case with cosmetic surgery, where the surgeon's scope is only limited to performing cosmetic procedures.
Types of plastic surgery procedures
Different types of plastic surgery procedures are available today to address the specific anatomical and aesthetic concerns of an individual patient.
Advancements in surgical techniques and technology have led to the development of safe and innovative plastic surgery procedures for the body, breast, and face.
Facial Plastic Surgery Procedures
Facelift
Facelift plastic surgery or rhytidectomy is designed to take at least 10 to 15 years off the patient's face, and make them appear youthful and attractive.
The plastic surgeon may recommend a full traditional facelift, a partial or mini facelift, or facelift in conjunction with other face and neck procedures to meet the patient's personal goals.
Eyelid Lift
Eyelid lift surgery or blepharoplasty can eliminate wrinkles and fine lines as well as dark circles around the upper and lower eyelids.
Some patients may only required upper eyelid surgery or lower eyelid surgery, while some others may need both. A less invasive technique called transconjunctival blepharoplasty may also be used for some patients.
Brow Lift
Brow lift or forehead lift surgery is aimed at removing excess loose skin around the brows to provide a rejuvenated upper face appearance. Heavily sagging brows can sometimes cause partial vision obstruction, which can be corrected with a brow lift.
Neck Lift
Neck lift surgery is often performed together with facelift to produce more harmonious looking results. Patients with turkey wattle neck, neck bands, or sagging neck skin can achieve a tighter and shapelier neck appearance with this procedure.
Cheek or Chin Augmentation
Patients with a recessive chin or thinning and sunken cheeks can benefit from face implants, which can be used to augment the chin or cheeks. Cheek augmentation or chin surgery can help a patient achieve a fuller, rounder face and a chin that is more proportionate with other facial features.
Rhinoplasty
Commonly known as nose surgery or a nose job, rhinoplasty is one of the popular cosmetic procedures for people in younger age groups. Nose augmentation, nose reduction as well as revision, and reconstructive nose surgeries can be performed, depending on the patient's needs.
Ear Surgery
Otoplasty or ear reshaping surgery is ideal for people who are unhappy with the appearance of their large or unshapely ears. The procedure can be performed on both children and adults, and involves minimal discomfort or risk.

Common Plastic Surgery Procedures for the Body
Liposuction
For more than three decades, liposuction has continued to rank among the most popular plastic surgery procedures for both women and men.
This body sculpting procedure can be performed in the targeted areas of the body that have unwanted fat deposits resistant to diet and exercise. Patients can achieve slimmer and well-proportioned body contours with liposuction.
Tummy Tuck
Tummy tuck surgery or abdominoplasty is aimed at removing excess loose skin in the abdominal area that may have occurred due to a sedentary lifestyle, poor diet, or as an after-effect of pregnancy. Full, partial, or circumferential tummy tuck may be performed to restore a flatter, smoother, and more attractive abdomen.
Body Lift
A full body lift is usually performed in the lower body areas such as thighs and buttocks as well as upper body areas such as the chest and arms. Body lift surgeries are highly customizable to suit the patient's requirements. These surgeries are also performed following a massive weight loss surgery to remove excessive loose skin from specific body areas.
Buttock Augmentation
Buttock augmentation or butt implant surgery is increasingly popular among women who want to achieve a more aesthetically appealing and shapely rear. The plastic surgeon may recommend butt implants or a fat transfer surgery, depending on the extent of butt augmentation required.
Mommy Makeover
A mommy makeover surgery is best suited for women who want to restore their pre-pregnancy figure after they have completed child bearing. The procedure usually combines multiple plastic surgeries combined to meet the specific anatomical and cosmetic needs of the patient.

Types of Plastic Surgery Procedures for the Breast
Breast Augmentation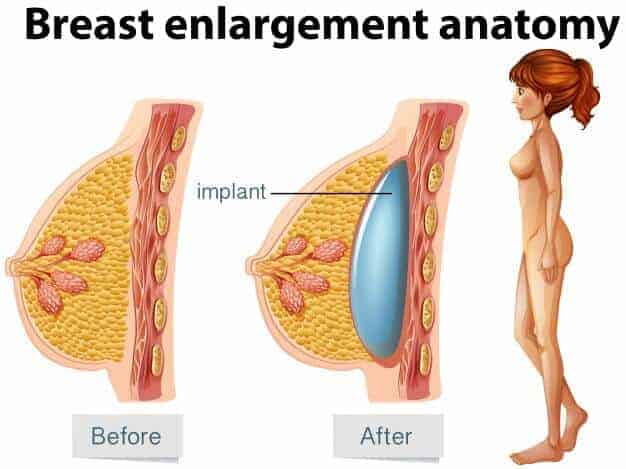 Breast augmentation or breast implant surgery ranks as the second most popular plastic surgery procedure after liposuction. Patients can choose from saline, silicone and ultra cohesive silicone implants that are available in sizes ranging from 110 cc to 900 cc. Also known as breast enlargement surgery, this procedure can dramatically enhance a woman's overall appearance.
Breast Lift
Women who suffer from significantly drooping or sagging breasts due to loosened breast skin can choose breast lift surgery. The surgeon will excise the loose skin to restore tighter, firmer and youthful looking breasts. Nipples may also be re-positioned to create a more natural look.
Breast Reduction
Women who are bothered by excessively large, heavy or pendulous breasts can choose breast reduction surgery. The procedure is aimed at creating smaller, more proportionate and symmetrical breasts. Patients also often achieve medical relief from shoulder and neck pain that their oversized breasts may have been causing.
Breast Lift with Augmentation
In many cases, women want to achieve a firmer shape of the breasts along with a bigger size. A plastic surgeon may perform both breast augmentation and breast lift together using the same incisions. This procedure enables the patient to achieve more comprehensive results in a less invasive way.
Breast Reconstruction
Following breast cancer surgery or mastectomy, a woman may lose one or both breasts. A breast reconstruction surgery can be performed to restore her breast appearance. Breast implants or flap reconstruction technique may be used to perform this procedure.
Breast Implant Revision
Breast implants may leak or get damaged after several years of use. In some cases, a woman may want to remove or replace implants due to a change of preferences. Breast implant revision surgery can be performed in this situation to achieve the patient's desired results.
What Plastic Surgery should I Get?
Undergoing a plastic surgery procedure is a life-changing decision. To make sure that you are choosing the right plastic surgery, your best option would be to get in touch with our experts at Jet Medical Tourism.
We have some of the best plastic surgeons in Mexico on board. We will arrange for you a consultation to ensure you can choose a procedure that is most appropriate for your needs.
Jet Medical Tourism® works with the reputable plastic surgery hospitals and board certified plastic surgeons in Mexico that may include Tijuana, Nuevo Laredo, Cancun, and Juarez Mexico. Contact us now!
Plastic surgery costs
How much does plastic surgery cost in Mexico
Compared to the costs in the US and Canada, plastic surgery prices in Mexico would cost much lower. For most procedures, plastic surgery in Tijuana costs about 50 to 70 percent cheaper than the US.
The lower cost of plastic surgery procedures in Mexico does not mean that the medical quality standards would be lower. The cost is cheaper simply because the plastic surgeons and hospitals in Mexico charge a much lower fee, while delivering the same standards of care and a more personalized service to patients.
To understand how much does it cost to get plastic surgery in Mexico, you can talk with the representatives at Jet Medical Tourism®, who will address all your concerns about costs in detail.
RELATED: How much does plastic surgery cost?
Average cost of plastic surgery – a comparison
To get an idea of breast lift cost or other cost of plastic surgery procedures in Mexico vs. US/Canada, consider the following estimated figures. These costs would typically cover expenses such as pre- and post-operative consultation, lab work costs, anesthesia costs, surgeon's fee, hospital's charges, medication expenses, and aftercare costs.
Plastic Surgery Costs
| | | |
| --- | --- | --- |
| Plastic Surgery Procedure | Average Cost in Mexico (in US$) | Average Cost in US/Canada (in US$) |
| Breast Augmentation | $4,000 | $9,500 |
| Liposuction | $3,000 | $8,500 |
| Tummy Tuck | $4,800 | $10,000 |
| Mommy Makeover | $10,000 | $15,000 |
| Breast Lift | $4,400 | $7,000 |
| Facelift | $4,500 | $9,000 |
| Rhinoplasty | $4,200 | $6,500 |
| Body Lift | $5,100 | $8,000 |
| Buttock Implants | $4,200 | $8,500 |
Plastic surgery before and after pictures
Jet Medical Tourism® encourages every patient to review plastic surgery before and after images during the initial consultation. A picture can say more than a thousand words, and plastic surgery pictures serve as an effective visual aid for patients to understand what kind of results are possible with a particular cosmetic procedure such as a nose job in Mexico (see below for cosmetic and plastic surgery before and after pictures).
Cosmetic and plastic surgery before and after photos: realistic expectations
When a new patient takes a detailed look at the before and after plastic surgery pictures, it will help them develop realistic expectations. They will know exactly what to expect and what not to expect from the surgery.
This enables them to make an informed and well-considered choice. Patients with realistic expectations typically achieve more satisfying results in the end.
Before and after plastic surgery pictures online
Patients can access plastic surgery pictures at Jet Medical Tourism® website. They may also find numerous 'plastic surgery before and after photos' on social media such as Instagram, Pinterest and Facebook.
However, it is important to differentiate between real photographs and the ones that may have been photo-shopped to attract a potential patient. It is best to rely on before and after pictures presented at a reputable service provider's website such as Jet Medical Tourism®.
Plastic Surgery Procedures in Mexico
Mexico has emerged as a world-leading destination for plastic surgery tourism today.
Thousands of patients from the US and Canada visit every year for plastic surgery in Mexico, and achieve highly satisfying and successful results.
Plastic Surgery in Tijuana, Mexico
Tijuana is one of the major cities in Mexico, which has developed outstanding medical and surgical infrastructure for patients from the US and Canada.
At hospitals with a CSG or JCI accreditation, you can expect to get the same high quality care for plastic surgery in Tijuana, Mexico, as you would get in an American hospital.
Plastic Surgery in Cancun, Mexico
Cancun ranks among the world's most sought-after tourist spots, and has equally built a reputation as one of the leading centers for plastic surgery in Mexico.
Plastic surgeons in this city are either board certified or have extensive skills and experience to deliver safe and proven results for plastic surgery in Cancun, Mexico.
Plastic Surgery in Nuevo Laredo, Mexico
Success rate of plastic surgery in Nuevo Laredo, Mexico is at par with the best hospitals anywhere in Mexico and also matching the quality standards of many US hospitals.
Nuevo Laredo has invested in the latest plastic surgery infrastructure. Hospitals and clinics in the city are led by board certified and other high qualified plastic surgeons.
Plastic Surgery in Juarez, Mexico
When you choose plastic surgery in Juarez, Mexico, you get access to world-class medical and surgical facilities at a fraction of the cost in the US and Canada.
Juarez plastic surgery procedures for the body, breast, and face are based on the same surgical technologies and techniques that are available at some of the most renowned hospitals in the country and the world.
Plastic Surgery Procedures in Thailand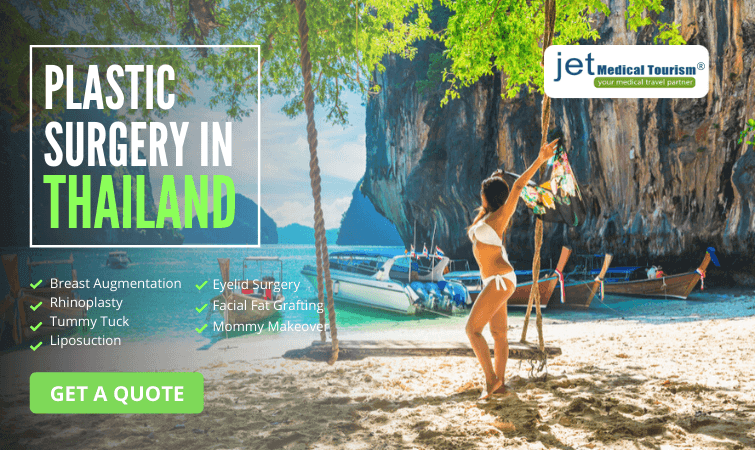 Thailand is called the jewel of East Asia for its exotic oriental culture and natural beauty. In recent years, Thailand has also come up as a popular medical tourism destination.
Plastic surgery in Thailand is far more affordable than in the US or Canada, while the quality of care is equally competent.
Plastic Surgery in Bangkok
Bangkok, the capital of Thailand, is home to several private hospitals that attract thousands of international patients every year. Plastic surgery in Bangkok is performed by well-qualified and experienced surgeons, and the prices are highly affordable.
Many of the plastic surgeons in Bangkok have received their training in the United States. Patients can save thousands of dollars while receiving high quality care if they choose to have Bangkok plastic surgery.
Plastic Surgery in Phuket
Phuket is an island with spectacular natural beauty and moderate climate. Over the years, plastic surgery in Phuket has seen a dramatic rise thanks to its state of the art hospitals and specialty clinics.
You can choose from a wide range of cosmetic and reconstructive procedures at a small fraction of the cost you would pay in the US or Canada.
Phuket plastic surgery is an attractive option for many North American, European, and Australian medical tourists.
Plastic Surgery in Chiang Mai
If you are seeking an aesthetic or reconstructive procedure for the body, breast or face, you may look at plastic surgery in Chiang Mai, Thailand as a viable choice.
Many of the plastic surgeons in Chiang Mai have obtained international certifications from organizations such as the AMA (American Medical Association), the GMC (General Medical Council), and the European Association of Plastic Surgeons.
Plastic Surgery in Pattaya
Pattaya is known for its stunning beaches and local culture. It is also home to some of the best hospitals and clinics for plastic surgery.
From a facelift to a breast implant surgery, you can expect a safe and advanced procedures for all types of plastic surgery in Pattaya.
A medical tourist from the US or Canada can expect to save around two-thirds of the costs they would have incurred in their home country, if they choose plastic surgery in Pattaya.
Plastic Surgery in Ko Samui
Ko Samui in Thailand boasts of some of the top tier facilities for a wide range of medical services, including plastic surgery procedures.
No matter what type of aesthetic enhancement you are looking for, choosing plastic surgery in Ko Samui will ensure you get access to cutting-edge surgical technology and top expertise.
Plastic surgeons in Ko Samui are fully credentialed and licensed by the Thai Medical Council, and some also have board certification in plastic surgery.
Plastic surgery reviews
Jet Medical Tourism® is proud to receive plastic surgery reviews and highly favorable personal testimonials from patients in the US and Canada who have chosen its medical tourism services.
Kent, who heads Jet Medical Tourism® in the US, says, "Patient satisfaction is our biggest reward at Jet Medical Tourism®. Our patients are our biggest brand ambassadors who recommend our name to their friends, family and colleagues. We greatly appreciate and value every plastic surgery review and testimonial that our patients share with us and with the rest of the world."
Here is an excerpt from a review and testimonial we have received at Jet Medical Tourism®:
Eyelid Surgery
From the moment I spoke with Melody about having eyelid surgery in Mexico and gastric sleeve, I was at total ease. She and Liam were both in touch with me. I flew in a day before and got stuck in a delayed flight with no others out that night to San Diego. My surgery was scheduled for 9:00 am; however, the driver was at the airport to get me at my 11:00 am arrival and they still did my surgery at 3:00 pm. They really went out of their way. I had 1 on 1 nursing care, Theresa. Let me say, I wanted to bring her home with me!!!! Great experience and will go back for more surgery next year!
How to find the best plastic surgeons
When your health and physical appearance is at stake, clearly you need to find among the best plastic surgeons in the world. If you have the right guidance about how to find top plastic surgeons that are available at an affordable price, the rest is going to be easy.
Jet Medical Tourism® has some of the best qualified, experienced and board certified plastic surgeons near you – at a fraction of the cost that you would pay in the US.
When you entrust Jet Medical Tourism® with the task of how to find the best plastic surgeon, you will not have to 'reinvent the wheel' on your own.
How to Find a Plastic Surgeon with Top Credentials in Mexico?
If you are wondering about how to find the best plastic surgeon in Mexico, perhaps the simplest way would be to schedule a consultation with the representatives at Jet Medical Tourism®.
You should preferably look for a board certified plastic surgeon with an established track record of successful procedures and years of experience in the field.
At the very minimum, you should choose a surgeon who has undergone residency training in plastic surgery for three years.
Best Plastic Surgeons Near You in Mexico – AMCPER Certified
One of the certifications you should look for while you are considering how to find a good plastic surgeon in Mexico is AMCPER.
AMCPER stands for the Mexican Association of Plastic, Aesthetic, and Reconstructive Surgery. This is the Mexican equivalent of the distinguished American Board of Plastic Surgery (ABPS) in the US.
AMCPER certified plastic surgeons in Mexico would typically have the following academic credentials and training:
Study in General Medicine – 5 years or more
Training in General Surgery – 3 to 4 years
Training in Plastic and Reconstructive Surgery – 3 years
Clinical Residency – 1 year or more
Jet Medical Tourism® has the experience to help you connect with the best plastic surgeons in the world. With Jet Medical Tourism® by your side, you know that you are in safe hands.
Jet Medical Tourism

®

: a place for plastic surgery procedures
You want to choose the best place for plastic surgery because your life depends on it – literally! And Jet Medical Tourism® understands this.
Safety and total patient satisfaction is our topmost priority, and our patients love us for it. We also understand your budgetary constraints, and your need to find the cheapest place to get plastic surgery.
To get the best of both the worlds – highest quality plastic surgery at the lowest cost – all you need to do is click on Jet Medical Tourism® and schedule a consultation with us now!