Weight Loss Surgery Costs: All you need to know!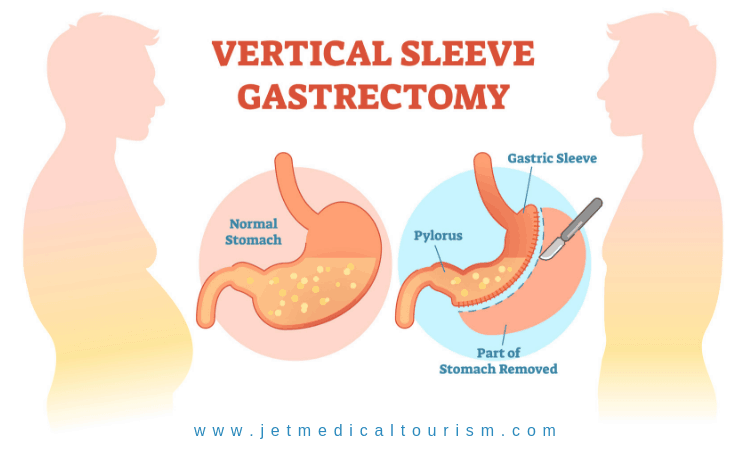 One of the first questions most obesity patients in the US and Canada have on their minds is: how much does gastric sleeve surgery cost? Sleeve gastrectomy is a safe and proven weight loss surgery, but the costs of this procedure can be prohibitive in both the US and Canada for many patients.
According to the American Society of Metabolic and Bariatric Surgery (ASMBS), weight loss surgery not only improves a patient's health, but also reduces their average annual healthcare costs by nearly 30 percent. In addition, their productivity at the workplace improves by $2,765 on average per year.
In other words, to understand how much does gastric sleeve cost and whether it is worth it, patients should recognize the overall economic advantages, apart from the life-changing health benefits it provides.
Gastric Sleeve Cost in Canada
The average cost of gastric sleeve surgery in Canada usually ranges between $15,000 and $20,000 Canadian dollars. The price tag of disposable medical supplies would add about $2,500 to $3,000 to the end financial result. For many patients, these costs are unaffordable because their insurance won't cover this procedure.
Insurance rules for bariatric surgery coverage are stringent in Canada, and patients often do not qualify for one reason or another. Even among those who qualify, the waiting periods can be frustrating, especially when the patient is suffering from obesity-related morbid conditions such as diabetes or heart disease.
ALSO READ: Why Does Obesity Cause Diabetes?
No wonder, many Canadian patients are anxious to know how much does a gastric sleeve surgery cost in absence of medical coverage.
Gastric Sleeve Cost in USA
Obesity in the US has been growing like an epidemic. But thousands of American patients every year are unable to undergo weight loss surgery because the costs are too high and they are either uninsured or under-insured for this procedure.
Vertical sleeve gastrectomy (VSG), commonly known as gastric sleeve surgery, is a proven treatment for obesity. Patients who need to understand how much does VSG cost should know that the average cost of the procedure in the US is about $15,400. However, this price survey was conducted by Obesity Coverage in 2015, and the current average prices are likely to be higher.
Patients should be aware that these are just the "average" costs. If you are looking for high quality weight loss surgery at a reputable American hospital and wish to choose a board certified bariatric surgeon, chances are that the costs would be significantly higher than average.
Gastric Sleeve Cost in Mexico
Considering how much does gastric sleeve surgery cost in the US and Canada, thousands of patients are choosing Mexico as their medical tourism destination for bariatric surgery. Patients can have their gastric sleeve surgery performed successfully in Mexico for less than one-third of the overall cost that they would pay in their home country.
RELATED READ: Should You Get Bariatric Surgery in Mexico or USA? Compare Risks And Costs
Even when you choose one of the topmost accredited hospitals or weight loss surgery centers in Mexico, your total cost of gastric sleeve will be in the range of $3,500 to $4,500. Your surgery will be performed by a highly qualified and experienced bariatric surgeon with an established track record of success in these procedures.
Mexico's geographical proximity to the US makes it the most attractive destination among various medical tourism options.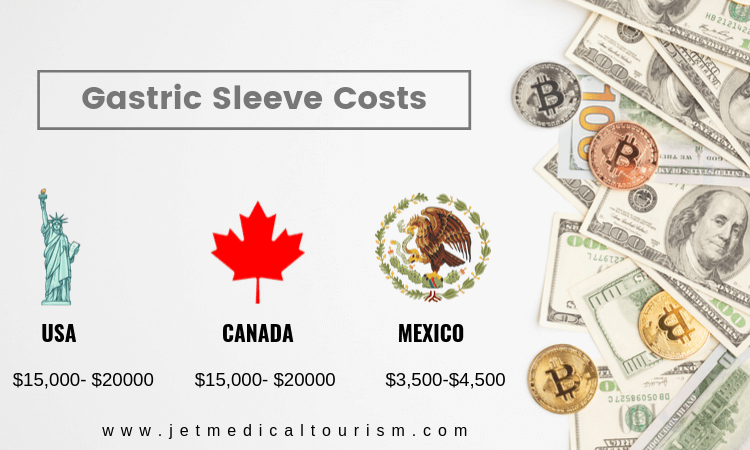 Even when you account for your travel and stay costs, your overall cost will be a fraction of the costs in the US. Jet Medical Tourism is a pioneer in Mexico weight loss surgery tourism. You can discuss with a Jet Medical representative about how much does sleeve gastrectomy cost in Mexico.
What costs are included in the gastric sleeve surgery price?
While you evaluate your options for gastric sleeve surgery in Mexico and the potential cost savings, you should also review what cost elements are likely to be included in your Mexico sleeve gastrectomy cost package.
Some of the best bariatric centers in Mexico will provide end-to-end services and include most of the cost components in their medical tourism package for you.
These may include:
Anesthesiologist's fee

Surgeon's fee

Fee of other attending surgeons, doctors, and assistants

Consolidated costs of the surgical facility

Pre-surgery lab tests and diagnostics

Pre- and post-operative medications

Nutrition consultation before and after the surgery

Overnight hospital stay, if needed

Follow-up care and consultation
Ground transportation to and from the airport and accommodation in a nearby hotel may also be included in some of the cost packages, depending on your requirements.
In a rare event, if you require a revision surgery in future, you may have to pay an additional fee. You should discuss this possibility and the cost implications with your medical tourism representative before you finalize the cost package.
YOU MIGHT ALSO LIKE: Pros And Cons of Gastric Sleeve Surgery
Will my insurance cover gastric sleeve?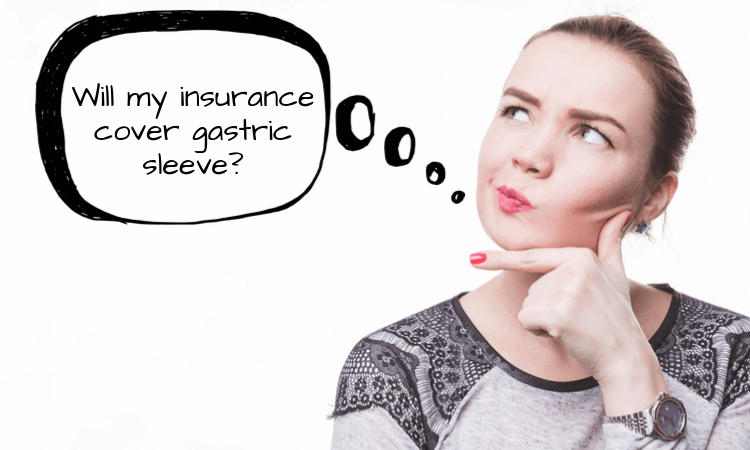 As a first step, you should speak to your health insurance provider in your home country whether you qualify for full coverage of gastric sleeve surgery costs, and how soon you can undergo the procedure.
If you find that your US or Canada insurance coverage for sleeve gastrectomy is uncertain, inadequate, or involves delays, you should choose Mexico as your weight loss surgery destination.
Once you have determined how much gastric sleeve surgery cost in Mexico, you will have the option to either pay for your procedure in cash, or finance it through a reliable loan provider. Several financial companies in your home country would be willing to offer flexible loan plans to suit your budget. You can expect competitive interest rates, depending on your loan amount and tenure.
Jet Medical Tourism is a trusted name for gastric sleeve surgery in Mexico. Call us today to schedule a free consultation, or simply fill out this online questionnaire to receive valuable feedback.