Weight Loss Surgery Cost in Mexico: A Comprehensive Guide
For people who want to undergo a weight loss procedure, the idea of going to a hospital in their own city sounds wonderful. After all, you could know some of the doctors and surgeons there, and even if you don't you trust them to take good care of you because they speak English clearly and are American like you. 
Unfortunately, weight loss surgeries in the US – even after insurance coverage – can cost a fortune and more. In many states, bariatric surgery is not even covered by the insurers, and if you do get some coverage, it's bound to have exclusions. As a result, hundreds of thousands of eligible American patients are unable to afford this life-altering procedure.
But not all hope is lost.
Thousands of people travel to Mexico each year to get affordable and reliable weight loss surgery. In the last few years, Mexico underwent huge technological advances, especially in the medical and healthcare industry. Contact Jet Medical Tourism® today.

Now that Americans and Canadians are realizing that cost of weight loss surgery in Mexico is a fraction of what they would have to pay in their home country, the influx of foreign patients in Mexico is at an all-time high. 
With social media and inexpensive air travel, the world is getting smaller. That's why most of our own patients come to us through word-of-mouth referrals; they hear about the sophisticated medical care in Mexico from their friends or family members who have received excellent results and seemingly dropped 10 sizes overnight. 
CHECK THIS: Weight loss surgery in Mexico: Before and after success stories
And the best part is, you don't have to go broke or take a second mortgage to afford the treatments!
If you would like to learn more about the weight loss surgery cost in Mexico, read on to find out how much each type of bariatric surgery costs in the world's leading weight loss tourism destination.
Gastric sleeve cost in Mexico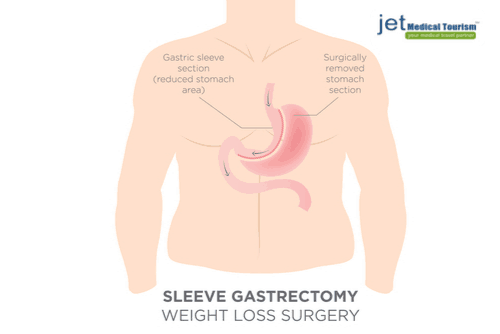 So how much does gastric sleeve cost in Mexico? Well, it depends on two things:
Does your insurance cover bariatric procedures?

Where are you getting the surgery (i.e., which hospital)?
The gastric sleeve surgery is one of the most highly-recommended procedures for morbidly obese due to its high success rate and effectiveness. And keep in mind that gastric sleeve, like all the other weight-loss procedures, is an inpatient surgery. That means you'll need to stay at the hospital for 1-3 nights after the surgery. This hospital stay cost is added to the surgery price.
Generally, the gastric sleeve cost in Mexico ranges from $4,500 – $8,000. Again, it depends on where you're getting the surgery. At Jet Medical Tourism®, we offer gastric sleeve surgery starting at $3,999 and it includes 3-night stay, lab-work and tests, all the ground transportation, and much more.
RELATED ARTICLE: How much does gastric sleeve cost?
Gastric sleeve cost with insurance
If your insurance company covers the gastric sleeve surgery cost, you can expect to pay little or no out-of-pocket money to as much as $15,000. Also, as you may already know, the insurance process will be drawn out over the course of 1-2 years.  
Make sure you check with your insurer to see whether they cover gastric sleeve surgery in your plan, and what are the criteria to get coverage. 

Gastric sleeve cost without insurance
If your procedure is not covered by the insurance, you should still ask them if they can cover any of the costs incurred from your gastric sleeve surgery. Some insurance companies may not pay for the procedure itself but they do cover the different parts of the surgery, such as air travel or medications.
If your insurance won't cover it, you'll have to open up your wallet or purse and release $10,000 to $20,000 out of your own pocket for gastric sleeve in the US. On the other hand, you can get same state-of-the-art gastric sleeve surgery for $3,500 to $4,000 in Mexico. 
YOU MIGHT ALSO LIKE: How to pay for bariatric surgery without insurance
Gastric bypass cost in Mexico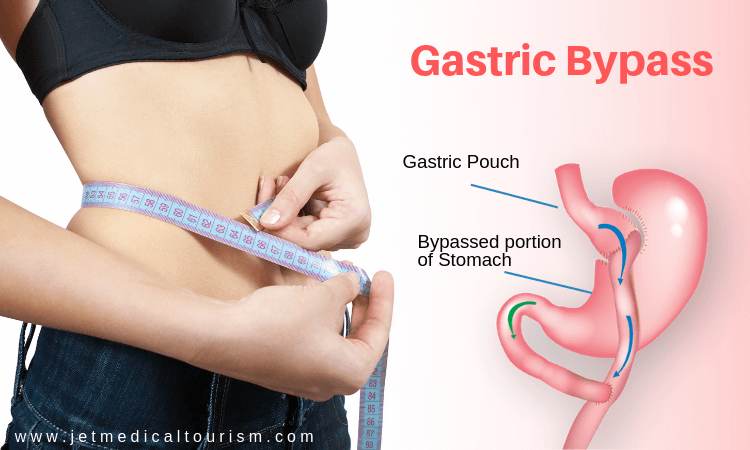 Gastric bypass in Mexico is also available at nearly 60% of the cost in the US and Canada. On average, gastric bypass costs $6,500 in Mexico, and the price includes:
Tests

Medications,

Nutritional consultations

Ground transportation

Accommodation in 5-star hotels etc.
On the other hand, you can expect to pay $16,000 – $22,000 for the same surgery in the US.
Many people think that this substantial difference in prices is due to the bariatric surgeon's qualifications only, but that's not true at all. A lot of factors determine the cost of medical treatment, including the location and fee of the medical facility itself. Believe it or not, but something as seemingly unrelated as number of hospital workers and land prices can have a significant impact on how much a hospital charges for in-patient treatments. 
RELATED ARTICLE: How much does gastric bypass cost?
And considering the factors that real estate is cheaper in Mexico and payrolls are also less (they get paid in Mexican pesos), hospitals in Mexico can get away with charging considerably less for their services.

Cost of bariatric surgery in Mexico vs USA
| | | |
| --- | --- | --- |
| Country | Average Cost of Gastric Sleeve | Average Cost of Gastric Bypass |
| United States | $13,000 to $25,000 | $20,000 to $30,000 |
| Mexico | $4,000 to $7,000 | $6,000 to $9,000 |
Bariatric revision surgery cost in Mexico
Weight loss surgery is a huge financial and emotional investment. If the results don't meet your expectations, you can feel devastated. Bariatric revision weight loss surgery is designed to address these exact problems.
If you regained weight after your surgery or didn't lose the amount of weight you wanted to, a revision surgery can improve your results and trigger an even greater weight loss.
New research shows that patients who get revision weight loss surgery lose 56% of their extra weight, on average.
In case your insurance doesn't cover a revision bariatric surgery, you can choose to get it from a qualified bariatric surgeon in Mexico.
The most popular types of revision surgeries are gastric sleeve revision and lap-band revision to gastric sleeve. The following table highlights the cost of some of the most popular revision procedures:
| | | | |
| --- | --- | --- | --- |
| Revision Surgery Cost | Cost in the US | Cost in Mexico | Savings |
| Gastric Sleeve Revision Cost | $29,000 | $5,500 | $19,500 |
| Lap Band Revision to Gastric Sleeve Cost | $25,000 | $6,500 | $18,500 |
RELATED POSTS:
Gastric band / lap band surgery cost in Mexico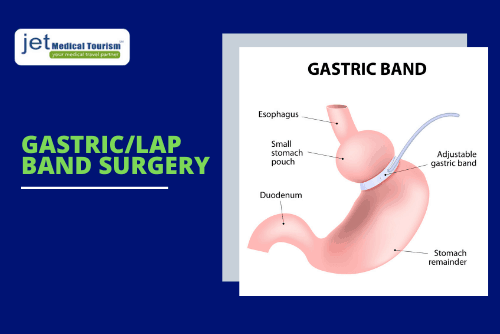 Wondering how much does a gastric band cost in Mexico? On average, lap band surgery cost in Mexico is about $6,000. The same procedure costs around $25,000 in the United States. When you look at the figures, it's no wonder why more than 70% of gastric band patients are from the US. 
In addition to the reduced costs, patients also like the fact that Mexican bariatric hospitals are fully-integrated facilities, i.e., you have a pharmacy, ICU, outpatient clinic, emergency room, neonatal ICU, X-ray, MRI, blood bank, fully-equipped lab, helicopter landing zone, and even doctors' offices right inside the hospital. There is also an ATM, chapel, cafeteria, and gift shop in most established Mexican hospitals. 
CHECK IT OUT: Gastric Bypass vs Lap Band
So, unless you really want to explore the city, there is absolutely no need for you to step outside the facility. 
However, the biggest compliment that we get from our patients is that our doctors and nurses never seem like they are in a hurry to "get done with a patient", unlike the hospitals in the states. By nature, Mexicans are known to be warm and friendly, and that goes for our medical staff. They are always more than happy to stop by and talk to you, especially if you have come alone for your treatment.
If you have any questions about weight loss surgery cost in Mexico or want to talk with one of our bariatric surgeons, feel free to call us at 1-855-506-6188 or leave us a message here.

Other useful resources that you shouldn't miss!