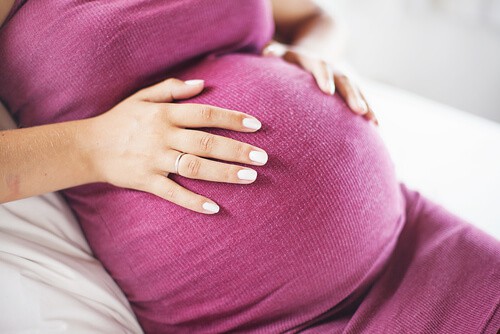 Having a baby can be one of the most exciting times in a woman's life, but many patients who have undergone a bariatric procedure wonder if pregnancy after gastric sleeve surgery is safe for mom and baby.
The great news is that yes… it is safe for a woman to get pregnant after gastric sleeve surgery.
In fact, it's safer for both mom and baby if mom were to get pregnant after losing weight versus the potential complications that arise when pregnant while obese. We're going to tell you everything about gastric sleeve surgery and pregnancy.
Pregnancy After Gastric Sleeve Surgery: Its Safer and Easier Post Weight Loss
Hormone imbalances and infertility are common problems in people struggling with obesity, and this can make pregnancy difficult. Losing the excess weight after gastric sleeve will help to improve or resolve some co-morbid health conditions, and you may find you have an easier time getting pregnant after gastric sleeve surgery.
Beyond that, obesity also increases the risk that a baby will have heart defects, spina bifida, limb reduction defects, and more. Finally, obesity can cause many complications for the mother as well, including an increased risk of:
Pre-eclampsia
Infection
Chest infections
Heartburn
Headaches
Postpartum hemorrhaging
It's Important to Wait About 2-Years After Gastric Sleeve Surgery
Although it is safer and more manageable for a woman to have a child after gastric sleeve, it's crucial that you give yourself time to adjust to your new lifestyle first.
Some guidelines recommend waiting 12 to 18 months, while others suggest waiting at least two years before getting pregnant.
This waiting period gives you time to get used to your new stomach and your new diet and ensure you're eating the right foods in the right quantities to avoid nutrient deficiencies.
Moreover, if you don't wait to get pregnant, you may not lose as much weight as you could have, because most women do gain weight during pregnancy.
The Importance of Vitamins and Supplements During Post-Gastric Sleeve Pregnancy
Gastric sleeve surgery encourages weight loss by reducing hunger and limiting the amount of food you can consume, and it's not uncommon for post-op patients to lack nutrients.
A nutrient deficiency can be exacerbated when you're pregnant, which is why many gynecologists and dietitians recommend supplements in post-gastric sleeve patients.
This list includes iron, folate, calcium, and B12. These supplements will ensure you get the nutrients you need so that you can provide them to your baby as well.
Gastric Sleeve and Pregnancy Complications
As mentioned, the risks associated with being pregnant while obese are far higher than they are after the sleeve surgery, but there are still some potential issues to acknowledge. For one thing, pregnant women who have had gastric sleeve have a higher risk of giving birth prematurely.
There's also a higher risk of bowel obstruction and internal hernia, but as long as you keep regular doctor visits and inform your healthcare practitioners about any symptoms you're experiencing, then these problems can be caught and corrected early.
Having a baby is exciting, and you can rest assured that if you're considering gastric sleeve or have already had the procedure done, then it's perfectly safe for you to become pregnant.
However, it's essential to wait for one to two years following the surgery, as this will give you time to get used to your new lifestyle and diet, and that will ensure you're healthy enough to have the baby.
Find out if you qualify for the Tijuana Mexico Gastric Sleeve by clicking through to our online application form or contact us today to find out more.