Gastric Sleeve Revision: An Ultimate Guide to VSG Revision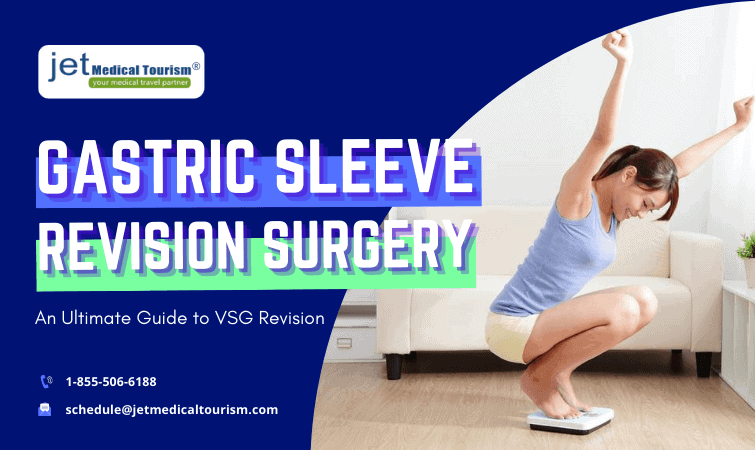 Gastric sleeve revision is a bariatric surgery procedure you may consider if your primary surgery has failed to produce the desired results. While gastric sleeve has a very high success rate, it is a major procedure involving complex surgical process. Therefore, the key to success lies in your choice of bariatric surgeon who have a proven track record and who can deliver a successful outcome the first time itself.
It is also important to understand that gastric sleeve revision surgery is often more complex than the original procedure. The surgeon will have to be extra careful because a large part of the stomach has already been removed. You need a weight loss surgeon who has performed VSG revision in the past, and who is well-versed with all the surgical techniques available to perform the revision procedure.
Jet Medical Tourism® is equipped to provide safe and innovative gastric sleeve revision surgery at an affordable price. If you're seeking an alternative to the high healthcare cost in the United States and Canada, contact us below for more information.
What is gastric sleeve revision?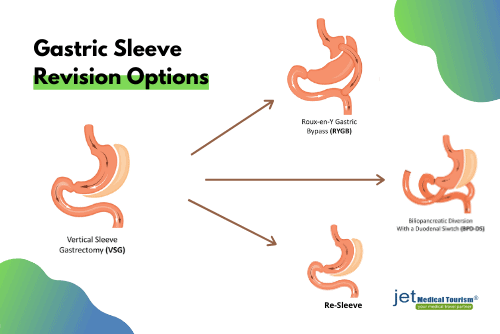 VSG revision is performed on patients who are dissatisfied with the amount of weight loss achieved through their primary gastric sleeve. In some cases, the patient may experience post-operative complications, and a gastric sleeve revision surgery may become necessary. During your initial consultation, your bariatric surgeon will determine whether you are a suitable candidate for a revision procedure.
Based on their evaluation, your surgeon may consider one of the following three options for your VSG revision:
• Gastric sleeve to bypass revision
• Conversion to duodenal switch
• Re-sleeve gastrectomy
When you ask your surgeon during your consultation: "What is gastric sleeve revision," you should also discuss which revision technique would be more appropriate in your case.
Vertical sleeve revision to gastric bypass
Gastric sleeve to RNY revision is one of the more widely used techniques to perform the revision procedure. Your bariatric surgeon will evaluate the reasons why your weight loss has failed. If they find that a smaller sized stomach alone has not worked in helping you achieve weight loss, they may recommend sleeve to bypass revision surgery.
CHECK THIS OUT: How much does gastric bypass revision cost?
As part of this procedure, the surgeon will further reduce the size of your stomach, if it has stretched. The goal will be to create a smaller (walnut-sized) stomach pouch so that your capacity to eat large portions of food is cut down. Your surgeon will then attach the pouch to the lower end of your intestine to reduce calorie absorption.
The third step in your vertical sleeve revision to gastric bypass procedure will be reattached the first portion of the intestine to its lower end to improve digestion. This procedure is more ideally used if you have developed digestive system related problems such as acid reflux or GERD, which can be effectively corrected with gastric sleeve to RNY revision.
In some cases, vertical sleeve revision to gastric bypass may not be necessary and your surgeon may only perform a re-sleeve gastrectomy. In this case, the surgeon will simply remove some additional portion of your stomach. The rerouting of intestines will not be involved. This simple VSG revision surgery is more appropriate when you have only experienced weight loss failure, but no digestive complications.
RELATED POST: Gastric sleeve failure: can a gastric sleeve be redone?
Sleeve revision to mini gastric bypass
Your primary gastric sleeve surgery may sometimes lead to only marginal weight loss or it may fail to improve the symptoms of type 2 diabetes. In this situation, your surgeon may recommend a sleeve revision to mini gastric bypass. This treatment option works well to mitigate diabetes symptoms and also promotes faster weight loss.
The key advantage with vertical sleeve revision to mini gastric bypass is that the procedure is less invasive, technically simpler, and involves a faster recovery. It will deliver both malabsorptive and restrictive benefits for substantial weight loss, but will require smaller incisions. Your surgeon can minimize scarring by using the original incisions to perform the gastric sleeve revision surgery.

Gastric sleeve revision requirements
Revision surgeries are often more complex, and not everyone is a candidate for a revision procedure. Your bariatric surgeon will determine whether you are meeting gastric sleeve revision requirements before giving you a go-ahead for this surgery.
Inadequate weight loss: If your weight loss after your primary Vertical Sleeve Gastrectomy has hit a plateau, or you have regained weight quickly after initial weight loss, you could be a candidate for VSG revision surgery.
Severe occurrence of GERD: Gastroesophageal reflux disease (GERD) may occur as a rare complication after your original gastric sleeve surgery. This condition can be corrected with a sleeve to bypass revision procedure.
Minimal reduction of diabetes: If your type 2 diabetes symptoms have not significantly improved or your dependence of diabetes medications continues to be severe, you may be candidate for VSG revision surgery.
YOU MIGHT ALSO LIKE: All you need to know about revision weight loss surgery
How to qualify for gastric sleeve revision
In rare cases, you may be forced to consider a vertical sleeve revision to gastric bypass surgery. But to ensure your safety and success in the revision procedure, make sure you work with a reliable and highly qualified bariatric surgeon. You should know how to qualify for gastric sleeve revision, and must only choose this surgery after you have completed the following steps.
Step 1: Prepare Your Weight Loss Progress Chart
You should start tracking your weight loss and BMI when you feel that you are not losing sufficient weight after your gastric sleeve. This will provide a clear pattern of slow or no weight loss or weight regain after initial loss.
YOU MIGHT LIKE THIS: Gastric sleeve weight loss chart
Step 2: Obtain Your Medical Report for Post-Op Symptoms
If you have developed the problem of acid reflux after your gastric sleeve or your obesity-related diabetes or other symptoms have not improved, get yourself medically evaluated. Your surgeon will need your medical reports to determine your candidacy for revision surgery.
Step 3: Make an Appointment with a Bariatric Surgeon
As a final step, you should consult with a bariatric surgeon and ask them about how to qualify for VSG revision. Your surgeon will assess whether you are committed to following their dietary and other guidelines, which are vital to the success of your revision surgery.
Gastric sleeve revision Mexico
Mexico is a leading medical tourism destination for all types of bariatric surgery procedures, including VSG revision. Almost all of the major cities in the country have developed advanced medical and surgical infrastructure for weight loss procedures. You can expect to receive high quality treatment for VSG revision Mexico at some of the well-equipped and full service hospitals and bariatric clinics in the country.
Some of the key benefits of choosing gastric sleeve revision Mexico include:
• Highly qualified and experienced bariatric surgeons
• State of the art surgical technology and hospital or clinic facilities
• Personalized care and attention from the surgeon and their team
• Much lower VSG revision cost compared to US and Canada
• High gastric sleeve revision success rate at the best Mexico hospitals and clinics
Gastric sleeve revision cost
Cost is an important factor in your decision to receive gastric sleeve revision surgery. In general, the cost of the revision procedure will be slightly higher than your primary procedure because of more complexities involved. VSG revision cost in Mexico will be about $4,500 to $6,000, depending on the type of surgical technique chosen and the skills of the operating surgeon.
In comparison, the average cost of VSG revision in the US or Canada may be in the range of $25,000 to $30,000. If you did have insurance coverage for your primary gastric sleeve, chances are that your revision procedure will also not be covered by insurance. When you have to make the full payment out-of-pocket, it is important to consider your options carefully.
Gastric sleeve revision cost in Mexico will usually include the following cost elements:
• Surgeon's fee
• Anesthesiologist's fee
• Fee of any other attending physicians and staff
• Operating room charges
• Overnight stay charges for the first night
• Pre- and post-operative tests and lab work
• Nutritionist and physical therapist consultation
• Ground transport from the airport to hotel and back
Gastric sleeve revision success rate
A bariatric revision surgery means that you should be most careful and judicious in your choice of Mexico weight loss surgeon. You would have already faced complications or weight loss failure in your primary surgery. Therefore, you cannot afford to make a mistake the second time. When you choose a trusted and reputable bariatric surgeon in Mexico, they will have a very high gastric sleeve revision success rate.
Success in this procedure varies according to the skills and experience of the operating surgeon, your personal health condition and BMI, and your commitment to follow the surgeon's dietary instructions. In general, the VSG revision success rate in Mexico is very high at leading hospitals and clinics in the country. For this reason, thousands of patients from the US, Canada, and other countries are choosing Mexico for their weight loss surgery.
SEE THIS ALSO: Gastric bypass revision success rate
Save up to 70% on gastric sleeve revision by Jet Medical Tourism
®
Are you seeking the best and most reliable gastric sleeve revision surgery at an affordable cost? Jet Medical Tourism® is one of the most trusted and reputable service providers for Mexico bariatric surgery. Get ready to save up to 70% on your VSG revision cost with our dedicated and experienced weight loss surgeons in Mexico. To determine whether you are a candidate for this surgery and to answer all your questions about costs and other factors, call 1-855-506-6188 to set up a free consultation.

Other useful resources on revision bariatric surgery