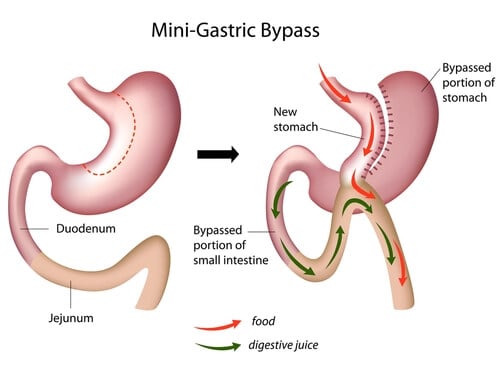 Mini Gastric Bypass Surgery (MGB) is a effective, relatively low-risk, and inexpensive procedure. The mini gastric bypass was originally developed by Dr. Robert Rutledge in 1997 to reduce operating time, simplify the procedure and reduce complications.
The mini gastric bypass combines both "restrictive" and "malabsorptive" components to promote rapid weight loss.
This means that the procedure reduces the size of your stomach and restricts the amount of food you can eat. Mini gastric bypass surgery also alters gut hormones and reduces absorption of food by bypassing up to 6 feet of intestines.
Looking for a high quality but low cost mini gastric bypass surgery? Contact Jet Medical Tourism® for the lowest price. Email us now!
Weight Loss After Mini Gastric Bypass Surgery in Mexico
Undergoing mini gastric bypass surgery may help you with weight loss, which varies across patients because everyone has a different body mass index (BMI) due to different heights and weights.
On average, you can expect mini gastric bypass patients lose about 60-75% of their excess body weight after surgery (first 24 months).
Mini Gastric Bypass Surgery Procedure
Mini gastric bypass usually takes 1 hour of operating room time. Most patients stay in the hospital for 1-2 nights following surgery for observation during recovery and return to work in 2-3 weeks.

Operating Time
Hospital
Hotel
Recovery
Off Work
Nutrition Care
1 Hour
3 Nights
2 Nights
3-4 Weeks
2-3 Weeks
Available 24/7
Nutrition Coach
Nutrition Support
Meal Planning
We provide every patient with nutrition aftercare and support. Our team of nutrition & dietary experts are available 24/7 to help you achieve your weight loss goals.
How Mini Gastric Bypass Surgery in Mexico is Performed
Mini gastric bypass surgery is performed in two parts.
First, the stomach is divided and a small narrow tube is created which becomes the "new stomach". This is the restrictive part of the procedure and means that only a small amount of food can be eaten at any one time.
Next, a portion of the intestine is connected to the lower part of the new stomach. Food passes from the new stomach into the small intestine where it meets the digestive juices which have moved downwards from the main part of the stomach.
As a result, approximately 2 to 7 feet of intestine has been bypassed before absorption of food (calories) can take place. When fewer calories are absorbed, increased weight loss occurs.
Advantages of Mini Gastric Bypass Surgery

Reversible
Short, simple, and effective procedure
Fewer risks compared to other bariatric procedures
Mini gastric bypass surgery works and about 80% of the excess weight is achieved with this procedure
Disadvantages of Mini Gastric Bypass Surgery

Relatively new procedure and not many surgeons have experience performing the mini gastric bypass.
Complications gastro oesophageal reflux disease (GERD) or heartburn, diarrhea, constipation and difficulty swallowing.
Because the new stomach is much smaller and is joined close to the flow of digestive juices, it is possible for these juices to "reflux" up into the new stomach causing inflammation, erosion, and ulceration.

Related Bariatric Surgery Procedures