Loose Skin After Gastric Sleeve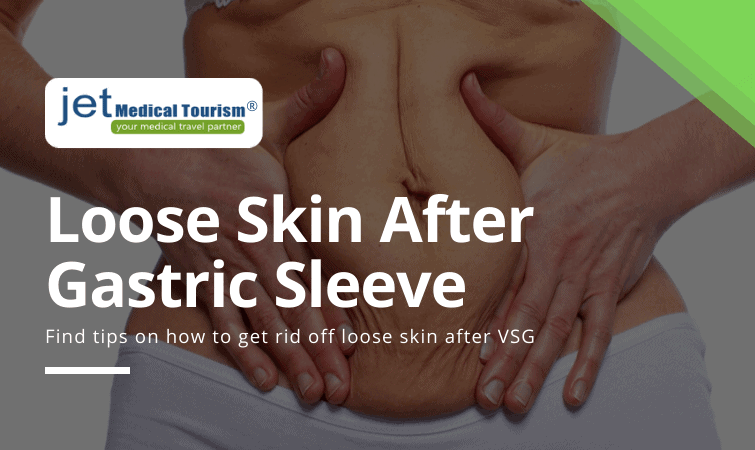 After gastric sleeve surgery, most patients achieve a significant level of success concerning weight loss. This change is certainly something to be celebrated! At the same time, patients might experience some negative results. One such result is that they will likely see a significant amount of sagging or loose skin after gastric sleeve sugery.
Here, we'll go into more detail about why this happens and what you can do about it.
Worried about loose or saggy skin after gastric sleeve? Contact Jet Medical Tourism® now to learn about low cost plastic surgery options in Mexico.
Why loose skin happens
On the one hand, skin tends to lose its elasticity with age. But when it comes to bariatric surgery patients, it can also depend on a few other things, such as your level of obesity, lifestyle, and diet, as well as the pace of your weight loss.
The presence of loose skin post-surgery will also be affected by your overall muscle mass and whether or not you are maintaining and building muscle throughout your weight loss journey.
Although excess skin might not be a problem for everyone, it's a common thing for those undergoing highly effective weight loss surgeries like a gastric sleeve. Extra skin will be especially noticeable around the arms and the midsection, particularly the stomach.
What to do about sagging skin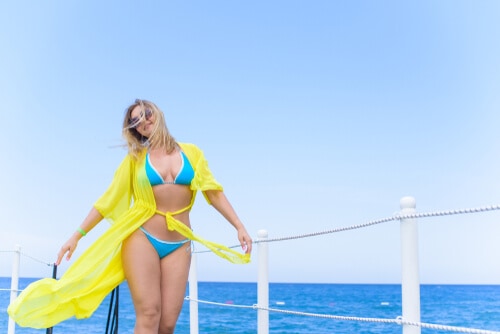 It's important to know that most people who undergo gastric sleeve surgery will end up with some sagging skin. The good news is this can reduce on its own over time.
A general rule of thumb is that you are more prone to saggy skin if you don't have a lot of muscle. Eating well and exercising often will help you both retain and build your muscle mass. Incorporate plenty of lean proteins like fish and poultry into your diet, or find a protein shake you enjoy.
Do resistance and weight training exercises to tone your muscles; target your arms and core with bicep curls or planks.
Other natural types of treatment for sagging skin include body wraps, skin scrubs, and massages, which are also beneficial for your mental and physical well-being. These spa services will increase blood flow throughout your body, reducing bloating while firming the skin.
Besides exercise and therapies, it's advised that you stay out of the sun or cover up as much as possible. Intense exposure to sunlight and UV rays can exacerbate not only wrinkles but also sagging skin.
Yoga, stretching, plenty of water, and clean eating activities can also do wonders for your mental and physical health. It's important to stay positive and remember how much you have accomplished, and practicing plenty of self-care will always help you feel better about your appearance.
Is it worth it to have plastic surgery after gastric sleeve?
There is no way to predict the degree of sagging skin a patient will have as it will vary by individual. Skin elasticity depends on lifestyle factors as well as genetics. If you're making every effort but don't see an improvement in your sagging skin over time, you may want to consider skin removal surgery.
READ THIS: Tummy tuck in Mexico (Abdominoplasty)
Plastic surgery isn't for everyone, but today these types of procedures are both safer and more affordable than they used to be. If you are considering plastic surgery in Mexico or cosmetic surgery, consult a trusted health care professional for recommendations.
RELATED POST: Excess skin removal surgery in Mexico
Book your gastric sleeve today
If you would like to learn more about gastric sleeve surgery in Mexico, please contact our bariatric surgery center today. Our expert weight loss surgeons are more than happy to answer all questions that you may have about the gastric sleeve procedure.