Gastric Sleeve Diet Recipes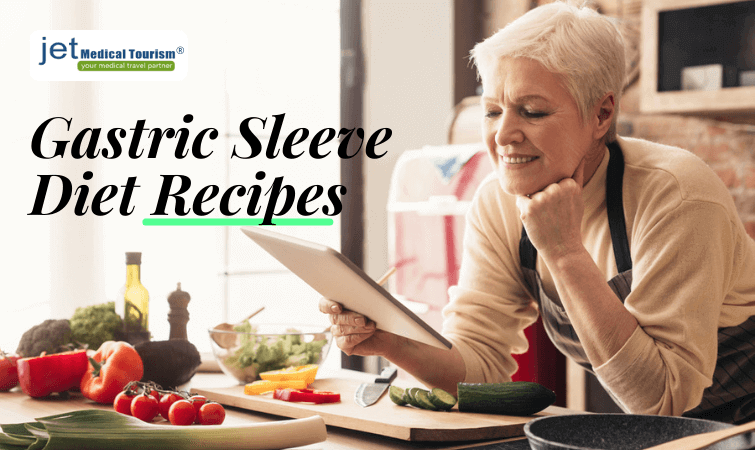 Gastric sleeve diet recipes are designed to improve compliance with your bariatric diet guidelines and provide a wholesome combination of taste and nutrition. Following your VSG surgery, you are required to eat smaller meal portions and consumed only the prescribed amount of calories each day. Your bariatric recipes will help you go through your weight loss journey more easily.
A variety of delicious food ingredients can be a part of your daily diet when you follow creative and nutritionally balanced gastric sleeve recipes. If you prepare your food yourself, these recipes will make cooking easier for you. You can keep innovating with your dishes, while maintaining a track of your daily calories and vital nutrients. You can consult with a dietitian to learn about new and interesting bariatric sleeve recipes.
Looking for more gastric sleeve diet receipts? Contact Jet Medical Tourism® today.
Bariatric diet recipes: Key to your weight loss success
Bariatric surgery by itself does not eliminate obesity. It only creates physiological and metabolic changes that will facilitate your weight loss. The key to your freedom from obesity lies in following your prescribed bariatric diet. This is where gastric sleeve diet recipes can play a pivotal role. When your food has variety and is delicious, you can focus more on savoring the dish rather than eating more quantity.
Removing Unhealthy Items from Daily Diet
Bariatric recipes are carefully created to help you eliminate or minimize certain food items and ingredients that can disrupt your weight loss progress. These recipes will remove the following items from your diet:
Refined carbohydrates
Deep fried and oily foods
Foods with high sugar content
Carbonated, caffeinated and alcoholic beverages
Packaged foods with synthetic ingredients
Increasing Focus on Healthy Food Ingredients
Bariatric diet recipes are created with an aim to fulfill your body's daily requirements of essential nutrients. Here are two primary ingredients that your body needs after a weight loss surgery, which you can get from these recipes:
Lean Proteins: Human body has no storage mechanism for proteins. Therefore, a daily replenishment of proteins is necessary to repair and restore the old tissue and muscle. Your gastric sleeve diet recipes will typically include about 65g of protein every day. This will help you maintain healthy muscle mass without putting on extra weight.
Minerals & Vitamins: Following your sleeve gastrectomy surgery, your goal is to reduce empty calories while maintaining a healthy daily intake of essential vitamins and minerals. A nutrient-dense bariatric diet recipe can include a balanced mix of vitamin A, vitamin C, vitamin B12, calcium, iron, and other minerals. Additional nutrition supplements will also help.
CHECK THIS: Gastric sleeve diet
Gastric sleeve recipes stage 1
Immediately after your VSG surgery, you will have to follow a liquid diet, which is called Stage 0. In about two weeks, you will move on to Stage 1, which includes pureed diet. Your gastric sleeve recipes stage 1 will include foods that are pureed and blended to maximum consistency. Food choices at this stage include fruits and veggies with sauce or gravy, cereals, thick soups, and even major meals, such as curry and stew.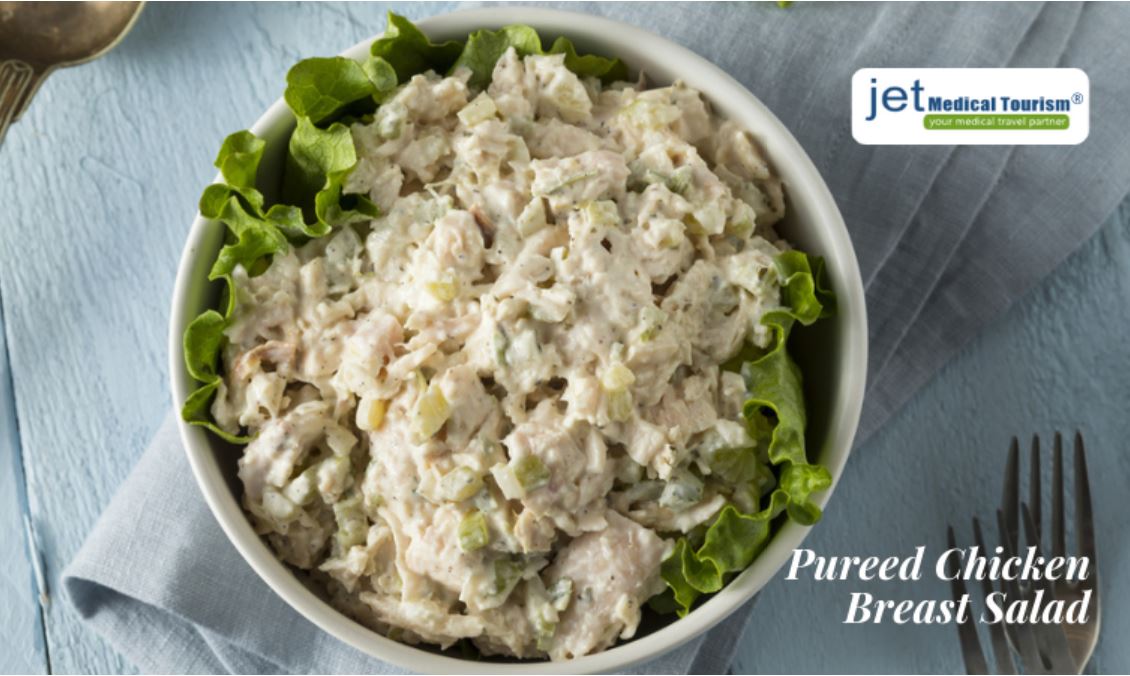 Sample Recipe – Pureed Chicken Breast Salad
A chicken salad in pureed form is an ideal bariatric puree recipe at a stage when you are required to eat smooth, finely consistent foods.
Serving: ½ cup
Prep Time: 3 minutes
Ingredients
1 cooked chicken breast
2 tbsp Greek yogurt (sugar-free)
2 tbsp fat-free mayonnaise
1/8 tsp onion powder
Salt and black pepper as per taste
Instructions
Place the cooked chicken breast in the food mixer-grinder
Grind chicken breast till it achieves a baby food consistency
Stir the contents in Greek yogurt and mayonnaise
Add onion powder, salt and pepper and stir again
Gastric sleeve recipes stage 2
Your gastric sleeve recipes stage 2 will involve soft and chewable foods that have a fine texture. At this time, you will be ready to chew, but the foods should be soft in character. Gastric sleeve soft food diet recipes are not very different from pureed diet recipes, but they will include more food options. Stewed chicken and meats, fish, fruits and veggies, dairy products, and even some rice and pasta can be included at this stage.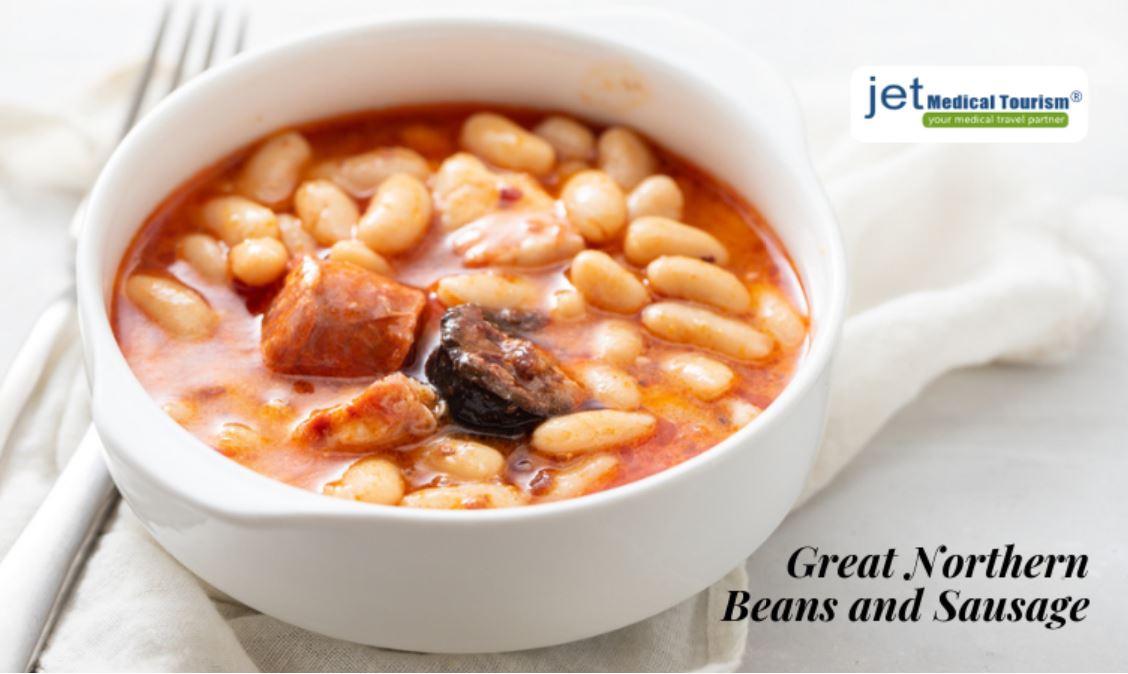 Sample Recipe – Great Northern Beans and Sausage
During stage two of your post-op bariatric diet, you may want to add some hot and spicy dish to your meals. This savory soft food recipe will serve your purpose.
Serving: 5 to 6 cups
Prep Time: 12 minutes (Cook time: 6 to 8 hours)
Ingredients
Small, diced pieces of smoked pork sausage – 8 oz
2 small and seeded tomatoes – diced
1 yellow onion – coarsely chopped
2 minced garlic cloves
Great Northern dry beans – 1 lb.
1 ½ teaspoon Cajun spice blend
½ tablespoon ground salt
1 diced jalapeno pepper
1 ½ teaspoon smoked paprika
2 c. water
4 c. chicken broth
Instructions
Set your non-stick cookware to medium heat and let it get hot.
Cook sausage pieces in it until they are brown on one end
Add tomato and onions and cook additionally for two minutes
Add garlic cloves and cook for another minute
Place the contents into a crockpot and add beans, broth, water, and spices on top and stir thoroughly
Let the beans cook on low heat until the liquid is thick and beans are done (it will take 6 to 8 hours on average)
Stage 3 gastric sleeve diet recipes
In about two months, you will reach the final stage of your bariatric diet. Your stage 3 gastric sleeve diet recipes will enable you to eat solid foods that are normally textured. Bariatric recipes will help you fulfill your daily requirement of about 65 grams of dietary protein as well as essential vitamins and minerals. In this transition phase, make sure you continue to eat small meal portions, even if you are now enjoying solid food gastric sleeve recipes.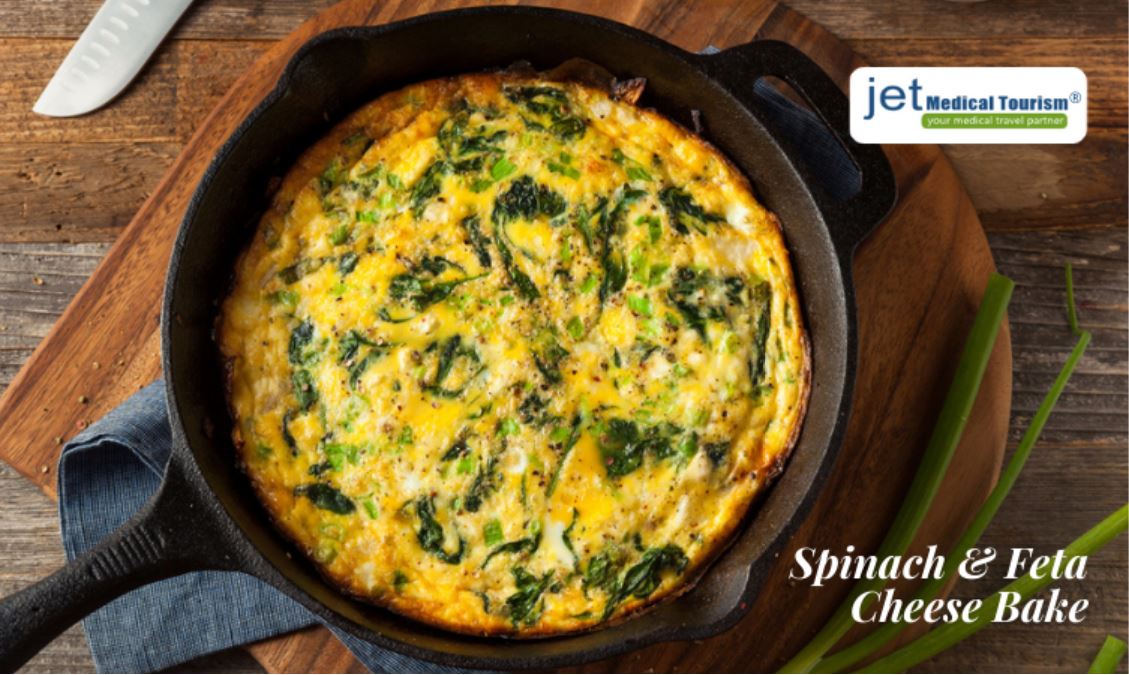 Sample Recipe – Spinach & Feta Cheese Bake
Serving: 3 yields
Prep/Cook Time: 40 minutes
Ingredients
Frozen spinach – 24 oz (thawed and chopped)
1 cup wheat flour
4 oz feta cheese – crumbled
4 beaten eggs
1/3 cup skimmed milk
1 chopped sweet onion
3 tbsp soybean oil
½ tsp salt
1 tsp baking powder
¼ cup fresh dill – chopped
Salt and pepper according to taste
Instructions
Pre-heat your oven to 350 F
Use a pinch of oil to grease a 9" pie plate
Use a large skillet to heat the oil and cook the onion for 7 to 8 minutes
Put the spinach, feta cheese, salt and pepper, stir them well in the skillet, and then transfer it to the deep dish pie plate
Whisk the remaining ingredients together in a bowl and pour them over the prepared spinach mixture
Bake for about 30 minutes
Allow it to firm up for about 5 minutes prior to serving
Gastric sleeve pre op diet recipes
Pre op gastric sleeve diet recipes will help you in your physiological preparation for your scheduled bariatric surgery. With the help of these recipes, you will be able to reduce some of your excess fatty deposits around the liver. This enables your weight loss surgeon to perform the procedure without much obstruction. Gastric sleeve pre op diet recipes can be primarily divided into three stages:
Low Calorie Diet: You can consciously move towards a low calorie diet as much ahead of your scheduled surgery as you can. Your surgeon may recommend you to start on this diet about one to two months in advance.
Liver Fat Reduction Diet: This diet plan will include specific bariatric recipes that can help shrink your liver size and reduce excess fat. Your surgeon may suggest you to start this diet about three weeks in advance.
Clear Liquid Diet: This diet will begin about 48 hours before your scheduled bariatric surgery. Talk to your surgeon and nutritionist to suggest a few gastric sleeve pre op liquid diet recipes for this stage.
Gastric sleeve post op diet recipes
Recipes after gastric sleeve surgery are going to be most important because you will be using them for the rest of your life. The first two to three months following your VSG surgery are crucial until you transition to a normalized diet. Discuss with your nutritionist about some recipes for post gastric sleeve surgery according to your personal tastes and preferences. These recipes will broadly come under the following three categories.
Liquid Foods: Immediately after your sleeve gastrectomy surgery, you will be put on a clear liquid diet. Within a few days, you will move on to thicker and full bodied liquids and broths. This stage may last for about two weeks.
Soft Foods: After the liquid diet, as your incisions are healing, your surgeon will allow you to include pureed foods followed by soft foods in your diet. Ask your nutritionist for gastric sleeve post op diet recipes for this stage.
Solid Foods: Once your surgeon determines that your new stomach pouch is tolerating various types of foods, they will ask you to transition to solid, normalized diet. This may happen in about 2 to 3 months post-surgery.
CHECK THIS: Gastric sleeve surgery post op diet
Bariatric liquid diet recipes for stomach sleeve surgery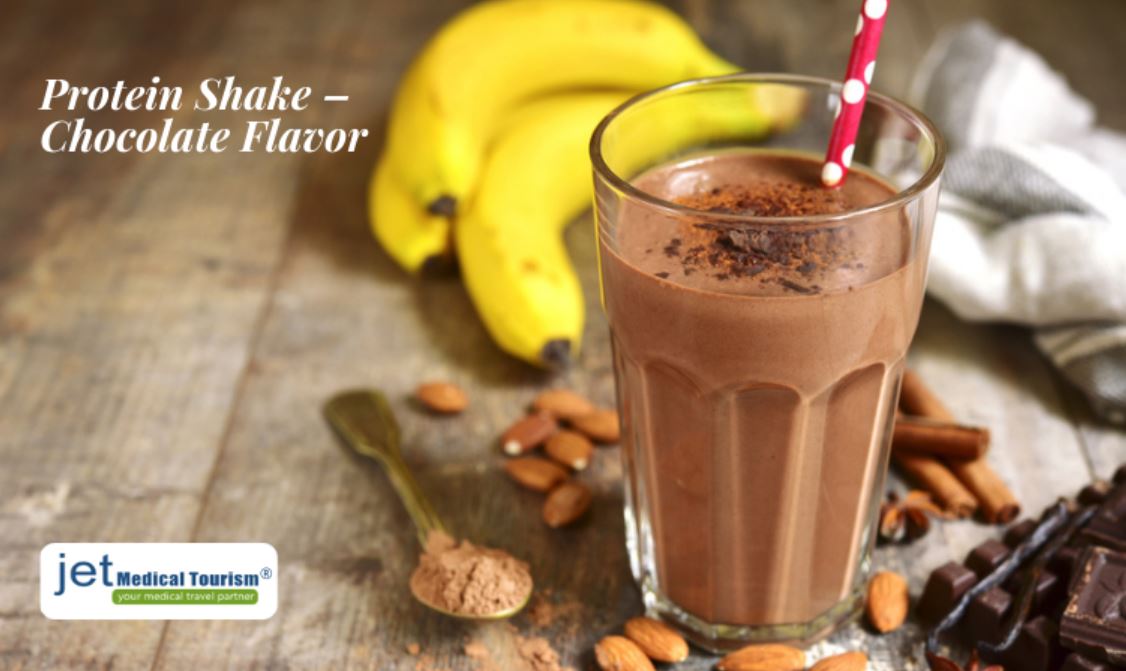 Liquid diet is the stage 0, which begins right after your stomach sleeve surgery. At this stage, your stomach tissue is still recovering from initial bruising and swelling, so you need to avoid foods that are hard to digest. The initial bariatric liquid diet recipes will include water, strained soups, protein shakes, and fruit juice, before you move to broths. Request your nutritionist to suggest some gastric sleeve smoothie recipes for this stage.
Sample Recipe – Protein Shake – Chocolate Flavor
Serving: As needed
Prep/Cook Time: 4 minutes
Ingredients
1 ripened banana
1/3 cup oats
1 tablespoon hemp seeds
1 ½ tablespoon cashew or peanut butter
2 cups milk (without sugar)
Cacao powder according to taste
2 pitted dates (if you prefer sweetened drink)
Instructions
Place all the ingredients together in a food blender
Run the blender until the mixture is smooth, frothy and creamy
Add milk if you want to reduce thickness, or add extra cacao powder if you need to make it more chocolaty
Serve fresh, or refrigerate after placing in a covered container
Ideas for soft food and pureed diet recipes after VSG
With the help of a trained and experienced nutritionist, you can identify a variety of ideas for soft and pureed food bariatric recipes after VSG. Feel free to use your own creativity, explore some ideas from online gastric sleeve recipes, and prepare delicious and healthy dishes that will make your weight loss journey easier. Some of the popular ideas for soft and pureed gastric sleeve diet recipes include:
Yogurt Popsicles
Jelly and Peanut Butter Pancakes
Oatmeal made of Pumpkin Pie
Egg Chilada
Lettuce and Chicken Salad
Chicken with Greek Yogurt
Cottage Cheese Pancakes
Tofu and Tuna Bowl
Vegetarian Chili with Cheese
Slow Cooker Tacos
Squashed Apple Bake
Ricotta-Pumpkin High Protein Pie
Cream Cauliflower Puree
Cheesecake Pudding
CHECK THIS: Apple tuna sandwich recipe
Ideas for Pureed Diet after VSG
Eat 3 small meals with 2 snack breaks each day
Consume yogurt, soups, low-fat cheese, scrambled eggs, white fish and pureed chicken for proteins.
Include oatmeal, grits, cream of rice, cream of wheat, mashed potatoes, and pureed veggies for carbohydrates.
Eat pureed fruits and veggies, but avoid cauliflower, broccoli, and other high-fiber vegetables.
To puree your foods, dice the food into small pieces and blend thorough in a high-speed blender. Add liquid and puree until you achieve smooth consistency.
Add seasonings for taste.
Ideas for Soft Diet after VSG
Eat the protein-rich foods in your meals first
Avoid drinking liquids with your meals and 30 minutes before and after meals
Add different low calorie, low fat foods as per your tolerance level
Remove seeds and skins from the fruits and veggies
Consume varieties of fish, turkey, chicken, low fat cheese, eggs (poached or hard boiled), and soups for protein intake
Choose cereals, yams, sweet potatoes, noodles, boiled pasta, and white rice for carbohydrates
Gastric sleeve meal ideas
Gastric sleeve meal ideas are truly endless and you can experiment with a variety of approved foods according to the stage of the surgical process you are currently in. The gastric sleeve diet recipes you choose will depend on timing to better meet your progress and bodily needs.
Early stage options such as broth, protein shakes, and smoothies, then progressing into thicker soups, mashed potatoes, low-fat cheeses, egg salads, chili, omelets, stews, oatmeal, turkey, and fish can all be very tasty options to add to your menu. You can also put together more creative ideas, such as cottage cheese pancakes (stage 2) or late stage ideas such as lentil pasta, slow cooker beef tacos, or sugar-free pumpkin ricotta pie.
For the first 2 weeks after surgery, the liquid diet phase is required and people may enjoy beef broth or sugar-free protein supplement drinks each day, among others.
Following the pureed food phase afterward for an additional 2 weeks will expand your delicious meal options, adding:
split pea soup with ham
lentil soup
navy beans in tomato sauce
pureed oatmeal with skim milk
soft scrambled eggs
Basically, if it is healthy, sugar-free, and looks like baby food, you are on the right track in this phase!
The next 4 weeks will require a soft foods stage. Eating meals such as:
crust-less smoked turkey tomato quiche
frittatas with spinach and cheese
spicy tuna salad with a side of hummus
Finally progressing into the solid food stage will allow you to enjoy the most options indefinitely, for example:
turkey breast with mashed potatoes, gravy, broccoli, and a side salad for dinner
grilled fish tacos with salsa and guacamole is another healthy option
braised beef with a side of quinoa and green beans
Remember to keep meals low-fat, sugar free, and you'll be successful!
Key Takeaway
Gastric sleeve diet recipes will encourage you to abide by your prescribed pre- and post-op dietary instructions of your bariatric surgeon. Focus on enjoying the process of cooking and eating rather than being anxious about filling your stomach. Your gastric sleeve surgery will anyway reduce your capacity to eat and help in curbing your appetite. Make your weight loss journey truly rewarding and enjoyable with some amazing bariatric recipes.
Reference:
University of Michigan. Sleeve Gastrectomy Diets To Follow At Home. 2021. Assessed: 22 Nov. 2021.