Bariatric Surgery Guidelines You Must Know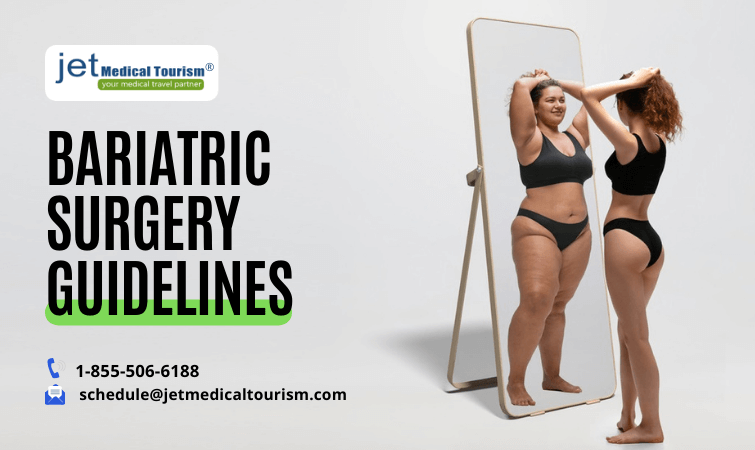 People with obesity are considered at risk for developing a number of life threatening co-morbidities. Fortunately, obesity is now fully treatable with safe and proven weight loss surgery procedures. Leading medical associations and healthcare organizations have established detailed bariatric surgery guidelines to inform doctors and patients about the eligibility, risks, and benefits of these procedures.
Contact Jet Medical Tourism® today.
New guidelines for bariatric surgery
With the evolution of advanced weight loss surgery techniques and availability of more data on the success of these procedures, new guidelines for bariatric surgery have been laid out in recent years. The original weight loss surgery guidelines recommended only patients with Class II obesity to undergo surgery.
However, the new ASMBS guidelines recommend that patients with Class I obesity (BMI of 30 to 34.9) may also be candidates for surgical intervention. According to the new bariatric surgery guidelines:
Patients with Class I obesity face the risk of co-morbidities, reduced quality of life and lower lifespan, and require effective treatment. Non-invasive treatments for these patients may not work in many cases.
The original bariatric surgery guidelines that set a BMI threshold of 35 were established at a time when traditional open surgery exposed patients to a higher risk. The emergence of less invasive laparoscopic techniques has made weight loss surgery much safer than before.
According to the new guidelines for bariatric surgery, Class I obesity patients should be considered eligible for weight loss surgery if they fail to eliminate obesity with the help of non-surgical or conventional weight loss approaches.
In particularly, Class I obesity patients who are suffering from obesity-related co-morbidities such as Type 2 diabetes have a greater chance to benefit from weight loss surgery.
The new ASMBS guidelines include gastric sleeve and gastric bypass surgery as safe and effective procedures to treat patients with Class I obesity. Results of surgical intervention for these patients are observed to be similar to that of patients with severe obesity.
According to the new gastric bypass guidelines and gastric sleeve guidelines, patients who receive surgery for obesity should have access to long-term metabolic, nutritional and non-surgical support to achieve sustainable weight loss benefits.
The new guidelines for bariatric surgery indicate that patients in the age group of 18 to 65 are most suited to benefit from metabolic and bariatric surgical procedures, as per the available evidence.
Gastric sleeve guidelines
Vertical sleeve gastrectomy (VSG) or gastric sleeve is currently the most popular bariatric surgery procedure. The results with this procedure are safe and predictable as long as the surgeon adheres to the established gastric sleeve guidelines while determining candidacy and performing the surgery.
Candidate selection: Patients with Class I or Class II obesity that do not have any associated co-morbidities may be more appropriate candidates for gastric sleeve surgery.
Multidisciplinary review: A detailed medical and psychological review of the candidate should be performed by a multidisciplinary team of healthcare professionals.
Benefit vs. risk assessment: Gastric sleeve guidelines suggest that a decision to perform surgery should follow an evaluation of the pre- and post-surgical risks versus benefits for the candidate.
Male health risks: Men above the age of 50 should be specifically investigated for the risk of cardiovascular and kidney diseases, according to the bariatric surgery guidelines.
Realistic expectations: Surgeons should help patients manage expectations in order to ensure better emotional adaptation post-operatively and compliance with gastric sleeve guidelines.
READ THIS: Gastric sleeve requirements: Do I qualify for it?
Gastric bypass guidelines
Roux-en-y gastric bypass surgery is recognized as the gold standard among all types of weight loss surgery procedures today. Surgeons should perform this procedure in accordance with the established gastric bypass guidelines to deliver safe and predictable results. Patients should be aware of the new guidelines for bariatric surgery in order to make informed choices.
Candidate suitability: Patients with Class II or Class III obesity may be more appropriate for gastric bypass surgery because the procedure is both malabsorptive and restrictive.
Non-invasive program: Gastric bypass surgery guidelines suggest that patients should go through a diet, fitness, and behavior modification program before they are ready for surgery.
Nutritional education: Patients undergoing gastric bypass surgery will require lifelong nutrition support and supplements. Patient education is vital before the surgery to understand their motivation.
Medical evaluation: Some underlying health conditions may be too dangerous for a complex gastric bypass that involves intestinal changes. ASMBS guidelines should be followed in each case.
Psychological evaluation: Patients with known mental health conditions, eating disorders, or substance abuse issues should be treated as per gastric bypass guidelines prior to the surgery.
YOU MIGHT ALSO LIKE: Pros and cons of weight loss surgery
How to know if I should get a weight loss surgery
To determine whether you are a candidate for bariatric surgery in accordance with the new weight loss surgery guidelines, it is best to seek an appointment with a qualified medical professional. A surgeon will assess your body mass index and review your medical history to know if you are fit to undergo a gastric sleeve or gastric bypass as per the new guidelines for bariatric surgery.
Depending on your pre-existing co-morbidities and other factors, your health assessment team may also include a physician, anesthesiologist, medical specialists, nutritionist, and a psychologist. The team will evaluate your all-round readiness for a bariatric surgery according to the latest ASMBS guidelines. You may also have to undergo certain medical tests to qualify for weight loss surgery.
BMI requirements for bariatric surgery
Body mass index (BMI) is the most important parameter among all bariatric surgery guidelines that will determine whether you qualify for a weight loss surgery procedure. According to the new ASMBS guidelines, a low BMI bariatric surgery may be recommended if the benefits outweigh the surgical risks. The latest BMI requirements that are followed by most surgeons and hospitals include:
BMI of 35 to 39.9 – with co-morbidities
BMI of 40 and above – with or without co-morbidities
BMI of 30 to 34.9 – as per new guidelines for bariatric surgery
Growth chart (instead of BMI) – for candidates below 18 years
RELATED: Gastric bypass requirements: Am I a good candidate for it?
Age Limits for Bariatric Surgery
Bariatric surgery can be performed on patients belonging to different age groups, as long as they fulfill all other criteria laid out as per the general weight loss surgery guidelines. More than the patient's age, the surgeon's are concerned about the health and fitness levels of the patient to successfully undergo surgery and anesthesia. The general age limits that most surgeons and hospitals may follow for bariatric surgery include:
Age between 18 and 65 years – 1991 NIH bariatric surgery guidelines
Age between 16 and 70 years – new guidelines for bariatric surgery
Age between 12 and 15 years – exceptional cases as per Mayo Clinic
Age above 70 years – exceptional cases as per AARP
Final words on bariatric surgery guidelines
Weight loss surgery guidelines provide a broad direction for medical professionals as well as patients to help them follow best practices for all types of bariatric procedures. It's critical to understand that each patient's condition is unique, and experienced surgeons will exercise their own judgment within the established bariatric surgery guidelines. To learn more about the current ASMBS guidelines, consult a trusted medical services provider today.