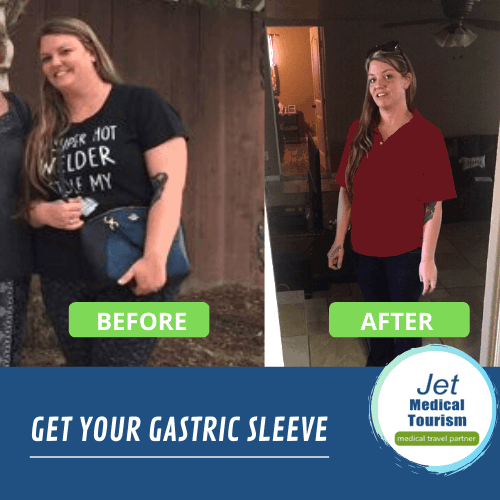 A Gastric Sleeve Before and After Story about a woman from New Mexico – her name is Meagan. About a year ago, Meagan was a worried woman. She was taking medication for a thyroid disorder, which made her gain a lot of weight.
Her unhealthy eating habits also contributed to her weight gain to a significant extent.
At one point, she weighed 250 lbs and could not even walk a few steps without breathing heavily. Every step was a struggle, as she was in pain and it felt like – in her own words – 'her hips were unaligned'.
It was at this point that Meagan decided that she needed to lose weight fast, as she felt like she was fighting a losing battle against her health problems. After reading the before and after stories of people who underwent gastric sleeve surgery in Mexico, she decided to emulate them.
On August 23, 2019, Meagan had the gastric sleeve performed at INT Hospital in Tijuana, Mexico by Dr. Jorge Reyes Mendiola with Jet Medical Tourism®.
After her gastric sleeve surgery, Meagan lost 80 lbs within a span of six months and went from 250 lbs to 170 lbs.
She eats smaller portions now and goes to the gym regularly. Talking about the health benefits of undergoing gastric sleeve surgery, Meagan says that she is now able to breathe normally and her lower back and hips do not hurt anymore. She also says that she is now more energetic and more agile than she ever was before.
Having the gastric sleeve with Jet Medical Tourism® has also boosted Meagan's self confidence and her story is now one of the one of the most inspiring gastric sleeve before and after stories we have today.
"I'm not embarrassed to go out in public anymore! I'm not as self conscious as I used to be. In fact, I'm looking forward to wear a bathing suit this summer," says Meagan enthusiastically.
When asked about the advice she would give to those who are considering gastric sleeve surgery at Jet Medical Tourism®, Meagan says:
"That it is a life changing experience. The first two months after gastric sleeve surgery can be hard, as you are only allowed to drink liquids and eat soft food."
Meagan says that her husband and her family supported her decision to undergo gastric sleeve in Mexico and helped her at every step of her weight loss journey. On the whole, she says that her experience with Jet Medical Tourism® has been wonderful.
About Jet Medical Tourism
®
Meagan shares one of many gastric sleeve before and after stories associated with Jet Medical Tourism®. We offer affordable weight loss solutions for overweight and obese people who want to lose weight and become healthy. We have a large number of gastric sleeve success stories that we are proud of. They have earned us a reputation for providing world-class gastric sleeve procedures at a very reasonable cost.

Gastric Sleeve Success Stories
If you want to create your own gastric sleeve before and after story, the trusted weight loss surgeons at Jet Medical Tourism® can help you lose weight and live a healthier lifestyle. Email us today to schedule a free consultation or call (855) 506-6188 to talk with our care team.
More Gastric Sleeve Stories:
Related to Gastric Sleeve: