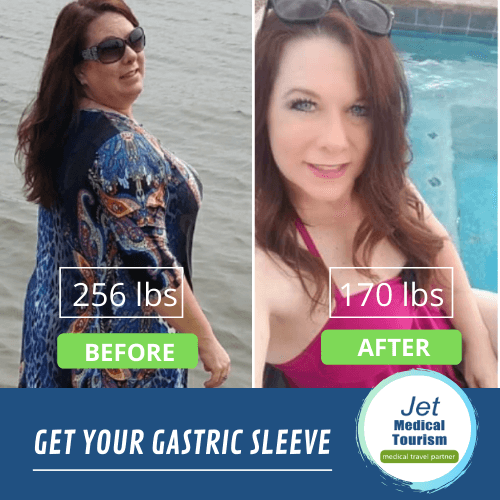 Gastric Sleeve Weight Loss Stories can inspire people to lose weight and get healthy. Christina's weight loss story is one of many associated with Jet Medical Tourism®.
We are honored to have the opportunity to learn more about our patients and we're continuously inspired by many of the successful bariatric stories and experiences they share.
One of our wonderful patients, 46-year-old Utah local Christina, shares a gastric sleeve weight loss story that is nothing short of empowering and a testament to what can be accomplished when you put your mind to it.
Following a stressful marriage that ended in divorce, Christina was fighting to not be depressed. "I left my husband and had a slew of health problems stacking up." She remembers sadly. "I was on heart medication, battling thyroid problems, using a CPAP machine and honestly fighting the urge to crawl into a hole and hide."
Christina was inspired to seek out gastric sleeve surgery in Mexico after being inspired by past patient success stories noting that others who have gone through this process understand the feelings you go through in choosing to have bariatric surgery.
"I looked in the mirror one day and I could see the real me in there," she recalls. "I made the decision to get the gastric sleeve and it was so very worth it!"
Christina hoped to accomplish benefits to her health and mind by losing weight and taking control of her life again. "I wanted my self-confidence and energy back," she explained. "Before the procedure I was almost 290 pounds – within a year I was down to 160 pounds after the gastric sleeve!"
The weight loss journey was not always easy, and Christina developed healthier habits along the way to her success. "I was learning what food can do to destroy your body or to give it health," she explains.
"I was learning to love myself again. Now that the me on the inside has come out, I do not want to hide. I am eager to mingle, play with my grand-kids, and even go on dates. My confidence and body are both top-notch" Christina was also happy to report that she is off all of her heart medications, has lowered her thyroid medication, and reduced the pressure on her CPAP machine down to half what it was before surgery.
Truly awesome job Christina! We are so happy for the positive attitude Christina has towards life after gastric sleeve surgery in Mexico. It is a big choice to make and for many the rewards are worth it. The advice Christina wants to leave for those considering bariatric surgery is this: "You can do this – be determined!"

Schedule Consultation
Our top ranked bariatric surgeons in Mexico can help you make your gastric sleeve weight loss story a reality. We have many gastric sleeve success stories that we are proud of, and which have earned us an impeccable reputation for providing world-class procedures at a very affordable cost. Email us today to schedule a free consultation or call (855) 506-6188 to speak with our friendly staff.
More Weight Loss Stories:
Related to Gastric Sleeve: