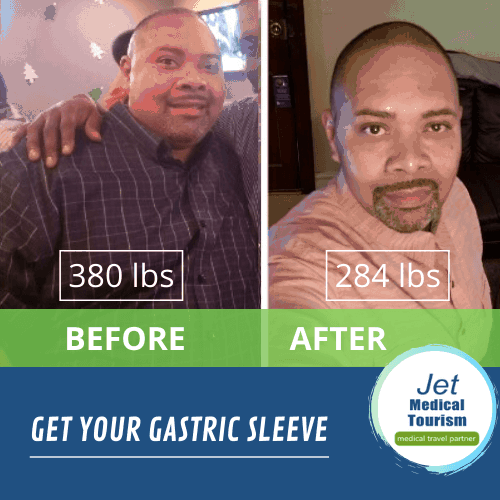 The gastric sleeve story of Alex is very inspiring to read. He was always a bigger guy, standing at 6'4" and weighing almost 400 pounds (May 2019), he attributes his size to a lifetime of eating and drinking without paying much attention to exercise.
"I worked a lot and went to school so that was my excuse," he says. "Then I started getting tired fast, I was out of breath and my ankles and legs were always swollen. I had constant back pain and could no longer do the things I wanted to do like play with my grandson."
Alex sought out help from Jet Medical Tourism® and had gastric sleeve surgery with Dr. David Vazquez at Clinica San Juan in Tijuana, Mexico on May 15, 2019.
"I was scared because of the stories you hear," he remembers. "However, the facility was amazingly clean, and the staff was outstanding. I still send emails thanking them."
The original goal Alex had hoped to accomplish by having weight loss surgery in Mexico was to shed some weight and be able to do things without becoming out of breath.
We are excited to report he achieved those goals and more! As of April 2020, Alex lost 96 pounds (and counting) in 11-months after his gastric sleeve surgery.
"I am enjoying life again," he says. "I am no longer taking hypertension medication; the swelling is gone in my legs and my knees feel great."
Alex lost over 96 pounds and is still going strong. "I am able to do things I couldn't do before," he says. "I can bend and reach with no limitations and I actually like what I see in the mirror."
Alex has taken this opportunity to change some lifelong habits that contributed to poor health. He follows better eating habits, sticking to small portions and has eliminated fried foods from his diet completely. Team Jet Medical Tourism® shouts out – WAY TO GO ALEX!
Create Your Gastric Sleeve Story
Have you been considering gastric sleeve surgery? If so, Jet Medical Tourism® has earned an impeccable reputation with some of the best bariatric surgeons in Mexico that can help you create your own gastric sleeve success story. Email us today to schedule a free consultation or call (855) 506-6188 to talk with our professional staff.
More Success Stories:
Related to Gastric Sleeve: