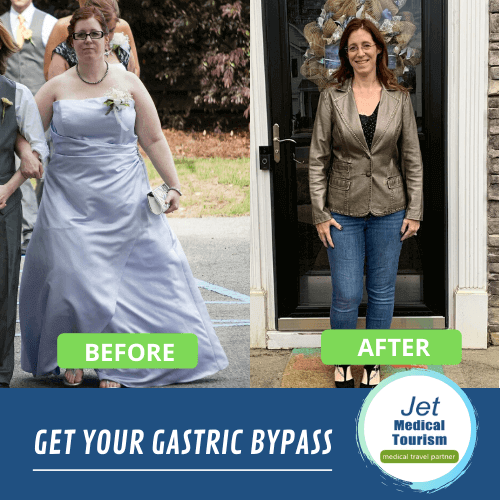 Gastric Bypass Before and After Pic of Jodi is one of many weight loss transformation photos associated with Jet Medical Tourism®. Jodi started her weight loss journey hoping to reach an ideal weight for her 5'4" frame, along with the ability to be more active in her life.
She opted for gastric bypass surgery, one of the bariatric procedures offered and performed by our esteemed bariatric surgeons in Mexico.
On October 2, 2018, Dr. David Vazquez and his medical team completed Jodi's surgery at the San Juan Clinic in Tijuana, Mexico. She was well on her way to becoming another successful gastric bypass surgery patient.
Jodi previously weighed 254 pounds (Oct. 2018) and struggled physically when attempting exercise, or even simply playing with her two grandchildren.
Jodi has lost an amazing 119 pounds since her gastric bypass surgery with Jet Medical Tourism, 80 pounds of which she dropped in the first 6-months!
As of April 2020, 45-year old Jodie weighs an impressive 135 pounds and has a new lease on life. Her goal weight is 120 pounds.
"I have a huge abundance of energy!" she reports happily. "If I want to go on a bike ride, I can. If I want to go on a carnival ride, I can. I can run after my grand-babies. I do not fear life and activities."
Healthy Benefits of Gastric Bypass
We asked Jodi what some of the other health benefits were that resulted from having gastric bypass surgery with Jet Medical Tourism®. She was excited to share that in addition to weight loss and a rising activity level she has experienced:
Increased physical mobility and flexibility
No longer prediabetic
Reduced pain in knees and lower back
Loads of self-confidence
No longer fears social gatherings at the pool or activities that surround physical activity
To those considering gastric sleeve or gastric bypass surgery in Mexico, Jodi says, "Do it! Take the leap. As an RN of 20 years I know the fears well, just do it!"

Schedule Consultation
Jodie's gastric bypass before and after pic is the latest addition to a long list of weight loss success stories associated with Jet Medical Tourism®. Our bariatric surgeons in Mexico have helped over 4,000 people – mostly from the US and Canada turn their dream of having gastric bypass surgery into a reality. Email us today for more detailed information or call (855) 506-6188 to speak with our friendly staff.
Gastric Sleeve Before and After:
Related to Gastric Bypass Before and After: