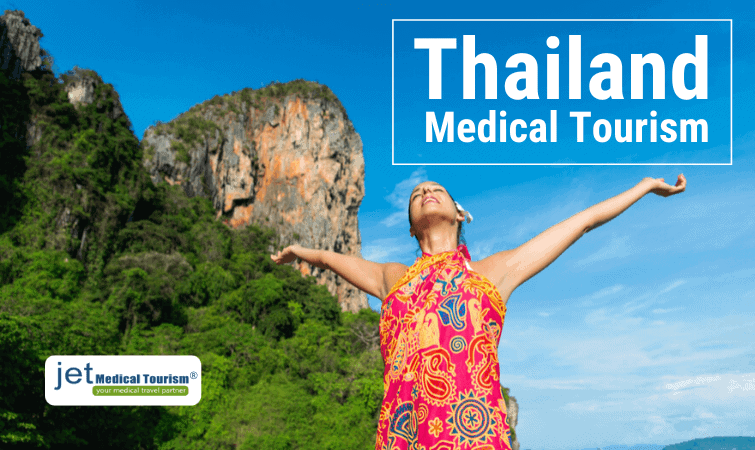 Thailand Medical Tourism has achieved global leadership in a wide range of cosmetic and medical procedures. The world-class healthcare infrastructure combined with exotic oriental sight-seeing and mild climate make Thailand one of the most popular medical tourism destinations for women and men from the US, Canada, and other parts of the world.
The accredited hospitals and surgery centers in Bangkok, Phuket and other cities in Thailand are equipped with state of the art medical and surgical technologies. Backed by some of the top qualified surgeons and medical specialists in different fields, these healthcare facilities provide high quality treatment to every patient.
Thailand medical tourism has steadily gained worldwide acceptance and popularity over the years because satisfied patients from the US and Canada go back to their home country and share their treatment experience in very favorable terms with others.
Medical vacations in Thailand combine excellent health and rejuvenation opportunities with first-class resorts, exotic Thai cuisine, and personalized traditional health services, such as massage, acupuncture, yoga, and spa. This not only helps in the patient's early recovery, but also becomes an unforgettable part of their deeply satisfying medical tourism travel experience.
To learn more about Thailand Medical Tourism, contact Jet Medical Tourism® today.
Medical Tourism Thailand Statistics 2019
Medical tourism Thailand statistics reveal how the country has emerged as one of the leading international hotspots for medical tourists from the US, Canada, and various other countries. More than one million medical tourists from different parts of the world visit Thailand every year to receive world-class surgical and medical treatments in various fields.
Top Destination for Medical Tourism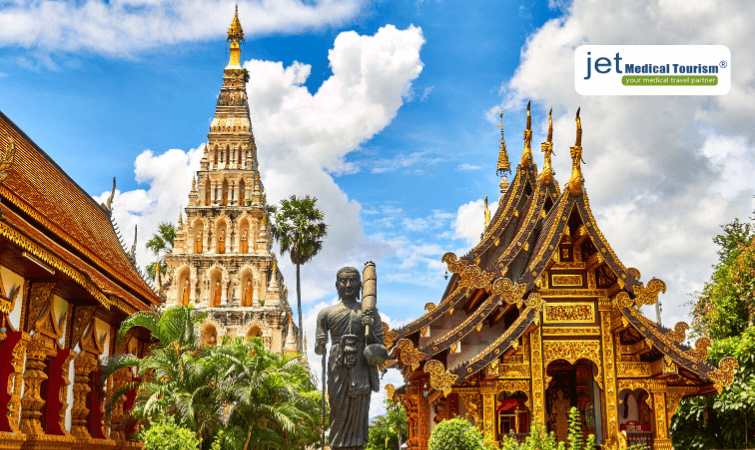 In 2016, Thailand ranked 18th in the list of the world's most popular destinations for medical tourism, according to the data released by the IHRC (International Healthcare Research Center). The same set of medical tourism Thailand statistics also showed that the country's health tourism industry ranked 6th worldwide and in terms of quality of its healthcare facilities and services, Thailand ranked 13th on the list.
JCI Accredited Hospitals
Thailand is home to more than 1,000 hospitals, of which nearly 50 percent are private healthcare facilities. Asia's largest private hospital is in Thailand, and the country also built the first Asian hospital that received the coveted JCI accreditation. As many as 60 private hospitals in Thailand are currently JCI-accredited.
High Influx of Medical Tourists
Another highlight of medical tourism Thailand statistics is that as many as half of all the patients at the country's top hospitals are medical tourists from other countries. Private hospitals lead the medical tourism industry in the country, and employ the best doctors in Thailand.
The Rise of Thailand Medical Tourism
Thailand medical tourism has witnessed a dramatic boom in recent years. Medical tourists from most of the advanced countries in the world visit Thailand to obtain the benefit of high quality and affordable healthcare procedures. The country receives the largest number of medical tourists from the US, Canada, UK, Australia, Middle East, Japan, China, and other countries in Western Europe.
International Standards of Care
Nearly two decades ago, Thailand became Asia's first country to have a JCI accredited hospital. This indicates the kind of head-start that Thailand took over other Asian nations in building globally competitive medical infrastructure and delivering international standards of care. From plastic surgery and weight loss surgery to orthopedics, gynecology, and dentistry, the country provides excellent medical care in almost every field.
Global Recognition
Medical tourism in Thailand attracted global media attention when a distinguished guest on BBC News said that Bangkok has some of the best hospitals in the world that meet or even exceed the quality standards in the United States. This is just one example of the kind of attention, recognition, and awards the hospital industry in Thailand has earned over the years.
Policies Favoring Foreigners
Medical tourism Thailand has scaled new heights rapidly because of the strong support from the Thai government. The government plans to make the country a hub of medical tourism from 2017 to 2026. As part of this endeavor, the government has allowed visitors from the US, Canada, UK, Australia, Germany, and Japan to receive up to 10-year long-stay visas.
10 Reasons that make Thailand the third biggest medical tourism destination in the world
The traditional Thai hospitality and a personal commitment to care combined with high-end healthcare infrastructure have contributed to making Thailand the world's third largest medical tourism destination. Here are 10 reasons why medical tourism Thailand is so popular:
1. Add Value to Your Holiday
You can simply plan a leisure visit to Thailand and combine your sight-seeing plans with minor or major medical procedures for a small additional cost.
2. Recover in an Exotic Destination
Thailand has some of the most exotic beach resorts in the world, where you can recover from your medical procedure in the lap of luxury and exclusive comfort.
3. Minimal Waiting Time
With very short waiting times, you can conveniently have your medical exams as well as your surgery performed on the same day in Bangkok or other Thailand medical tourism destinations.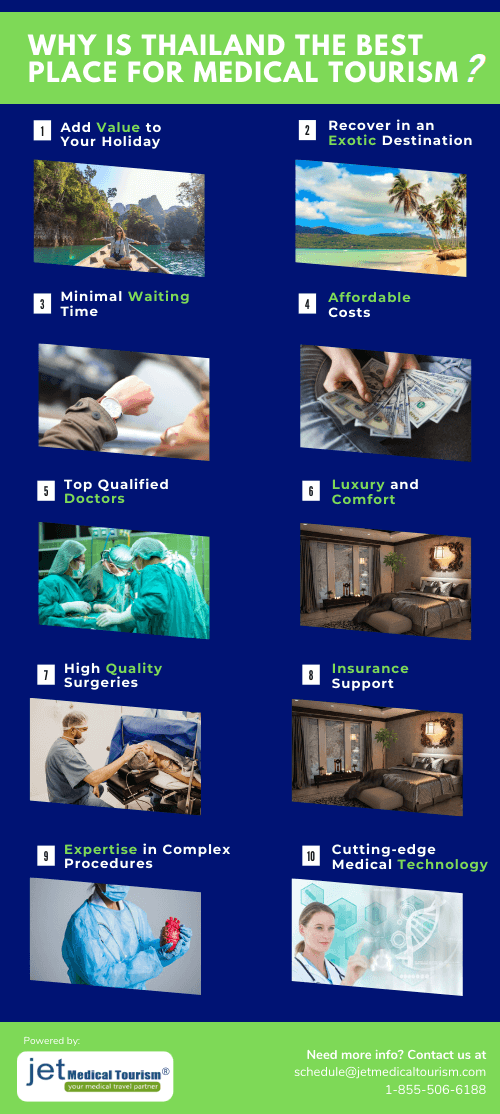 4. Affordable Costs
You can expect your medical or surgical procedure in Thailand to cost up to 70 or 75 percent lower than what it would cost in the US or Canada.
5. Top Qualified Doctors
Many of the doctors and surgeons in Thailand have obtained their medical education and training in the US or Europe and offer top skills and techniques to the patients.
YOU MIGHT ALSO LIKE: Best Plastic Surgeons in Mexico (2020)
6. Luxury and Comfort
Hospitals in Thailand compete with international hotels in terms of luxury, comfort, and personalized service to the patients.
7. High Quality Surgeries
Thailand medical tourism leads in bariatric surgery, plastic surgery, dental surgery, and various other complex surgical and medical procedures.
8. Insurance Support
If your insurance provider offers you coverage for a medical procedure, your Thailand hospital will assist you with the required documentation.
9. Expertise in Complex Procedures
Medical tourism Thailand is known for advanced expertise in spinal, orthopedic, heart, and neurological surgery procedures.
10. Cutting-edge Medical Technology
Private hospitals and surgery centers in Thailand are equipped with the latest cutting-edge medical and surgical technologies for best results.
How to Pick the Best Medical Tourism Companies in Thailand
Your goal should be to choose one of the best medical tourism companies in Thailand, such as Jet Medical Tourism®. This will relieve you of all the stress of managing your treatment issues, travel plans, accommodation, and other formalities. Jet Medical Tourism® will take care of all your concerns, so that you can focus on your health, your medical procedure, and your recovery.
Here are the key things to look for in the best medical tourism companies in Thailand:
US Presence and International Network
Your first priority should be to determine whether the medical tourism provider for Thailand is US-based and has a presence in leading medical tourism destinations such as Thailand, Mexico or others. Jet Medical Tourism® representatives are reachable to you in the US, and they have years of experience in international medical tourism.
Tie-up with Leading Thai Hospitals
The best medical tourism companies in Thailand would have tie-ups with one or more leading hospitals in the country. Jet Medical Tourism® works with top Thailand hospitals and has some of the most qualified and experienced surgeons and doctors on board.
Patient Reviews and BBB Certification
You should check whether the medical tourism in Thailand has support from past patients. Jet Medical Tourism® website has a host of reviews and video testimonials that demonstrate the company's credibility. Jet Medical Tourism® is also Better Business Bureau (BBB) certified, which should reassure you of their professional credentials.
Medical Tourism in Bangkok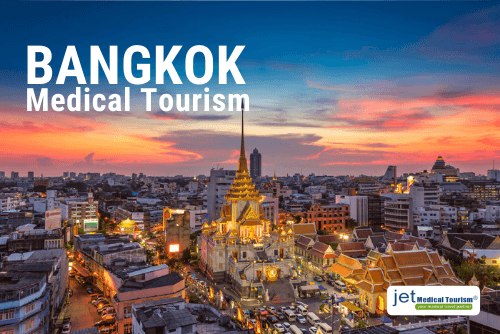 Medical tourism in Bangkok has become increasingly sought-after among patients from the US, Canada, and several other leading countries. If you are looking for healthcare quality standards that are as competitive as you would find in your home country, you can have them in Bangkok at a highly affordable cost.
Comprehensive Treatments
Top private hospitals are leading medical tourism in Bangkok from the front by offering advanced treatments in a wide range of specialties. When you receive treatment at an accredited Bangkok hospital, you have the reassurance that multi-specialty teams are present in the hospital to address all your health and cosmetic concerns under one roof.
Affordable Packages
Whether you are looking for a plastic surgery package, weight loss surgery package, or orthopedic surgery package, you can expect reasonable prices in Bangkok. Even when you add the costs of your travel, hotel, and sight-seeing expenses, your overall package will still be far lower than what you would probably end up paying in your home country.
Personalized Care and Attention
Another key reason for the popularity of medical tourism in Bangkok is the city's world-renowned hospitality and a commitment to personalized care and attention for every patient. No matter whether you have chosen a minor or major treatment in Bangkok, you will receive outstanding services from trained and friendly English-speaking staff.
Medical Tourism in Phuket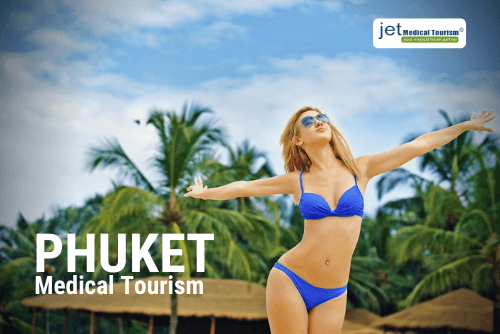 Medical tourism in Phuket assures you one-of-a-kind treatment experience in one of the spectacular island destinations in Thailand. You will receive exceptional quality medical and surgical care at accredited hospitals and clinics in Phuket, while you relax and recover in the serene environment and natural beauty of this leading tourist hub.
Highest Clinical Standards
Phuket medical tourism is second to none in terms of the quality standards offered at the healthcare facilities and clinics in the city. Highly trained, experienced, and certified surgeons and doctors will provide you superior care and help you achieve your medical and cosmetic goals. Some of the leading hospitals in Phuket receive thousands of international medical tourists every month and are known to deliver bespoke healthcare.
Privacy and Exclusivity
Some discerning women and men from the US and Canada choose medical tourism in Phuket because they are assured of the highest level of privacy and exclusivity at this secluded destination. Access to high quality treatment is easier and faster, waiting times are low, and patients receive personalized services, all of which add to their enhanced treatment experience in Phuket.
Beaches and Luxury Accommodation
Phuket is home to over 30 stunning beaches, and you will be spoiled for choice while you relax and recover after your surgical or medical treatment in this island destination. You can choose from a wide range of luxury as well as budget-friendly accommodation options, which include boutique-style hotels as well as exclusive spa resorts.
Healthcare in Thailand for Tourists
Healthcare in Thailand for tourists is one of the topmost priorities of the Thai government. A significant part of the local economy depends on medical tourism from the US, Canada, Western Europe, Australia, and other prominent countries.
Hundreds of doctors and surgeons in Thailand are American board certified, while dozens of hospitals in the country are JCI-accredited. These facts are testimony to the world-class quality of healthcare in Thailand for tourists.
Plastic Surgery in Thailand
Thailand plastic surgery procedures for the body, face and breast are performed by highly trained and experienced cosmetic, reconstructive, and plastic surgeons. From facelift to breast augmentation to tummy tuck and liposuction, you can choose the most appropriate Thailand plastic surgery procedure to meet your aesthetic goals.
RELATED ARTICLE: Best Rhinoplasty Surgeons 2020
Weight Loss Surgery in Thailand
Weight loss surgery in Thailand is one of the major procedures offered at several leading hospitals and bariatric clinics. Experienced bariatric surgeons perform thousands of gastric sleeve surgery, gastric bypass surgery, lap band surgery, and other procedures for weight surgery in Thailand at an affordable cost.
Gender Reassignment Surgery Thailand
Gender reassignment surgery in Thailand, commonly known as Thailand sex change procedure, is designed to alter the physical appearance and sexual function according to the individual's unique needs. Thailand transgender surgery is one of the key procedures at several hospitals in the country with very high patient satisfaction rates.
Other Common Medical Treatments in Thailand
Healthcare in Thailand for tourists also includes a wide range of other medical procedures, including orthopedic surgery, cardiac procedures or heart surgery, spinal surgery, infertility treatments, gynecology procedures, pediatric treatments as well as dental care. Whether you want dental implants in Thailand or need to undergo a complex reconstructive surgery, you can expect the best in class care at surgery centers and accredited hospitals in the country.
Medical Tourism Thailand Cost
Medical tourism Thailand cost is one of the key attractions for visitors from the US and Canada who want to have high quality procedures at a small fraction of the cost that they may be required to pay in their home country. From hospital charges to the surgeon's fee to anesthesia and other expenses, medical tourism Thailand cost is highly affordable for foreign patients.
Weight loss surgery Thailand cost
Weight loss surgery Thailand cost may range from $8,000 to $16,000 on average, depending on the type of bariatric surgery you choose, and the extent and complexity of surgery involved.
• Gastric sleeve surgery Thailand cost on average: $8,000 to $12,000
• Gastric bypass surgery Thailand cost on average: $11,000 to $16,000
• Lap band surgery Thailand cost on average: $9,000 to $13,000
Thailand plastic surgery cost
Thailand plastic surgery cost may range from $1,250 to $5,695 on average, but individual costs will vary according to your personal anatomical and cosmetic needs, and your customized surgical plan.
• Breast surgery Thailand cost on average: $3,850 ($2,700 to $5,000)
• Breast augmentation Thailand cost on average: $3,100
• Breast lift Thailand cost on average: $4,100
• Liposuction Thailand cost on average: $2,375
• Facial cosmetic surgery Thailand cost on average: 3,010 ($1,275 to $4,745)
• Rhinoplasty Thailand cost on average: $4,745
• Lower face and neck lift Thailand cost on average: $4,428
Gender reassignment surgery Thailand cost
Gender reassignment surgery Thailand cost may range from $9,500 to $18,000 on average. During your initial consultation, you should discuss your Thailand sex change surgical goals to obtain a customized cost estimate.
Thailand Dental Implant Cost
Thailand dental implant cost may range from $2,050 to $2,325 on average per tooth (both surgical and prosthetic parts). Your dental surgeon will determine the precise cost depending on the type of implants you want and the number of teeth that need implantation.
Thailand Medical Tourism Insurance Coverage
If you plan to undergo a procedure that is a medical necessity, such as heart surgery, spinal surgery, orthopedic surgery, reconstructive procedures, or neurological treatment, your insurance provider in your home country may be willing to offer you full or partial coverage for it.
Your hospital in Thailand will help you with the necessary documentation so that you can obtain coverage for your procedure. But you should check with your insurance company in advance if they are willing to offer Thailand medical tourism insurance coverage.
Thailand Medical Tourism FAQs
1. Does Thailand have good medical care?
Thailand has one of the best healthcare systems in the world. Thailand medical tourism has grown exponentially over the last two decades because of the country's excellent hospitals and highly qualified doctors.
2. Is it safe to have surgery in Thailand?
It is completely safe to have surgery in Thailand for both cosmetic and medically necessary procedures. The key is to choose the right Thailand medical tourism company which works with the best hospitals and surgeons.
3. How much does cosmetic surgery cost in Thailand?
Cosmetic surgery cost in Thailand can be up to 70 or 75 percent cheaper than what you would normally pay in the US or Canada. Affordability is one of the key reasons behind the popularity of Thailand medical tourism.
4. Do I need travel insurance to go to Thailand?
Travel insurance is not mandatory for visiting Thailand. It is your personal decision. Thailand is a very safe country in general, and it receives millions of tourists from all over the world every year, including the US and Canada.
5. What do you need to travel to Thailand?
You will need a valid passport and visa, in addition to your air tickets for traveling to Thailand. You should carry one or more international credit cards as well to make sure you do not fall short of cash during your stay.
Thailand Medical Tourism Packages
Jet Medical Tourism® offers comprehensive and very affordable Thailand medical tourism packages for plastic surgery, weight loss surgery, and various other medical procedures. Contact a representative at Jet Medical Tourism® today to discuss a customized Thailand medical tourism package that is uniquely tailored to meet your needs and budget.