Hospital de Especialidades, Nuevo Laredo, Mexico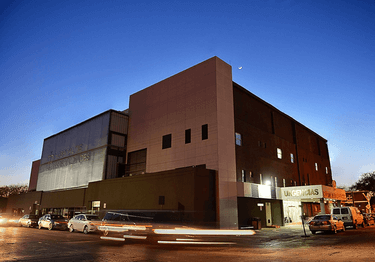 Hospital de Especialidades is a modern hospital located in Nuevo Laredo, Mexico, only minutes from the USA border town of Laredo, Texas. During the past 28 years, the hospital has been a pioneer in technology while providing the community with high quality healthcare services.
As a full-service hospital in Nuevo Laredo, Mexico, Hospital de Especialidades has earned international prestige has a premier center for weight loss surgery. The hospital offers a full range of medical procedures and provides them in a very comfortable and welcoming environment. Every patient is extended personalized attention in either Spanish or English.
Hospital de Especialidades in Nuevo Laredo, Mexico offers private rooms with bathrooms, and the most up-to-date technology and equipment. What's more, the hospital is in a convenient area only minutes from Texas and offers plenty of amenities for both English and Spanish speaking patients.
Due to its close proximity to Texas, people from the Lone Star State seek bariatric surgery in Nuevo Laredo, Mexico. Contact Jet Medical Tourism® today.
Hospital de Especialidades Medical Procedures
Hospital de Especialidades offers a wide range of procedures and treatments brought to you by an international team of experts, including some of the best bariatric surgeons in Mexico. The hospital regularly offers bariatric procedures such as gastric sleeve, gastric bypass, lap band removal to gastric sleeve, and other weight loss surgery revision procedures.
Overall, Hospital de Especialidades in Nuevo Laredo, Mexico offers many different procedures across the following areas:
Bariatric (weight loss) surgery
Ophthalmology
Gastroenterology
Cardiology
General medicine
General surgery
Gynecology

Oncology
Diagnostic imaging
Orthopedic
Plastic or cosmetic surgery
Spinal surgery
Urology
Facilities & Amenities
At Hospital de Especialidades in Nuevo Laredo, Mexico, everyone prides themselves on the best patient care, which is not only focused on the physical aspects of health but also the emotional well-being and support of patients.
That's why the hospital concentrates on providing the most welcoming atmosphere possible for all patients as well as their friends and family members who accompany them during this potentially stressful time.
At Jet Medical Tourism®, we know that offering our patients the best in services and amenities will encourage them to feel as comfortable and safe as possible. Hospital de Especialidades in Nuevo Laredo, Mexico outfits each private room with Wi-Fi, bathrooms, flat-screen televisions and even visitor beds, as well as private areas for dining and conversation.

Staff & Practitioners
Hospital de Especialidades in Nuevo Laredo, Mexico is home to leading bariatric surgeon, Dr. Eduardo Gonzalez and is a top destination for patients seeking weight loss surgery in Mexico; especially those living in the bordering state of Texas.
This highly reputable hospital has a full staff including nurses, administrators, assistants and doctors, with a rotating team of trusted professionals available to come in on an on-call or part-time basis. Most of the staff are bilingual, and are set up to offer a complete range of services in both English and Spanish.
Many of the doctors are certified by the Mexican Medical Board and are continually traveling to conferences and the like to ensure that their training is up-to-date and that they are future-forward concerning emerging procedures and technology.
Hospital de Especialidades Nuevo Laredo Mexico Location
Nuevo Laredo, Mexico is a bustling, active city located only minutes across the U.S.-Mexico border. Medical travelers enjoy the area for its range of restaurants, malls, hotels and other sights and services. Hospital de Especialidades in Nuevo Laredo is located in a busy area with plenty of restaurants and other amenities that are easy to navigate for English-speaking patients.
Hospital de Especialidades is only a 15-minute drive away from the Laredo International Airport, a 2-hour drive from San Antonio, Texas and a short drive from the U.S.-Mexico border after crossing (less than 2-miles).