Gastric Sleeve in Mexico may be the best option for you. At Jet Medical Tourism®​, the expert gastric sleeve surgeons in our network have helped thousands of patients lose weight and transform their lives. They can also help you achieve long-term weight loss results.
*LIMITED TIME ONLY! Ask about group discounts up to $450 EXTRA savings. Reserve your space now.

Imagine yourself in six months – its time to take control and start your weight loss today!
We provide an affordable gastric sleeve cost in Mexico. This low price package includes:
Trusted expert surgeons
Surgical team fees
Hospital fees (2 nights)
Private hotel room (1 night)
Pre-operative exams, leak test
Round trip ground transportation
Fill out the form to get started!
Gastric Sleeve in Mexico Testimonial
"The welcome and hospitality were wonderful. I would not dare recommend to go anywhere else. This is the right place. I had my doubts, but Kent's team and everybody working at Jet Medical Tourism® convinced me that it was the right place. Its most definitely the right place. Don't overpay. This is the place to come.
Spotless, clean and first class!"
Why get gastric sleeve surgery in Mexico?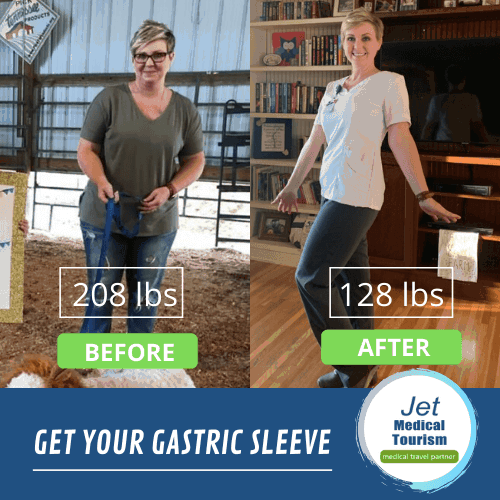 Jet Medical Tourism® – your trusted medical travel partner. Each week, people like you travel from all parts of the U.S. and Canada to have gastric sleeve in Mexico. In fact, Mexico offers you access to affordable gastric sleeve surgery performed by highly qualified weight loss surgeons.
Contact Jet Medical Tourism® today!
Best Location – Mexico is a short flight from the U.S. and Canada.
Financial Savings – Save up to 70% compared to the higher prices in U.S. and Canada.
Airport Location – Tijuana, Mexico is only a 20-minute drive from San Diego International Airport.
Top Destination – Mexico is a top destination for medical tourism and gastric sleeve surgery.
Fast Booking – No delays in scheduling found in most overburdened hospitals in the U.S. and Canada.
Benefits of weight loss through gastric sleeve surgery
Long-term remission for type 2 diabetes
Improve cardiovascular health
Eliminate obstructive sleep apnea
Improve emotional health and relief of depression
Improve fertility and sexual health
Improve mobility and joint pain relief
Do you qualify for gastric sleeve in Mexico?
Qualifications for the gastric sleeve surgery in most cases include:
Body mass index (BMI) > 30
You attempted to lose weight with diet and exercise, but were not successful
BMI > 29 and suffer from negative health conditions related to obesity such as high blood pressure or diabetes