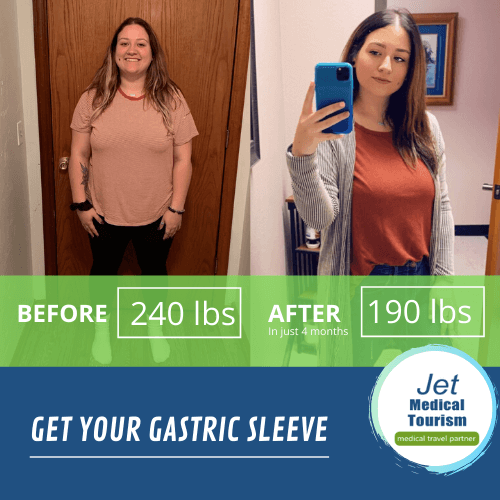 Samantha's VSG Success Story illustrates how a young mom from Oklahoma made a big decision to better herself with gastric sleeve surgery in Mexico at Jet Medical Tourism® on December 6, 2019.
In only 3.5-months, she lost over 50 pounds after Dr. Jorge Reyes Mendiola performed the vertical sleeve gastrectomy (VSG) at INT Hospital in Tijuana, Mexico.
For Samantha, the weight gain came from admitted poor eating habits, not just what she ate but also being "an emotional eater" helped pave the way to being depressed and feeling miserable in her own body.
It is a rough place to be with a child at home and Samantha hit a turning point after having her daughter and realizing she "did not want to be the mom who was embarrassed of herself" and instead chose to be a positive healthy role model.
At the start of her journey with Jet Medical Tourism®, Samantha hoped she could gain some confidence back and simply be happy when she looked at herself. She had no idea that so many other health benefits were to be had from weight loss surgery.
When asked to note positive changes in her life Samantha responded:
"I have better energy… I can move around so much easier and I am just a happier person! What this surgery has done for me mentally I could never put a price on".
When we talked to Samantha, she was only a few months out after the vertical sleeve gastrectomy (VSG), and she already had some big accomplishments to share – like dropping 4 pants sizes!!!
We cannot help but cheer her on as she continues her inspirational weight loss journey and hits her goals along the way. Seriously, awesome job Samantha!
When we asked if she had any advice to someone considering gastric sleeve surgery for themselves at Jet Medical Tourism®, Samantha said:
"Do it!!! Just do it and do it as soon as possible because you are not going to regret it."

Inspired by her VSG Success Story?
Are you ready to create your own VSG Success Story? If so, our trusted and experienced VSG bariatric surgeons at Jet Medical Tourism® can help you make your weight loss transformation a reality. Email us today to schedule a free consultation or call (855) 506-6188 to talk with our friendly staff.
More VSG Success Stories:
Related to Vertical Sleeve Gastrectomy (VSG):