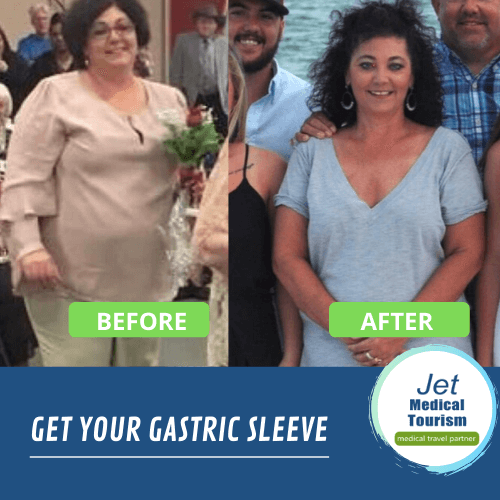 Reading gastric sleeve success stories can be a powerful force of motivation. Rhonda from Arkansas had a mounting list of reasons to aid in her decision to pursue gastric sleeve surgery in Mexico with Jet Medical Tourism®.
Her fast-paced lifestyle, often only eating one meal a day, led to her body storing up excess weight leaving her feeling unhealthy and unhappy with herself.
She wanted to be able to enjoy life again and have more time with her children and future grandchildren. Her gastric sleeve success story started on October 30, 2018 after Dr. David Vazquez performed the gastric sleeve in Tijuana, Mexico at San Juan Clinic. Rhonda's weight prior to the sleeve procedure was 263 pounds.
Post-gastric sleeve surgery, Rhonda lost 60 pounds in the first 6-months and within 12-months she was almost 100 pounds lighter!
Along with her weight-loss after gastric sleeve, Rhonda noticed she had less pain from her Fibromyalgia and increased mobility without becoming short of breath.
She started enjoying life again, taking trips to the beach and lake with her newfound self-confidence at the helm. Rhonda continues to work hard for her weight-loss results and when asked about her eating habits she said: "I still have a few protein shakes a week. I eat lots of tuna, almonds, salad, etc. and have very little carbs and sweets."
We are so excited for the positive changes that have come Rhonda's way. We want to leave you with her sound advice for those considering gastric sleeve surgery as well. To push yourself towards success with Jet Medical Tourism®, Rhonda said:
"Make sure you are 100% committed, both mentally and physically. It is a lifestyle change. You have to be disciplined and follow the guidelines to achieve your goals."

Inspired by Gastric Sleeve Success Stories?
If you want to create your own gastric sleeve story, the expert bariatric surgeons at Jet Medical Tourism® can help you achieve weight loss success. Email us today to schedule a free consultation or call (855) 506-6188 to talk with our professional staff.
More Gastric Sleeve Success Stories:
Related to Gastric Sleeve: