Bariatric Surgery Before And After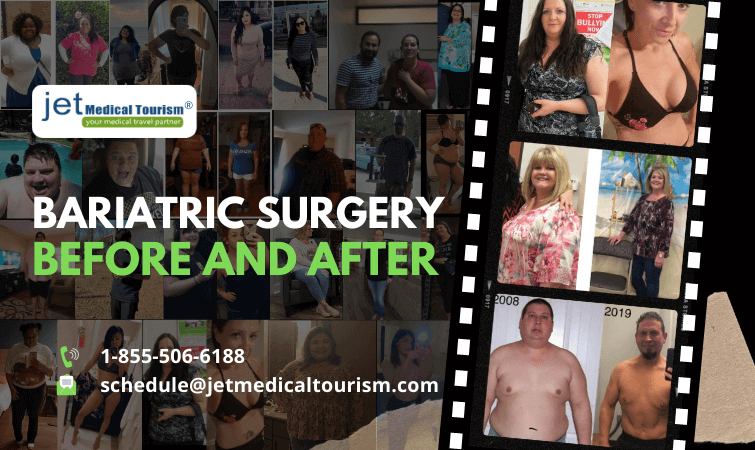 Bariatric surgery 'before and after' pictures refer to a set of images that are taken prior to and after your weight loss surgery to see the visual difference in your appearance. In an ideal situation, you or your bariatric surgeon will take these photos several days ahead of your surgery when you have not yet started your pre-op diet. Similarly, they will take the photos after your surgery at various stages to see how your weight loss has progressed over a period of time.
Weight loss surgery 'before and after' photos will be taken only with your full consent. The sole purpose of the surgeon behind this request is to maintain the photographs as a part of your weight loss journey as well as educate other patients about the benefits of this procedure. Your surgeon or service provider may ask for your permission to share your photos with other patients. This allows new patients to know what a bariatric surgery can or cannot do for them.
Looking for authentic bariatric surgery 'before and after' photos of actual patients? Jet Medical Tourism® is happy to share all relevant information with you. Call or email us today!
Gastric sleeve before and after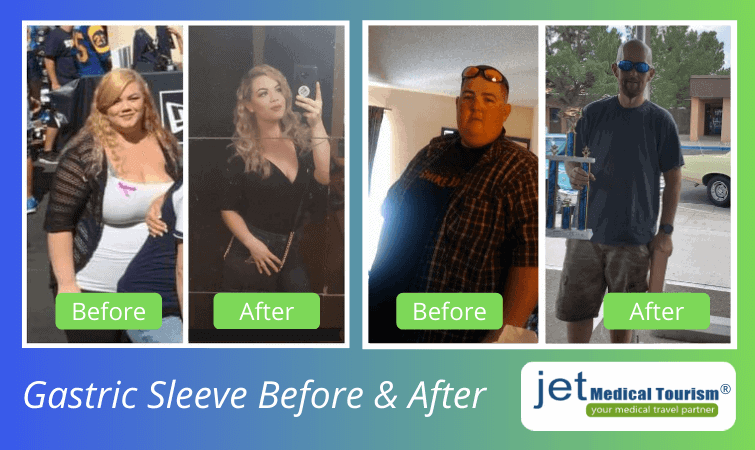 When you are considering a vertical sleeve gastrectomy (VSG) procedure, you may wonder how you will look after the surgery, and whether the procedure will help you achieve your weight loss goals. To address these concerns, your bariatric surgeon may present gastric sleeve before and after photos before you during the initial consultation.
Review Maximum Number of Images
Feel free to ask questions to your surgeon about bariatric surgery before and after photographs and review as many of them as possible. It will help you form realistic expectations about your results from gastric sleeve surgery. You will be able to make a more judicious and confident decision about your procedure.
Get a Broader Idea with these Photos
Gastric sleeve before and after images do not mean that you will get the exact same results in your case. However, it will give you a broader understanding of what to expect and what not to expect from the surgery. You can compare different types of weight loss surgery before and after pictures to have a better idea of which surgical technique is more suited for you.
CHECK THIS: View gastric sleeve before and after pictures
Gastric bypass before and after
Gastric bypass is a relatively more complex procedure because it involves intestinal rerouting in addition to stomach size reduction. The benefit is that the weight loss can be more rapid with this procedure. Therefore, during your review of gastric bypass before and after photos, you may find that patients are often able to achieve more substantial and quicker weight loss.
Ensure the Photos are Authentic
You should remember that gastric bypass is a major procedure, which only be performed by a skilled and experienced weight loss surgeon. A responsible surgeon will present bariatric surgery before and after photos at the very first meeting, if asked so that you can make a well-considered decision. With a trusted surgeon, you will also be sure that the pictures are authentic and have not been photo-shopped in any way.
Images via Social Sharing or Email
Some surgeons may decide to share gastric bypass before and after images on their website or via social media. Their goal is to educate as many people as possible about the potential benefits of gastric bypass surgery. You may also request your surgeon during your initial virtual consultation (if requested) to send a few pictures to you on email.
CHECK THIS OUT: Gastric bypass before and after pictures
Lap band before and after
Lap band surgery is nowadays less popular because of its low success rate and less significant weight loss results compared to other procedures. However, when you have no other option, you may consider adjustable gastric band surgery. But make sure to check out several lap band before and after photos so that you know what kind of impact this surgery can have on your appearance.
Surgeon's Online Photo Gallery
Sometimes a surgeon may have maintained a comprehensive image gallery of bariatric surgery before and after photos pertaining to past patients. But some other surgeons may not have such a collection of photographs. In such cases, you can request your service provider (Jet Medical Tourism®) to give you access to these photos from their records.
Reliability is Most Important
You may also search for lap band before and after pictures on the Internet, but it is important to restrict yourself to reliable websites only. These photos are aimed at educating you so that you can make a more objective and informed decision. But if you choose a wrong surgeon or search the wrong place, you could be misguided. Therefore, prioritize your safety by working with a reputable bariatric surgeon only.
YOU MIGHT ALSO LIKE: Gastric sleeve vs. gastric bypass vs. lap band: Which is the best weight loss surgery?
Bariatric revision surgery before and after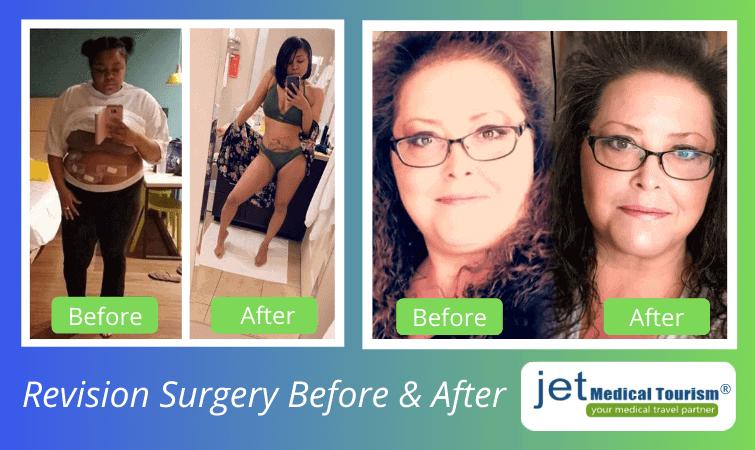 Although weight loss surgery has a high success rate, some patients may not achieve the desired results the first time. In this situation, you may have the option to undergo a revision procedure. At the time of your pre-op consultation, you should request your surgeon to share with you a few bariatric revision surgery before and after photos.
Choose Appropriate Pictures
You may select photographs related only to gastric sleeve revision or gastric bypass revision, depending on which surgery you will be undertaking. Another salient idea is to identify the patients who had a similar BMI as yours and only look at their weight loss surgery before and after pictures. This will give you the closest idea of how you may look after your surgery.
Useful Visual Aid
Bariatric revision surgery before and after images are an effective visual aid, which will help you make a better decision. While your surgeon will explain all about your procedure during the consultation, words can sometimes be misinterpreted or can be hard to understand. Photographs do not have such limitations and will tell you the real story as it is.
RELATED READ: All you need to know about revision weight loss surgery
Start your weight loss journey with Jet Medical Tourism
®
At Jet Medical Tourism®, we believe in the old adage that a picture says more than a thousand words. Therefore, we let our pictures do the talking. We will be happy to share with you bariatric surgery before and after images of past patients so that you can see for yourself how this procedure can transform your appearance.
Jet Medical Tourism® has partnered with some of the most reputable hospitals and bariatric surgery clinics in Tijuana that are led by top qualified weight loss surgeons. If you are looking for a proven and affordable bariatric surgery, get ready to schedule a consultation with us today.

Other useful resources on bariatric surgery before and after